The market continued to defy the odds last week by seemingly defying gravity. Though it wasn't a huge gain (even with Thursday's 0.7% run-up), it was the fifth winning week in a row, and the ninth winning week in the last 11. If these are the summertime doldrums, we should accept them willingly every year.
As it stands right now, the S&P 500 has gained 10.9% since its early June bottom, and though the rally's gotten uncomfortably long in the tooth, there's still room for upside movement.
On the other hand...
We'll get to the upside and downside in a moment. First, and as usual, let's review last week's key economic numbers so we know what kind of undertow we're working with.
Economic Calendar
It was a very busy week last week on the economic data front, and though we don't want to spend too much time on economic numbers, there were a lot last week that deserve some attention specifically because they can and do move the market.
In order of appearance:
Inflation continues to be anything but a problem. In fact, if anything, deflation is beginning to be a significant worry. The annualized inflation rate stands at 1.41%.
Inflation Rate
Click to enlarge images.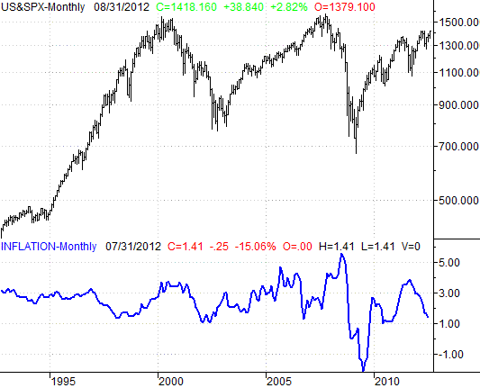 We've said it before and we'll say it again -- capacity utilization date and industrial production data have the best long-term correlation with the market. If they're pointed upward, so are stocks. Good news -- both moved higher again for July.
Capacity Utilization and Industrial Productivity Index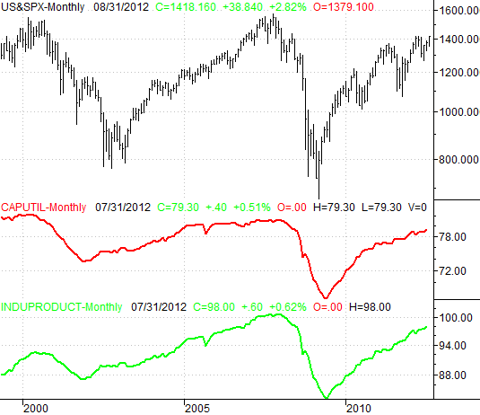 As tough as it may be for the pessimists to digest, the construction market is getting stronger. It's not great, but it's at least improving. Permits for new single family and multi-family dwellings both reached multi-month highs last month. In fact, the number of permits granted to multi-family construction was as strong as it's been the economy turned around. Though actual starts for July dipped for single-family as well as multi-family housing, it was a modest dip, and both sets of numbers are still broadly trending upward.
Permits and Starts (Single and Multi-Family)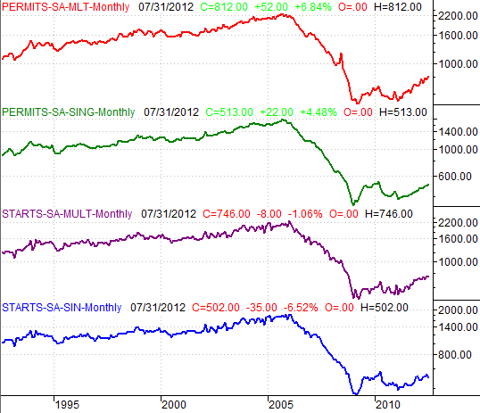 The rest of last week's numbers are on the grid. Note that July's retail sales figures were surprisingly strong.
Economic Calendar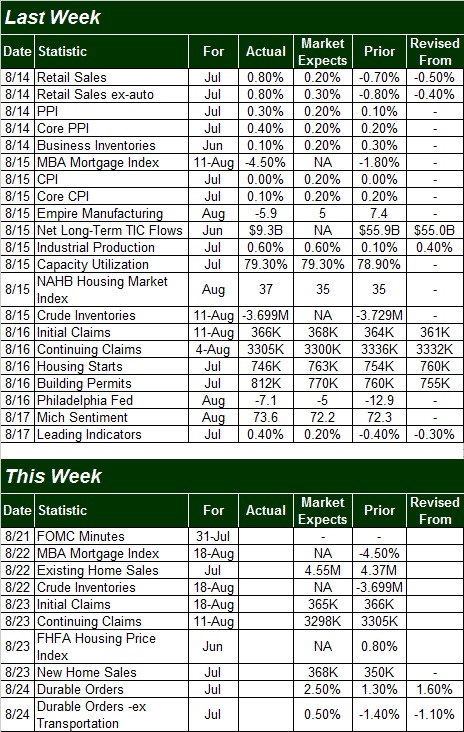 This week will be much lighter -- almost oddly light. The only items we really care about are Wednesday's existing home sales, Thursday's new home sales, and Friday's durable orders. The market's looking for significant growth from all three for July, which is encouraging on the surface, but a recipe for disappointment that could send stocks lower. And as you'll read below, the last thing the market needs now is a tripwire (though in some ways it might be nice to go ahead and get a correction over with).
Stock Market
Although we normally start with a close-up daily chart and then zoom out to a weekly chart of the S&P 500, this week we can better make the point by starting with bigger-picture weekly chart -- for perspective -- and then drilling down to the near-term, daily time frame.
Why's that? Because it's important to see and understand that the longer-term chart is still bullish, and that short-term bearish possibility is just that -- a short-term and relatively small dip that will take a small bite out of stocks, but shouldn't kill the overall bull trend.
Specifically, note on the weekly chart below that despite the strength and duration of the current run-up, there's still room to keep chugging. As history has shown, a rally hasn't "had enough" until either the 26-week or 52-week upper Bollinger bands (or both) are reached, and even then a brush with these upper bands is no guarantee of an immediate pullback. As you can see from early 2011 and early 2012, those upper band lines frequently served as bullish guideposts rather than reversal points.
S&P 500 & VIX -- Weekly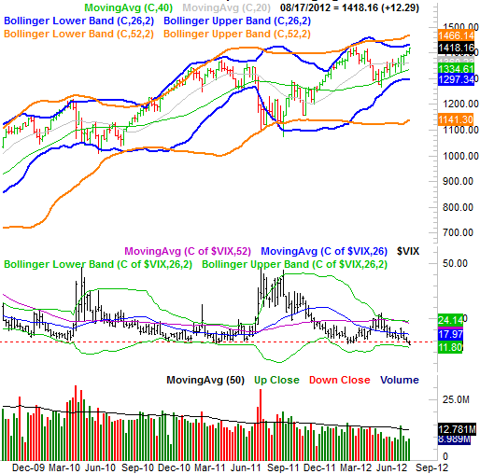 That's not to say there aren't red flags right now, however. As we mentioned last week, the CBOE Volatility Index (VIX) was already uncomfortably low. As of the end of last week, however, the VIX is at multi-year lows.
We hate to chalk it all up to a dangerous complacency, as a low VIX would normally indicate. In the current malaise-laden situation, the VIX may be low simply because people don't care, and volatility truly is going to be minimal until further notice. (Take a look at the volume has been drying up, for crying out loud -- investors are losing interest.)
Or, maybe the VIX just got pushed lower because last week was an expiration week. Either way, we can't escape the fact that at sometime, somehow the piper is going to have to be paid. We've just seen a low VIX lead to pullbacks way too often to dismiss it this time around. Maybe all the VIX needs to do is brush its lower 26-week Bollinger band at 11.8 to jump-start its upward rebound, and in so doing jump-start a meaningful correction.
There's a flipside to that coin, however. While the weekly chart of the S&P 500 looks "bullish but slightly vulnerable," the daily chart looks ... well, actually it has that same "bullish but slightly vulnerable" look to it.
The bullish angle is that the index is not being repelled by its upper 50-day Bollinger band, but rather is using it as a guideline to pace its advance. That's a condition that could last indefinitely, as long as the market doesn't get sloppy and try to push above that upward-sloped ceiling.
If you look closely at the chart though, you'll see another potential pitfall -- the S&P 500 is basically right on the brink of new high -- a level previously logged by March's peak. It's not perfectly in line with the March peak, but for all intents and purposes, we're there. Knowing that traders get squirrelly, rational or not, at previous lines in the sand, this brush with new highs could prove to be very bullish or noticeably bearish. Take a look.
S&P 500 & VIX -- Daily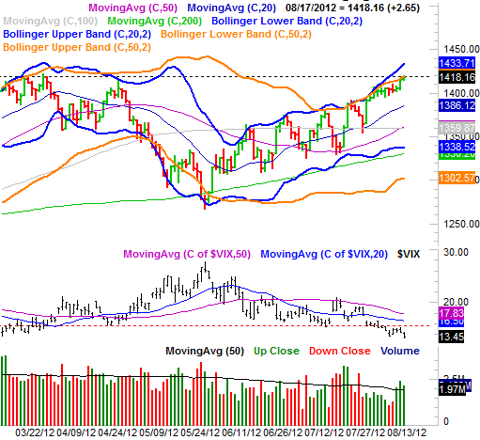 So which is it? While we're definitely believers of "the trend is your friend" axiom, we also respect the fact that the market can and does stop and turn on a dime for no apparent reason. With the VIX as low as it is, good reason or not, a pullback may be in the cards simply because nobody expects it.
But what if the S&P 500 manages to hurdle the new-high line? That will most likely prolong the rally, but not stave off a dip. If we hit the upper 20-day Bollinger band (currently at 1433, but rising), start to get worried.
Again, by "pullback" we don't mean "bull killer." The first floor for the S&P 500 on the daily chart is around 1360, where the 50-day and the 100-day moving average line have converged. After that, the 1337 area should halt any decline; that's where the lower 20-day Bollinger band and the 200-day moving average line are intercepting one another. Retests of those two floors would only be a 4.1% and 5.7% dip, respectively.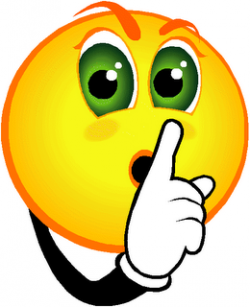 If you want to use a weekly chart to find a likely support level, the 1298 mark is the worst-case scenario. That's where the lower 26-week Bollinger band is right now, though even it would be much higher by the time it could be retested.
The point is, there are a lot of ways for the market -- DIA, IWM, QQQ -- to quickly stop its bleeding, and resume a pretty well supported uptrend. In fact, here's some food for thought: How great would it be if stocks could just slide or drift lower until just a tad after Labor Day, which is usually when the "best three months for stocks" actually begins? That dip would be the perfect buying opportunity to dovetail into a solid Q4.
One day at a time though.
Disclosure: I have no positions in any stocks mentioned, and no plans to initiate any positions within the next 72 hours.