Natural gas producer Range Resources Corporation (NYSE:RRC) is good for a couple of amusing puns. One is in the headline - the stock currently looks over-cooked (overvalued and overbought) as if it were sitting on the stovetop "range" for too long. The second is that the stock has been trading in a "range" between approximately $55 and $70 for the past year. With the stock currently nearing $70 at an overbought level, I would expect the stock to pull back again, perhaps to $55.
The stock is currently overvalued with a trailing PE ratio of 247, a forward PE ratio of 66.33, and a PEG ratio of 10.41. The trailing PE ratio of the S&P 500 is currently only 13. I prefer to see PE ratios at 13 or under and PEG ratios less than one, or at least less than two. Range Resources is just too rich in value right now for my taste.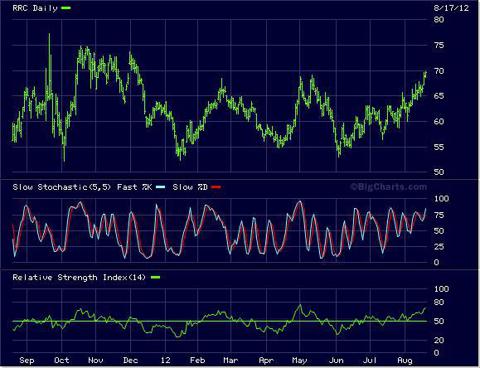 Click to enlarge
The stock has reached its level of resistance with no catalyst to move it higher. Natural gas prices remain under $3 at about $2.70. Earnings for the second quarter have already been reported, so the stock price appreciation related to the earnings beat has been baked in with the recent stock rise.
With this in mind, I think that the situation presents a trading opportunity in anticipation of the stock price going lower over the next two months or so. Current shareholders can sell the September $70 or $72.50 call to collect some premium and hedge their positions against the possible sell-off.
Those who do not own the shares and agree with this thesis can consider shorting the stock. Usually, I would recommend doing a put spread, but it looks like the December puts are thinly traded and are high in premium for a debit spread. The September puts are showing more volume but may not give you the time that you need for the trade.
Look at buying back the shares when the stock looks oversold according to the stochastic oscillator. Although there is no guarantee that this trading pattern will continue, this is what has happened for the past year.
I think that Range Resources looks like a solid company, but I wouldn't buy the stock at the current valuation. For now, it looks like the stock will remain "range bound," creating trading opportunities between overbought and oversold conditions.
Disclosure: I have no positions in any stocks mentioned, and no plans to initiate any positions within the next 72 hours.