Earlier this month, Macy's Inc. (NYSE:M) reported second quarter earnings that beat Wall Street's expectations and illustrated the company's fundamental strength. In February, I wrote an article entitled Macy's: Strong and Unvervalued Compared To Peer Group, where I outlined why the company was a strong buy for investors due to its valuation, financial results, and market position. Today, Macy's has continued to deliver upon its commitment to build customer count - both through its stores along with through its online offerings. The company's second quarter results are as follows:
Click to enlarge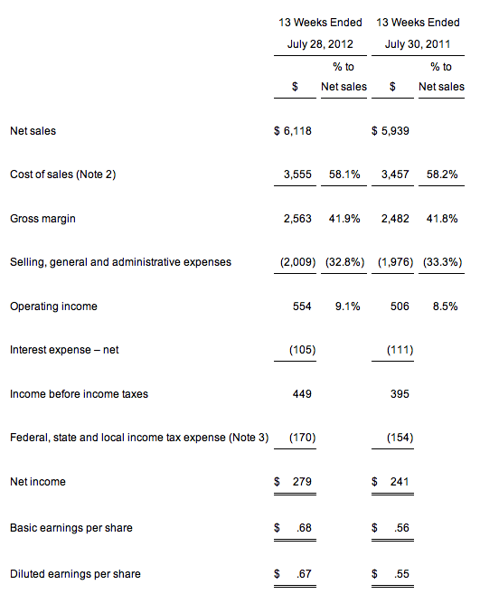 Click to enlarge(Macy's Second Quarter Earnings Release)
These results speak to the company's ability to operate with efficiency, along with building incremental sales. This comes down to Macy's focus on driving sales through a consistent and quality offering that provides consumers with a strong value proposition. The company's President, Chairman, and CEO Terry J. Lundgren states:
We were pleased with our spring season results, and they came on top of exceptionally strong spring season performances in each of the past two years. This indicates that our business continues to have forward momentum, even with challenges that include a soft economy, lower spending by international tourists, and temporary disruptions associated with the major remodeling of our Herald Square flagship store in New York City which was initiated in March... In response to these challenges, we have stayed very firmly focused on driving profitable sales growth while running the business with discipline to maintain margins and manage expenses.
Lundgren's words do not come as a mere sales pitch, but are rather supported through the company's second quarter results and previous track record. Retail is a fickle business and operators have a difficult time coming out of a state of poor customer perception. Macy's reputation and history has made it the company it is today, but in today's economy, leadership needs to be extremely cautious of what is happening in the e-commerce sector along with competition. Macy's has done a good job of creating a value proposition for consumers that honors the company's history, along with making necessary improvements to stay current. The difference between Macy's and J.C. Penney Company Inc. (NYSE:JCP) is within focus and consistency. There are no signs of Macy's commitment to its brand changing.
From a financial perspective, Macy's has performed well over the past calendar year and has outpaced the S&P 500 dramatically. This is in large part because of the company's ability to deliver strong earnings and to drive revenue within its stores. As compared to its peers, Macy's is valued very well and offers investors a company with a low PEG ratio, a strong dividend, along with quarterly earnings and revenue growth. Nordstrom Inc. (NYSE:JWN) and Sacks Fifth Avenue (Saks Incorporated: SKS) illustrate Macy's strength both fundamentally and technically through its lower valuation by nearly all metrics.
Forward Price Earnings: 10.22
PEG Ratio: .88
EV/EBIDA: 5.93
Profit Margin: 5.01%
Quarterly Revenue Growth (yoy): 3.0%
Quarterly Earnings Growth (yoy): 15.80%
Dividend: 2.10%
These valuation metrics show that Macy's is not only performing well against its peer group, but aditionally is performing well on nearly every key metric. The company's revenue and earnings growth are of particular mention because they illustrate the company's ability to grow earnings at a faster rate than revenue and in doing so show investors the company's operational excellence.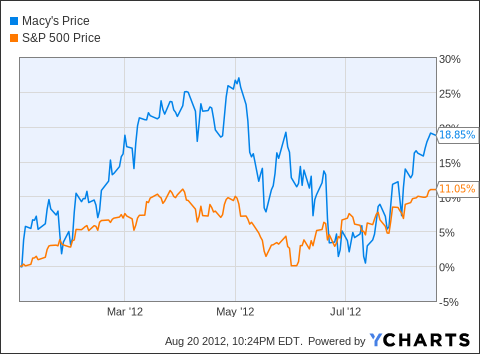 Macy's has outperformed the S&P 500 for much of the past fiscal year, and in doing so, shows investors that even in a retail environment as difficult as the current one, Macy's is prepared to cut costs to drive earnings at a faster rate than revenue increases. Lundgren states:
We are entering the fall season with optimism about our ability to grow sales and capture market share, especially in the holiday season when shoppers naturally turn first to Macy's and Bloomingdale's.
The combination of Macy's earnings, financials, valuation, and clear focus, makes it a strong investment into the future and a company that is holding to its roots, while cutting costs to drive profitability. The same argument applies for Macy's that did in February. The crisis of 2008 made Macy's a stronger company and the results are showing four years later.
All financial metrics referenced above are obtained from Yahoo Finance, CNBC Analytics, S&P Capital IQ and Thomas Reuters.
Disclosure: I have no positions in any stocks mentioned, and no plans to initiate any positions within the next 72 hours.