Focus Media (NASDAQ:FMCN) reports 2Q12 results on August 22nd.
The Street expects:
Revenue: $223 million
EPS: $0.58
Q3 revenue guide: $254 million
For the upcoming Q2, Focus Media's results will be mixed due to China's soft macro environment.
Last quarter, LCD network revenue grew 6% y/y due to macro uncertainty and an earlier Chinese New Year. The recent macro headwind from Europe also negatively affected the Chinese economy so it is likely that we will see another quarter of slow LCD revenue growth as large brands cut back on their marketing budget.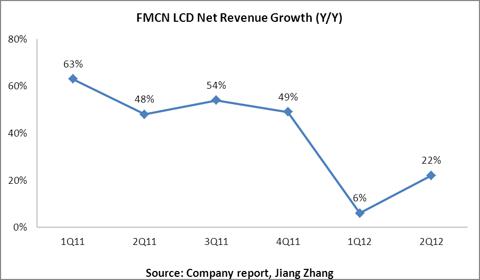 However, poster frame displays are less sensitive to macro environment because they are used mostly for promotions, and could once again perform better than LCD networks during the quarter.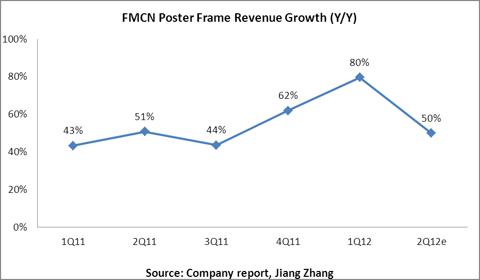 Finally, investors should focus on FMCN's interactive screen initiative. Last quarter, total registered Q-card users reached 2.8 million. Recall that Q-card is used on the interactive screens to receive promotions and coupons sent to mobile devices.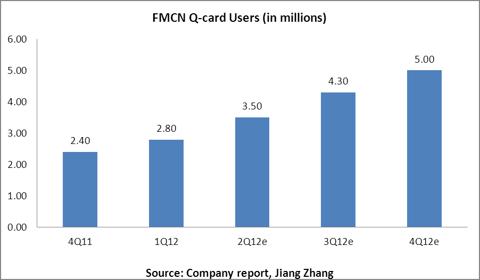 The management projects 5 million Q-card users by the end of year. For this quarter, I expect Q-card users to reach 3.5 million. However, because smartphone adoption in China is ramping up faster than previously expected, the management is aiming to introduce its own mobile apps before end of the year to cut down costs. I note that FMCN hires people to reload Q-cards on each interactive screen, a cost that can be neutralized with the adoption of FMCN's own mobile app.
On a final note, I would like to make a quick comment on Focus Media's recent $27/share privatization offer from a consortium led by Carlyle Group and consists of China's FountainVest Partners, CITIC Capital Partners, CDH, China Everbright, and Focus Media's CEO Jason Jiang. This offer has several implications:
The current negative sentiments towards the US-listed Chinese companies have severely mispriced many quality companies. Investors should not paint all the Chinese companies with the same brush because it would be unfair to be overly suspicious of US companies after the scandals involving Enron, Worldcom, and Sunbeam. The near-term cloud over the Chinese ADRs is an opportunity for long-term investors to start building positions in the quality names, such as Baidu (NASDAQ:BIDU), Sina (NASDAQ:SINA), and Qihoo (NYSE:QIHU)
Muddy Waters is not perfect and its due diligence quality is gradually waning. Since

the attack

against Sino-Forest, Muddy Waters has yet to achieve any success on providing any concrete evidence of fraud on Spreadtrum Communications (NASDAQ:SPRD), Focus Media, and New Oriental Education (NYSE:EDU).
Disclosure: I have no positions in any stocks mentioned, and no plans to initiate any positions within the next 72 hours.