We are amazed at how Chesapeake Energy (CHK) has gone from being a shooting star of the energy business to requiring significant asset sales in order to shore up its balance sheet. We are also amazed at how Aubrey McClendon has gone from being the wiz kid of the energy business to being an embattled CEO who had to give up his Executive Chairmanship. While we have tremendous respect for Aubrey for his role in the founding of Chesapeake Energy, we have noticed that his antics have helped contribute to the recent morass of mediocrity facing Chesapeake. Chesapeake Energy is facing enough headwinds with the decline in natural gas prices and doesn't need a CEO who is going out of his way to become the world's most reckless billionaire of all time. At least its asset sales helped to contribute net income and cash flows to offset declining operating income and increased CapEx.
Chesapeake Natural Gas: Despite its efforts to shift its production from natural gas to oil, Chesapeake is still dependent on natural gas production with regards to its total production. The good news is that Chesapeake increased its natural gas production by 41BCF (17.5%) in Q2 2012 versus prior year levels. Another bit of good news is that natural gas only accounts for 40% of its Q2 2012 revenue, down from 48% in Q1 2012 and 72% in Q2 2011. The bad news is that this shift was due primarily to the decline in natural gas prices year-over-year. Because hydraulic fracturing has changed the paradigm for natural gas production, supply and even demand, we don't expect natural gas prices to snap back immediately to the $5/MCF levels Chesapeake enjoyed last year in Q2 2012, let alone the $10.79/MCF peak in July 2008. While the number of natural gas rigs has declined by 46% year-over-year according to Baker Hughes, the amount of natural gas in underground storage in the Lower 48 states has increased by 15.7% according to the EIA.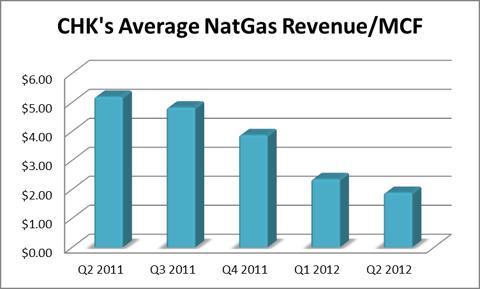 Click to enlarge
Source: Chesapeake's last five earnings releases
Chesapeake Oil: We were happy to see that Chesapeake was able to increase its oil production by 88% in Q2 2012 versus prior year levels. Chesapeake also increased its oil production by nearly 22% versus Q1 2012 levels. Chesapeake was able to offset its decline in revenue from natural gas and natural gas liquid product due to its increased oil production. Despite the increased oil production by Chesapeake and other oil and gas companies, Chesapeake was able to enjoy a slight boost in the price per barrel for oil in Q2 2012 ($91.58) versus Q2 2011 levels ($87.99). Chesapeake's strength in its oil production operations helped ensure that at least the company would see a slight increase in its Q2 2012 revenues of 2.15% versus Q2 2011 levels. Because of the intractably high price of crude oil in the energy markets, Chesapeake's crude oil and natural gas liquids now collectively account for 60% of Chesapeake's revenue and 70% of its unhedged revenue. Chesapeake's operating income would have been stable had it not suffered a $243M fixed asset impairment in the quarter.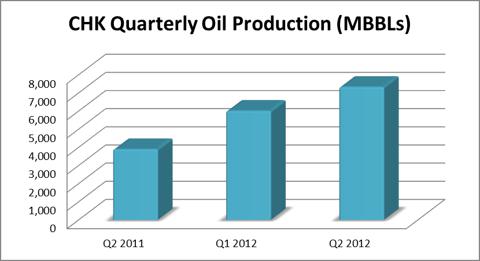 Click to enlarge
Source: Chesapeake's Q2 2012 Earnings Release
Chesapeake Financial Summary: While Chesapeake may look like a bargain because its stock price is 90% of its book value, we believe that investors can't overlook the headwinds facing the company. In the second quarter of 2012, it generated a 99% increase in its reported net income available to common stockholders ($929M in Q2 2012 versus $467M in Q2 2011). However, we also noticed that the net income that Chesapeake reported was due primarily to $490M in unrealized gains on derivative contracts and $584M in gains on the sale of investments. Chesapeake's adjusted net income for common shareholders in the quarter was a whopping $3M, versus $528M in Q2 2011. We also think Chesapeake has an excessively optimistic outlook on natural gas next year. Chesapeake estimates it to reach $3.75/MCF. With Henry Hub Gas Spot Prices trading at $2.71/MCF on August 17th, 2012, we think that is quite optimistic especially considering that the US is in an economic slowdown, hydro-fracking has changed the natural gas production paradigm and even oilman T. Boone Pickens has been vocal against proposals to export natural gas. Also, we are concerned that Chesapeake is only expecting to generate a maximum cash surplus of $0-$750M in 2013 even with reduced CapEx ($13B in 2012 versus $7B in 2013) and $4.5-$5B of asset sales.
CONCLUSION
In conclusion, we think it is too early to undertake a long position in Aubrey's Baby. We noted that Dan Loeb of Third Point Capital opened up a new 5M share position in Q2 2012. Even though Chesapeake is expected to reduce its 2013 capital expenditure levels by nearly $6B versus 2012 estimated CapEx levels, the company is only expecting to generate a maximum cash surplus of $0-$750M in 2013. Furthermore, this surplus is due primarily to asset sales and other transactions rather than free cash flows from business operations. We were also concerned that the company's Q2 2012 adjusted net income dropped to only $3M in Q2 2012 from $528M in Q2 2011 and that adjusted EBITDA declined to $803M in Q2 2012 versus $1.365B in Q2 2011. For those interested in getting exposure to Chesapeake and its affiliated companies, we would suggest investors consider one of Chesapeake's oil royalty trust spin-offs. Our firm published a report in May about Chesapeake Granite Washington Trust (CHKR). We like ChesapeakeR better than Chesapeake because we don't have to worry about if the company can generate sufficient cash flows from asset sales plus we are enjoying an ample, annualized per share dividend of $2.44, which represents 14% based on our original cost and 11% based on the August 17th market price of $21.55.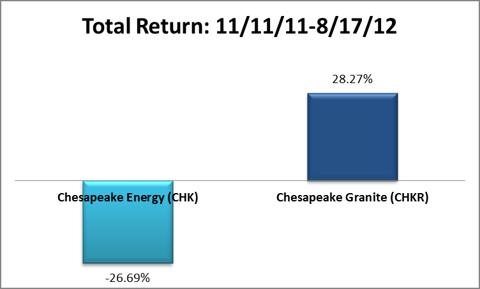 Click to enlarge
Source: Morningstar Direct
Disclosure: I am long ChesapeakeR.
Additional disclosure: Saibus Research has not received compensation directly or indirectly for expressing the recommendation in this report. Under no circumstances must this report be considered an offer to buy, sell, subscribe for or trade securities or other instruments.