JPMorgan (NYSE:JPM) tapped the preferred market Monday, following on the heels of State Street's (NYSE:STT) [Baa1 / BBB+] and Capital One's (NYSE:COF) [Ba1/BB+] recent issuance at 5.25% and 6.0% respectively.
The following are the details of the deal: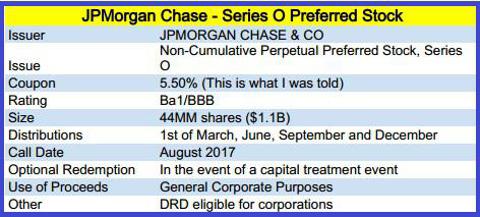 For a point of reference, the Company closed a public offering of $2,500,000,000 aggregate principal amount of its 2.00% Notes due 2017.
I am on the fence with this issue as it was priced between Capital One and State Street, which is pretty much right where it should price and there was no real concession.
Existing JPMorgan preferred levels for valuation:

The TRuPs should trade at a discount given the change to regulatory capital which makes them currently redeemable under the capital call language. The Series I - a traditional preferred - is callable in a year with a 3.40% yield-to-call. Looking at these securities, I would say that the new JPM Series O is priced appropriately, but not cheap.
An equity snapshot: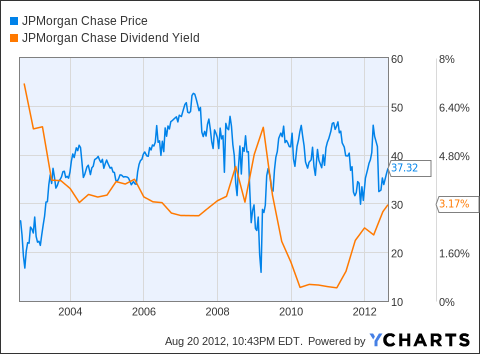 JPM data by YCharts
Bottom Line: While I like the credit of JPMorgan, I find 5.50% to be tough to swallow and believe it will indeed be perpetual. It has priced in-line with recent financial preferred stock (including higher rated REITs), but below 6.0% I have a hard time with preferred stock, especially those banks with regulatory issues on the horizon (LIBOR etc.).
Disclosure: I have no positions in any stocks mentioned, and no plans to initiate any positions within the next 72 hours.
Additional disclosure: This article is for informational purposes only, it is not a recommendation to buy or sell any security and is strictly the opinion of Rubicon Associates LLC. Every investor is strongly encouraged to do their own research prior to investing.