Lowe's Companies Inc (NYSE:LOW) reported disappointing second quarter earnings the morning of Monday August 20th. The company earned an adjusted 65 cents per share on sales of $14.2 billion that were largely flat year-over-year. Lowe's also reduced full year earnings guidance to $1.64 per share when analyst estimates for the current fiscal year has stood at $1.80 per share. Comparable store sales decreased 0.4% for the quarter, with a 0.2% in the United States. While the company admitted to falling short of their own expectations, they believe they are on the right track and will strive for better execution in the future. As of August 3rd the second largest home improvement retailer operated 1,748 stores in the United States, Canada, and Mexico and intends to add 10 new stores during fiscal year 2012.
The problem facing Lowe's is returning to strong same store sales growth with new store openings likely remaining low for some time. While both Lowe's and Home Depot (NYSE:HD) have been hurt by the slow economic recovery and the start and stop housing recovery, the fact that Home Depot is able to be successful in this market just increases the pressure on Lowe's. When Home Depot reported earnings they beat estimates and estimates for Home Depot have been slowly rising, both for this year and next. Compared to Lowe's missing exceptions that have been coming down, just 90 days ago analysts had expected Lowe's to earn 74 cents per share this quarter and $1.87 for the fiscal year.
The almost 6% decline in the shares as a result of the earnings announcement brings the stock closer to the first area of support around $25 per share. Ultimately should Lowe's stock stumble, a stronger area of support would be around $19 per shares. Improvements in the market as Home Depot has said they are seeing should being to improve Lowe's fortune as well. That coupled with better execution should improve the stock's performance over the long term. You can read here about how stretched the valuation between Lowe's and Home Depot has become.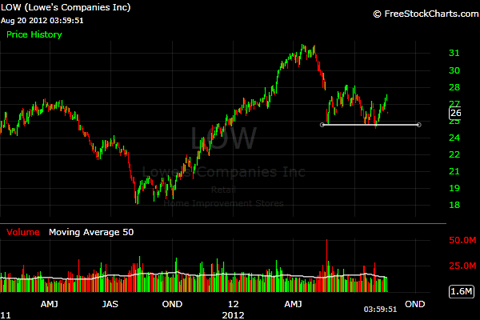 I would consider an investment in Lowe's at these support levels. Economic improvement specifically when it comes to housing will begin to help Lowe's. Through more Home Depot has proven it too possible to execute and succeed in this environment. While this does not mean Lowe's is guaranteed to succeed it does the company and the stock some hope.
Data sourced from: Company filings, and Yahoo!Finance. Chart from: Freestockcharts.com
Disclosure: I have no positions in any stocks mentioned, and no plans to initiate any positions within the next 72 hours.