FedEx (NYSE:FDX) announced a disappointing quarter yesterday morning, missing estimates by $0.02 and guiding next year earnings estimates about $1.00 per share below current estimates.  The weak outlook is a result of higher oil prices and a weaker economy (no, really?!?). 
The problem with FedEx's announcement for the overall market is that the Transportation Average historically has followed the price action of FDX stock relatively closely (a relationship I found from Aussie Technical analyst Colin Twigs).  That relationship has broken down in the past months, as the Transports have been hitting new highs while FDX has been hitting new lows.
click to enlarge image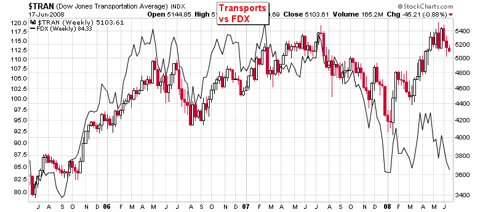 The Transports are one of the few indexes that has been able to recover from last year's swoon, mainly on the strength of the railroad stocks.  Burlington Northern (BNI), Norfolk Southern (NYSE:NSC), CSX (NYSE:CSX) and Union Pacific (NYSE:UNP) make up about 30% of the index, while airlines and truckers only make up 15% of the index.  My guess is that the railroads could see a pull back on the weakness in transportation volumes.  That will pull the Transport index lower and create another Dow Theory Sell signal.