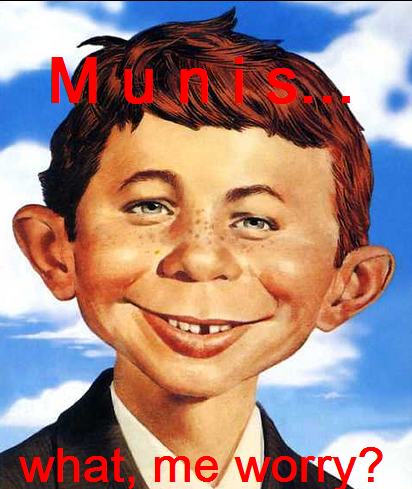 Apple (NASDAQ:AAPL) seems to be the only stock investors care about as it rallies to become the world's most valuable company. Microsoft (NASDAQ:MSFT) had that honor in the dotcom heyday in 1999 as everybody needed a PC then. The chart below compares the two monsters' performance as each soared over different time periods- hat tip Zero Hedge.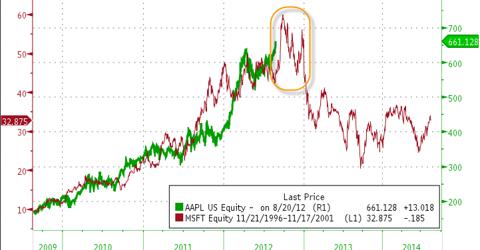 Click to enlarge
And, yes I know it's different this time and many believe Apple is a much superior company now than Microsoft was back then. The weighting of the stock to many ETFs, particularly in technology, is nearly 20% which can give a false impression of how markets are truly behaving. (This is why it's useful to compare the QQQs with equal weighted QQEW to get some perspective.) The PE of the stock is reasonable, clearly, but the twists and turns of technology never are. The next "I got to have it" gizmo from the company is the iPhone 5, which promises to be a little bigger and faster. When you upgrade to a new phone, it's matched by a new phone plan which is never cheap. Further there are some rumblings from China that some wireless operators there won't service the phone. The company is also in the process of developing and releasing a mini-iPad the need for which is vague to an old fogey like me. Anyway, the stock shows few signs of being sold and dominates most institutional and retail portfolios. Rumors of stock splits and the company being added to the DJIA continue to be supportive as well.
Meanwhile, back to the duller and pedestrian, stock markets have offered little action. Most likely investors are waiting first for FOMC Minutes on Wednesday to find some nugget that might support QE3. If few are found or spun then it's on to Jackson Hole for Bernanke and Draghi to act or not. Away from Apple there has been some news from Caterpillar (NYSE:CAT) which was a warning about weak economic conditions, but the stock rallied. In China, house prices rose and food inflation is on the move higher. Taken together this should restrict stimulus, one would think. Meanwhile in the eurozone, there is plenty of controversy regarding more lending. One rumor quickly shot down was the ECB would place a cap on bond buying by only buying when certain interest rates rose above a target. Spain has stated they want unlimited bond buying without conditions. While Merkel herself has been more dovish, such is not the case with politics within Germany. The Bundestag has restated its objections to new bond buying as has the finance minister.
Moody's has gotten into the swing of things by suggesting that California municipal bond bankruptcies are likely to expand. Popular muni bond ETFs like (NYSEARCA:MUB) didn't react period; such is the low level of confidence investors have in rating agencies. Investors fear taxes more evidently.
Goldman Sachs Chief Strategist David Kostin has been pleading with clients to sell their equities before the fiscal cliff arrives. Meanwhile, Goldman Sachs strategist Abby Joseph Cohen remains bullish. Who to believe? They'll tell you with hindsight.
Stocks overall chugged along at a snail's pace with early selling. But, this was met with some persistent late day buying. Volume was ridiculously light even for a Monday in August or a half-day of trading around the holidays. Breadth per the WSJ was modestly negative. (This is going to be another really short post thanks to little action.)
ETF Portfolio Quick Tip: Russell Investments is going to shutter all its index-based ETFs on the heels of the closure of similar issues from Focus Shares. I have written for several years about being careful regarding repetitive ETFs, low assets under management and trading volume. In our soon to be released Best U.S. Equity ETFs we only select an issue or two in each category that can make a difference. Please look for it upon release.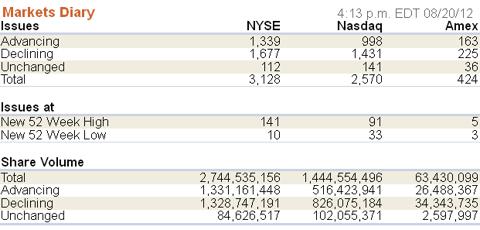 Click to enlarge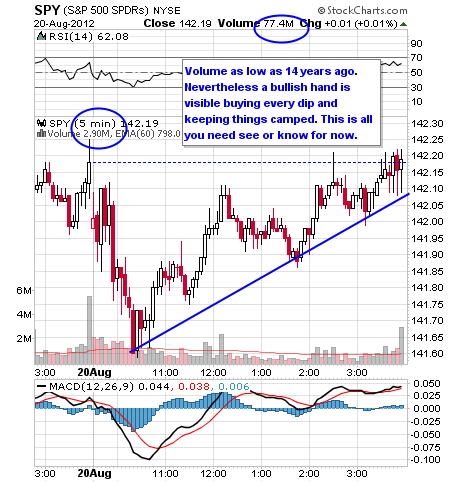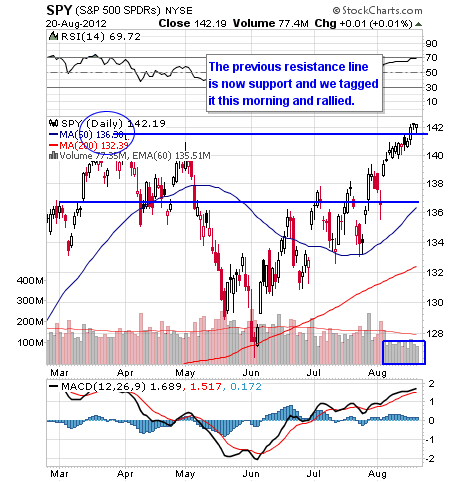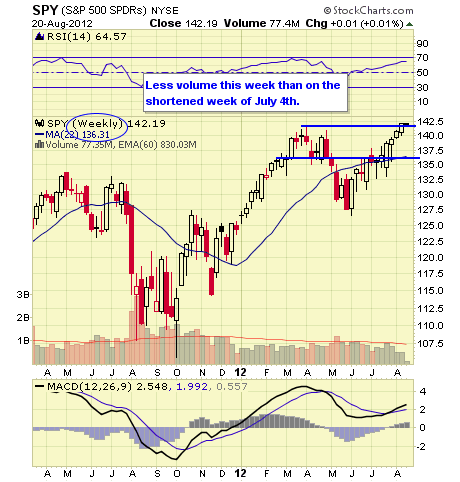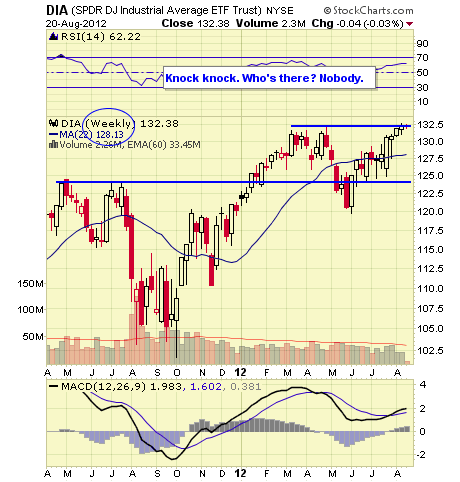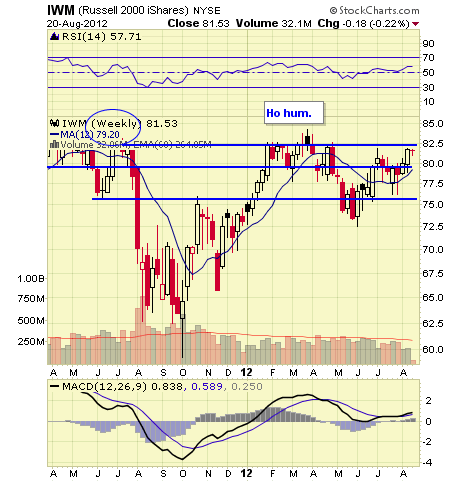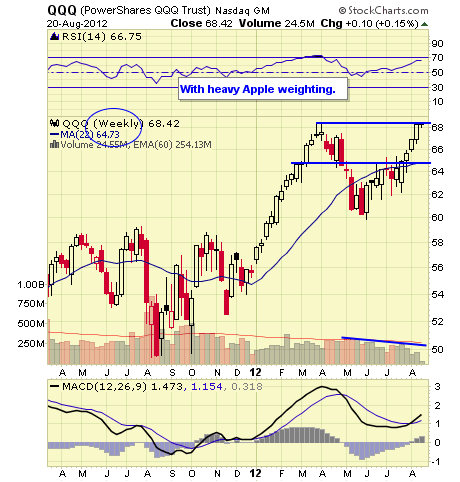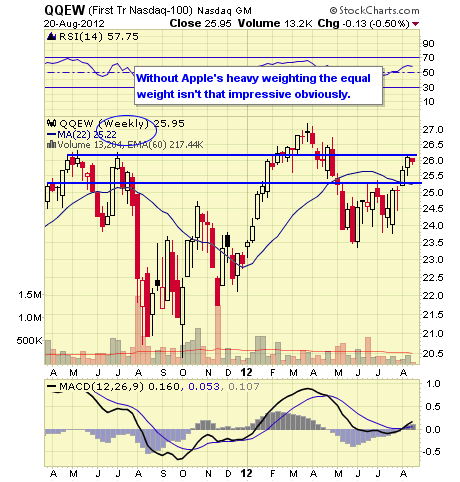 Continue to U.S. Sector, Stocks & Bond ETFs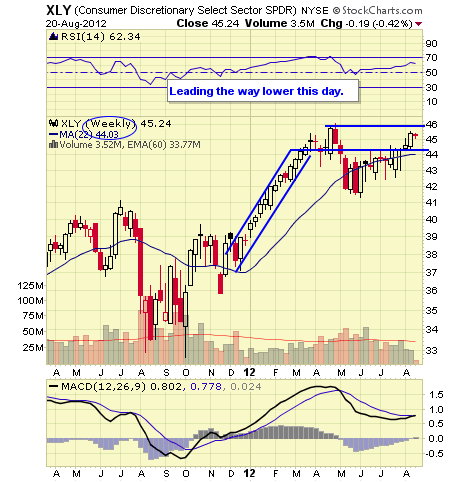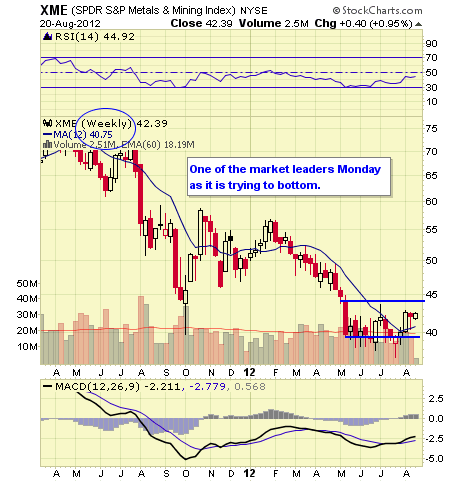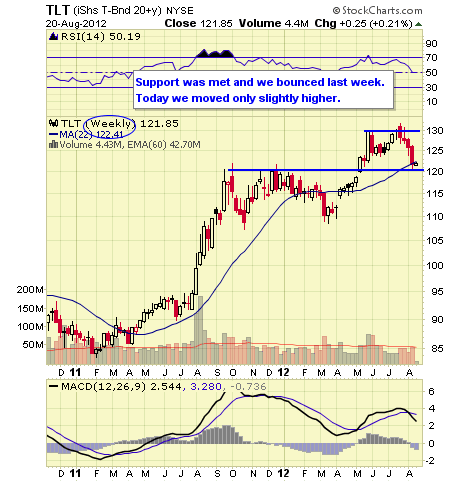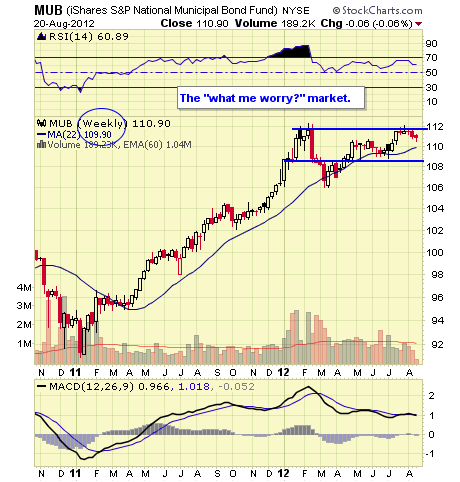 Continue to Currency & Commodity Market ETFs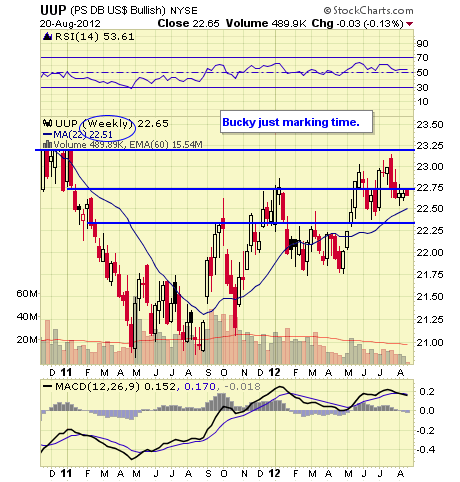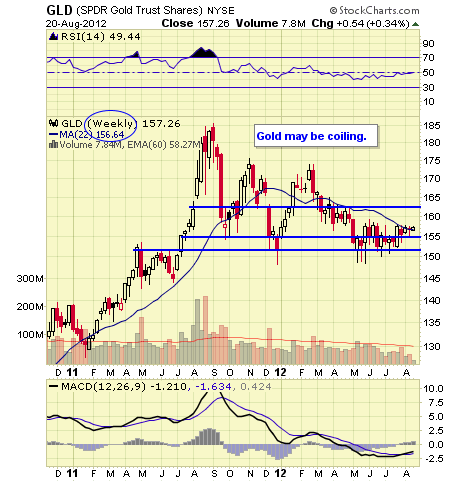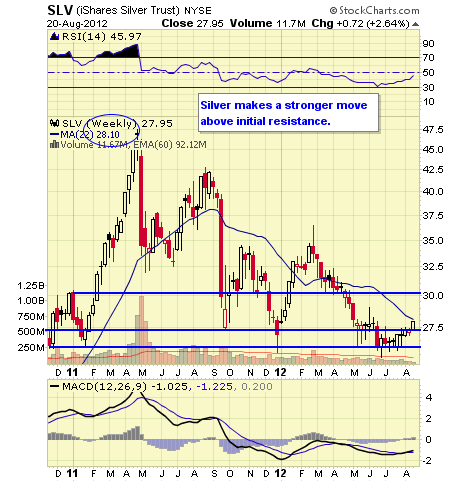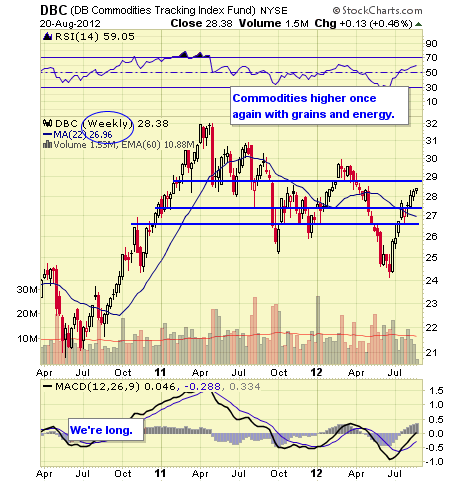 Continue to Overseas Sectors & ETFs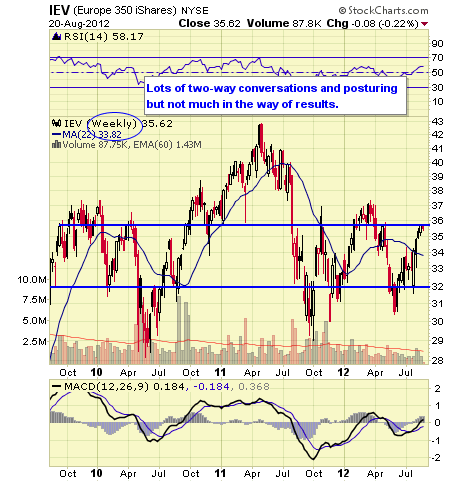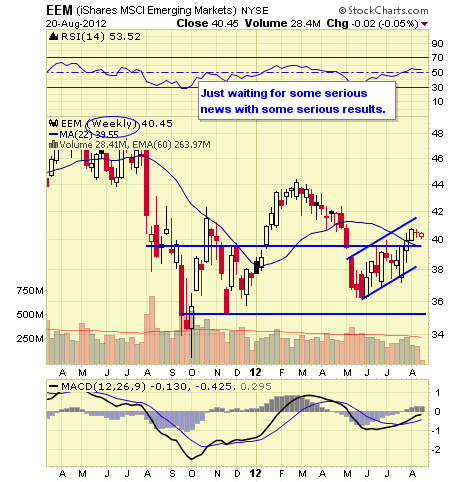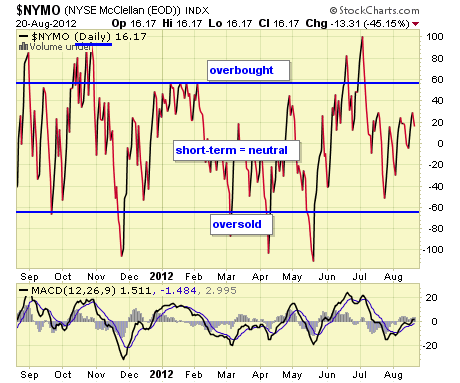 The NYMO is a market breadth indicator that is based on the difference between the number of advancing and declining issues on the NYSE. When readings are +60/-60 markets are extended short-term.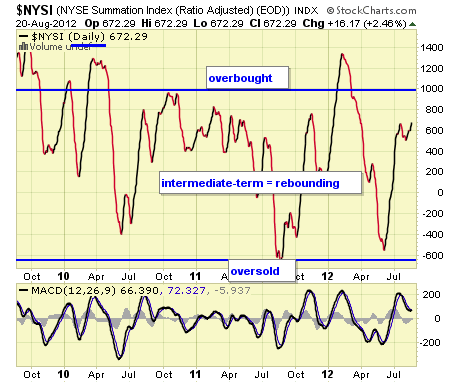 The McClellan Summation Index is a long-term version of the McClellan Oscillator. It is a market breadth indicator, and interpretation is similar to that of the McClellan Oscillator, except that it is more suited to major trends. I believe readings of +1000/-1000 reveal markets as much extended.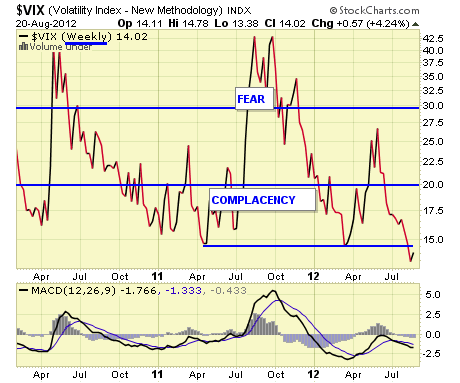 The VIX is a widely used measure of market risk and is often referred to as the "investor fear gauge". Our own interpretation is highlighted in the chart above. The VIX measures the level of put option activity over a 30-day period. Greater buying of put options (protection) causes the index to rise.
Other than conversations and hype about Apple, this was an extraordinarily boring day requiring an equally short posting.
There isn't much in the way of economic data until FOMC Minutes on Wednesday.
Disclaimer: The ETF Digest maintains active ETF trading portfolio and a wide selection of ETFs away from portfolios in an independent listing. Current "trading" positions in active portfolios if any are embedded within charts: Lazy & Hedged Lazy Portfolios maintain the follow positions: VT, MGV, BND, BSV, VGT, VWO, VNO, IAU, DJCI, DJP, VMBS, VIG, ILF, EWA, IEV, EWC, EWJ, EWG, & EWU.
The charts and comments are only the author's view of market activity and aren't recommendations to buy or sell any security. Market sectors and related ETFs are selected based on his opinion as to their importance in providing the viewer a comprehensive summary of market conditions for the featured period. Chart annotations aren't predictive of any future market action rather they only demonstrate the author's opinion as to a range of possibilities going forward. More detailed information, including actionable alerts, are available to subscribers at www.etfdigest.com.
Disclosure: I have no positions in any stocks mentioned, and no plans to initiate any positions within the next 72 hours.