In the most recent quarter report on May 5th, Whiting Petroleum (NYSE:WLL) saw a fivefold increase in profits to 62.3 million and issued a strong outlook for 2008 (see conference call transcript).
Whiting has increased its exploration and development budget by $100 million to $740 million for 2008. This is significant as Whiting has seen substantial ROI on invested capital in 2007 and expects the same in 2008 with high potential areas like Bakken. They, however have very diversified revenue streams coming from 5 regions: Mid-Continent, Rocky Mountain, Permian, Gulf Coast & Michigan.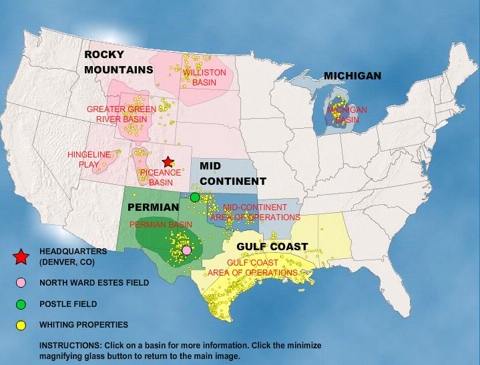 In the first quarter of 2008, Whiting's net production from the Middle Bakken formation in the Sanish and Parshall fields of North Dakota totaled 3,344 barrels of oil per day, which represents a 92% increase over the fourth quarter of 2007. Net production from these fields in March rose to 4,153 barrels of oil per day.
James J. Volker, Whiting's Chairman, President and CEO, commented:
We are pleased with the execution of our drilling programs and on the implementation and expansion of our two CO2 projects. We continue to generate excellent results from our Bakken drilling program in North Dakota where we recently brought on the Maynard Uran Trust #11-24H with an initial production rate of 2,132 BOE per day.
With the success of the Bakken drills thus far, a sizeable portion of the $740 million set aside for exploration will be focused in the Bakken region. Whiting owns interests in 66,957 gross acres (13,470 net acres) in the Parshall field and has now participated in a total of 37 wells that produce from the Bakken formation. Whiting expects to participate in a total of 50 to 60 wells in the Parshall field (a 50% increase over today) in 2008 with an average working interest of 20%. Nine drilling rigs are currently working in the Parshall field. Whiting's net production from the Parshall field in March 2008 averaged 2,978 barrels of oil per day.
If we look at recent quarters (figure below), Whiting has a habit of beating lately with good numbers in the last for quarters. Whiting is on track thus far to beat their fiscal year 2008 earning estimate of 6.74 and 7.84 for 2009. We expect another beat during the next announcement at the end of July and with a forward PE of around 12 for fiscal year 2009, we see growth potential and upside from the current 100 pps. We believe that $130 is not out of the question by 2008 if oil stays above $115-120 per barrel.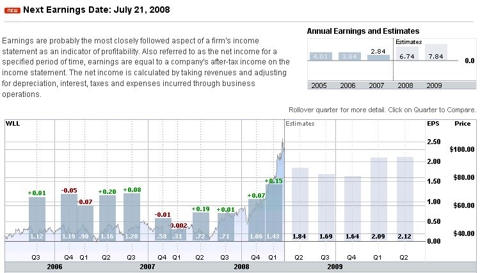 Disclosure: none