"Everyone in the world needs money - to get paid, to trade, to live. Paper money is an ancient technology and an inconvenient means of payment. You can run out of it. It wears out. It can get lost or stolen. In the twenty-first century, people need a form of money that's more convenient and secure, something that can be accessed from anywhere with a PDA or an Internet connection."
This statement was made by Peter Thiel, co-founder of PayPal, over thirteen years ago. To think that in 1999, when the top selling cell phone was the Nokia 3210, a guy named Peter Thiel was onto something. Fast forward to 2012 and his words still ring true as competition in the mobile commerce space intensifies. With the recent announcement of Starbucks Corporation (NASDAQ:SBUX) and Square working together, the mobile payments industry is buzzing. Starbucks practically has a store on every major intersection in America, if you can easily pick up your morning coffee using only your mobile device, imagine what else you can do.
PayPal has gained a significant advantage; however, rivals like Amazon (NASDAQ:AMZN), Visa's (NYSE:V) "V.me", Google's (NASDAQ:GOOG) "Wallet", Apple's (NASDAQ:AAPL) "Passbook", American Express's (NYSE:AXP) "Serve", and Facebook's (NASDAQ:FB) "Credits" are all looking to gain market share in what may be a game changer for how consumers pay for purchases. The U.S. Census Bureau releases quarterly retail E-commerce retail sales data, and you can see in the chart below why so many investors are beginning to take note.
Estimated Quarterly Retail E-commerce Sales as a Percent of Total Quarterly Retail Sales
(Blue:Adjusted/Red:Unadjusted, Percent of total:RHS)
Click to enlarge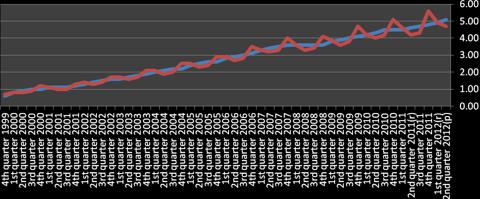 If you haven't had the opportunity to read MasterCard's report on mobile payments, I would strongly recommend you take a few moments to evaluate its research. The company created a "Mobile Payments Readiness Index", which measures 34 different countries' readiness to shift from plastic to mobile devices. They rank the countries on a scale of 0-100, any score over 60 (the inflection point) indicates the country has reached the stage where mobile devices account for a major component of payments. Currently, not one country has progressed past the inflection point. We are in the early stages of mobile payments and different markets will bring a multitude of opportunities to companies that are positioned appropriately.
So why choose eBay Inc.'s (NASDAQ:EBAY) PayPal over any of the other competitors? PayPal has been around since 1998 and is currently available in 190 markets supporting payments for 25 major currencies. The company has been adding an average of 1,000,000 actively registered accounts per month (see chart below). In the second quarter of 2012 PayPal customers made 565 million transactions, roughly 6.2 million per day! As you are reading this article, a few thousand transactions around the world have occurred. We are not talking about a company in its infancy, this is a well established brand that is driving the growth story for eBay.

Source: eBay Quarterly Press Releases
The revenue growth rate PayPal delivers has been tremendous (see table and chart below). Growth is coming from more than just online transactions. In March, the company released "PayPal Here" - which turns any iPhone or Android phone into a mobile credit card terminal. Merchants who use this service are charged a flat 2.7% fee. Additionally, sixteen retailers, including Home Depot, Abercrombie and Fitch, and Office Depot, have PayPal on their point of sale terminals at the checkout register. Many others allow users to pay for online purchases using PayPal or directly from their mobile device.
| | | | | | |
| --- | --- | --- | --- | --- | --- |
| | 2007 | 2008 | 2009 | 2010 | 2011 |
| PayPal Revenue | $1,926,616,000 | $2,403,669,000 | $2,795,945,000 | $3,435,647,000 | $4,412,135,000 |
| YoY Growth Rate | | 24.76% | 16.32% | 22.88% | 28.42% |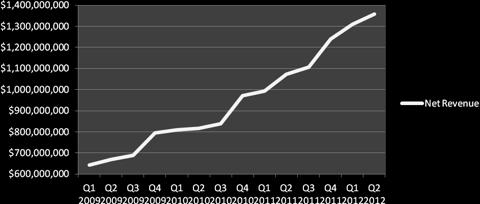 Source: eBay 10-k's and 10-q's
PayPal is quickly becoming a major source of revenue for eBay. In the chart below, you can see PayPal's contribution to net revenue. During the first six months of 2012, PayPal already accounted for 39.9% of eBay's top line. Although eBay has denied spinning off the PayPal division and has no intentions of initiating a dividend, I would argue that both may be likely over the next five years. In the meantime, the company is returning capital to shareholders through a $2-billion stock repurchase program.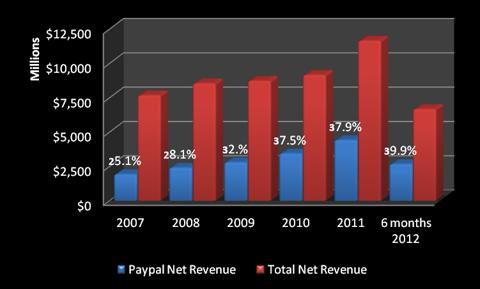 Source: eBay 10-k's and 10-q's
As the mobile commerce industry takes off, we will eventually see who the winners and losers are. With so many companies competing in this space, I think PayPal is the most reputable and secure provider available. Industry site PYMNTS.com recently named PayPal the "Most Disruptive" company during their Innovator Awards. To many companies, this awards title would be insulting, but in the world of mobile payments, it is a complement. Shares of eBay currently trade at 18X forward earnings - fairly inexpensive, given the growth opportunities that lie ahead.
*Note: All data reported and graphed is pulled directly from eBay's SEC filings (10K's and 10Q's) then ran through proprietary valuation models. The stock price used was from 8/20/12.
Disclosure: I have no positions in any stocks mentioned, and no plans to initiate any positions within the next 72 hours.