A little over a year ago, I was sitting in the board room at Global Securities headquarters in Vancouver listening to a presentation by the Vice President of Finance at Sandstorm Gold, Ron Ho. After this presentation, I asked Ron if they had any intentions of moving Sandstorm Gold from the CVE (Canadian Venture Exchange) to the TSX (Toronto Stock Exchange), to which he replied they did not. Obviously, Ron had more ambitious plans in the works, as today Sandstorm Gold listed on the big board at the NYSE under the ticker SAND.
Going from the minors to the majors is an exciting development for this Vancouver-based company. Supply and demand ultimately drive stock prices, and a large component of demand is exposure. There is no better place to find exposure than the NYSE. Having lived and worked in Asia, I can attest that even with the rise of emerging markets, all eyes are still on New York, meaning more eyes on SAND.
Due to idiosyncrasies in the marketplace, exposure can also be a function of stock price. The team at Sandstorm made an excellent move on this front, completing a 5 to 1 reverse stock split May 9 this year, which raised their stock price above the $5 mark. Although operation and valuation wise nothing changes, this puts Sandstorm on the map of mutual funds and other asset managers who have restrictions of only buying stocks above the $5 per share mark. It also allows the stock to now be bought on margin, and credit and demand go hand in hand.
These efforts are yielding tangible results, with the stock reaching all-time highs in recent days of $10.76. Also, SAND has picked up three new analysts since I last wrote about the company, most notably TD Securities, but still lacks coverage from a large U.S. bank. The possibility of being covered by a large multinational bank is a potential future catalyst, and if their stock price continues to rally, it is only a matter of time. The analysts that now follow the company:
click to enlarge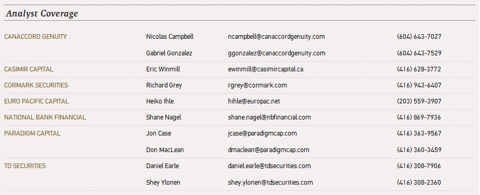 The CEO, Nolan Watson, armed with a degree from the top university in Canada, the University of British Columbia, has been here before. Last time, as CFO of Silver Wheaton in an identical business model, he took the company to a $5 billion market cap. With SAND currently with a market cap in the range of $700 million, he's looking to do it again. I believe he can, and continue to hold SAND.
Disclosure: I am long SNDXF.PK. I wrote this article myself, and it expresses my own opinions. I am not receiving compensation for it (other than from Seeking Alpha). I have no business relationship with any company whose stock is mentioned in this article.