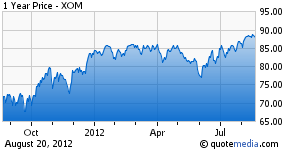 When considering companies that are universally held to be solid long-term investments, fewer names come up more often than Exxon Mobil Corporation (XOM). The energy titan has been a stalwart company for decades, consistently turning significant profits in the face of volatile oil prices, war and disaster. But with the recent news that Exxon Mobil is looking to drill in Afghanistan, I think there is reason to be concerned. In addition, oil prices are a huge unknown right now, and though Exxon has weathered the storm in the past, I worry it may not be a great time to invest in the company. Due to these reasons, as well as plunging natural gas profitability, I would caution against investing in Exxon Mobil at this time.
Currently trading at around $86, Exxon has so far rode out the storm for the past few years. Yet, this recent news of potential expansion into war-torn Afghanistan ought to give investors some concern. To be sure, the country is in much better shape now than a few years ago, but it is still a hotbed of extremism. Personally, I still wouldn't go anywhere near it. And according to the U.N., violence actually shot up over the past year to reach levels that haven't been seen since the days of the Taliban. I wonder how long it would take before an incident occurred that would make Exxon regret going in.
Admittedly, oil companies are no strangers to working in war-torn areas. But Afghanistan is a special case, given its history with the United States. If Exxon thinks that just because the Taliban is gone it can set up shop in Afghanistan without an issue, I think they are mistaken. Granted, this is currently just talk, and it isn't clear how long Exxon would wait before putting a drill in the ground. But in my view, it's too early even for talk. I see little upside to the move, as Afghanistan has just a fraction of the oil as its oil-rich neighbors. High risk for little reward seems like a losing strategy to me. For an example of how the country is still quite volatile, a Chinese copper mining company has yet to begin work because it is constantly under the threat of attack. This delay has likely cost the company a significant sum of money, and this could certainly happen to Exxon as well. Exxon is already doing quite well; it seems silly to take this risk, especially with the company facing other concerns.
I fully understand the non-business aspects of the move. If America's biggest company invested in Afghanistan, it would represent a move in confidence toward the war-torn country. There's also the benefit of being one of the first in, with an opportunity to set an entire new industry in line. I get that. But it doesn't spell success for investors. Fiscally, Exxon might earn access to Afghanistan's blocks, which "may contain" about a billion barrels per day. But even this is a larger deal than Exxon would take on. If it isn't willing to commit to go fully into Afghanistan, then that just highlights the doubt of the region. For years now, analysts have understood that a move into Afghanistan is politically motivated and bottom lines would not stand to see much benefit. Normally, I'd say fine. Let Exxon play the figurehead and make a small deal. But Exxon has some overriding concerns that it should be addressing before risking assets and reputation in a volatile place like Afghanistan.
One of these other concerns? Natural gas. Exxon CEO Rex Tillerson recently admitted the company was hurting from falling natural gas prices. While falling natural gas prices have been great for American consumers, energy companies are starting to see it affect their bottom lines. And the words used by Tillerson were quite revealing and potentially alarming.
"We are all losing our shirts today," he said. "We're making no money. It's all in the red."
Not exactly reassuring words for Exxon investors. In 2010, Exxon purchased XTO Energy, making Exxon the top dog in the natural gas game. Right now, it's looking like that wasn't such a good investment. There just does not seem to be much money in natural gas at the moment, making the move into Afghanistan even more puzzling, as the country's natural gas resources were cited as one of the reasons Exxon wanted to go in.
The current natural gas situation is one of the reasons Exxon was recently downgraded by analysts at Deutsche Bank. Citing per barrel profitability, the stock was downgraded to hold by the firm. Analyst Paul Sankey believes the company is weak heading into its earnings report and instead prefers competitors Occidental Petroleum (OXY) and Chevron (CVX), believing they will be more solid going forward. Motley Fool analyst Rich Smith finds the current situation for Exxon to be a bit troubling, and found the downgrade to be "understandable."
"With a price-to-free-cash-flow ratio that now exceeds 15, but long-term growth estimates of less than 9 percent per year, Exxon looks overpriced for its prospects," Smith writes. "Long story short, Exxon shares have failed to outperform the S&P 500 over the past year. Based on today's share price, next year doesn't look particularly promising, either."
Besides the worries over Afghanistan and natural gas, oil is just too volatile right now. Demand is weakening all across the board, especially in places where oil companies relied on strong demand, such as China. And who knows what will happen with Iran? For me, I'd rather stick with companies that are less vulnerable to global security instability. But if it's energy companies you're after, there are a couple different options being recommended right now. One of them, a direct competitor of Exxon, is ConocoPhillips (COP). Both Jim Cramer and Warren Buffett have endorsed the stock, citing impressive financial numbers. Another is Devon Energy Corporation (DVN), also recommended by Cramer for its strong financial indicators. And those companies don't have plans on going into Afghanistan anytime soon.
Exxon does boast a decent dividend yield of 2.6%, which keeps it well above average. However, as this article points out, Exxon's amazing ability to keep its finances so healthy has exposed it to the possibility of raising its offering. Still Exxon made a large portion of its recent revenue announcements from asset sales and tax write-offs, moves that won't be happening again. If Exxon's production is truly as desperate as to reach out to Afghanistan, there should be some worries.
While Exxon has historically been an extremely solid company to own, I just have a bad feeling about its plans in Afghanistan. I see it as a high risk for a little reward and it could end up being quite the boondoggle. In addition, the company may have made a mistake investing so heavily into natural gas and the CEO's remarks are a bit unsettling. Finally, oil is just too volatile of a commodity right now and there are other energy companies out there that might be worth looking into other than Exxon. With these concerns nestled around Exxon, it's just not the right time for a senseless move to Afghanistan. There may be a time for that, but it's not now. Furthermore, if I'm an investor, the move makes no sense and I'd prefer Exxon to ignore the country altogether. Exxon needs to keep an eye on solving some issues, not enter war zones.
Disclosure: I have no positions in any stocks mentioned, and no plans to initiate any positions within the next 72 hours.