Following its $35 billion acquisition of XTO Energy in 2010, the oil super-major Exxon Mobil (NYSE:XOM), firmly holds the position as the top U.S. natural gas producer. On a gross operated basis, Exxon's production represents over 7% of the total U.S. supply. Therefore, the direction of Exxon's North American gas strategy will continue to have a tangible impact on the overall supply / demand balance.
Exxon's Q2 Update Shows Dry Gas Drilling Put On Hold
Exxon's U.S. natural gas volumes peaked at 4.0 Bcf/d in the fourth quarter of last year. During Q1 and Q2 of this year, Exxon's production posted moderate declines of 73 MMcf/d (or 1.8%) and 35 MMcf/d (or 0.9%), respectively. The decline may accelerate in the second half of this year as Exxon has drastically curtailed its dry gas drilling in the U.S.
Exxon provides little operating detail or guidance with regard to its U.S. onshore operations. However, the overall production trend can be predicted. In 2011, Exxon operated approximately 71 land rigs in North America, with a significant number of those rigs targeting dry gas in the Barnett, Marcellus, Fayetteville, and Haynesville shales, the Freestone Trend, as well as other Exxon/XTO core operating areas. Exxon's U.S. natural gas production grew by 3.5% during 2011. In 2012, the rig count declined to 64 during Q1 and 57 during Q2. In July, Exxon was running a total of 51 rigs.
Not surprisingly, the majority of the reductions occurred in the dry gas plays. While "continuing to delineate, appraise, and evaluate the dry gas areas," Exxon has been re-directing rigs to oil and liquids-rich drilling. "That obviously would be a continuation of the trend that you are seeing over the last few quarters," commented Exxon's David Rosenthal during the company's earnings call. The 30% reduction in the company's North American onshore drilling activity masks a much deeper curtailment in the dry gas development drilling which has essentially come to a halt. A closer analysis of Exxon's rig deployment indicates that Exxon may have less than 10 rigs currently focused on dry gas.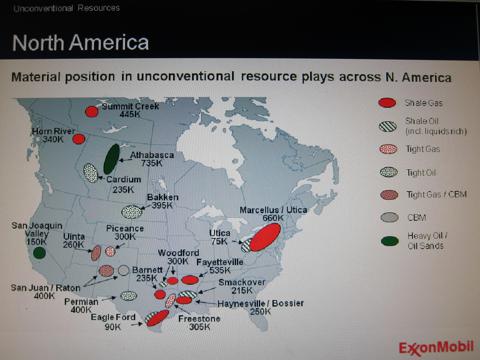 Click to enlarge
(Source: Exxon Mobil Corporation March 2012 Analyst Presentation)
The liquids-rich Ardmore Woodford and the oily Bakken are currently the two most active drilling programs in Exxon's U.S. onshore portfolio, with approximately 10 rigs each. Other active oil / liquids plays include the Eagle Ford with 5 operated rigs, the Permian with 3 rigs, and the Cardium and the Utica with 1 rig each. In the Marcellus and the Haynesville, Exxon is operating a total of approximately 8 rigs, however the majority of those rigs are also targeting the liquids-rich parts of the plays (Southwest Pennsylvania in the Marcellus and the liquids-rich targets in Panola County, TX). In the Fayetteville and the Barnett, Exxon's two other core gas-focused areas, the number of rigs appears to have been drastically reduced.
Exxon's U.S. Natural Gas Production Will Likely Decline Below 3.7 Bcf/d By Year End
Exxon enjoys a moderate natural gas base decline rate in the U.S. as conventional reserves represent a significant part of the Company's production base. Assuming the annualized U.S. base decline rate in a 25% range, I estimate Exxon needs a minimum of 30-35 gas-directed development rigs (or their equivalent) drilling continuously to maintain its U.S. natural production flat. Exxon likely crossed below that threshold during the first quarter of this year. Unlike Chesapeake (NYSE:CHK) and Encana (NYSE:ECA) who had a combined 1.3-1.4 Bcf/d of gross operated production shut this year, Exxon did not curtail its natural gas production in response to the brutally low natural gas prices. Therefore, except the wells waiting on pipeline or completion, Exxon may not have much production reserve to bring back online.
Assuming, for illustrative purposes, that the rigs focused in the liquids-rich gas plays produce half of the natural gas volume generated by the rigs drilling within the most productive dry gas "sweet spots," I estimate that Exxon is likely to post continued production declines in the next two quarters in the 75-100 MMcf/d range per quarter (net). Assuming no increase in dry gas drilling activity, Exxon's U.S. natural gas production may show a 2012 exit rate below 3.7 Bcf/d. On a gross operated basis, this translates in over 0.4 Bcf/d of supply reduction relative to the peak during Q4 2011.
It is difficult to estimate what price level would be required for Exxon to bring rigs back to work in its dry gas areas. It appears that the Henry Hub prices above $4 during 2011 translated in a moderate production growth for Exxon. However, it is also worth noting that the same price environment lead to a dramatic overproduction of natural gas for the industry as a whole. Exxon must have taken note.
Disclosure: I have no positions in any stocks mentioned, and no plans to initiate any positions within the next 72 hours. I wrote this article myself, and it expresses my own opinions. I am not receiving compensation for it (other than from Seeking Alpha). I have no business relationship with any company whose stock is mentioned in this article.