In 2011 Phillips Van Heusen changed its name to PVH Corp. (NYSE:PVH). The company traces its origins to Moses Phillips who sold flannel shirts to coal miners in the 1880s. Moses' grandson continued to lead Phillips Van Heusen until 1987.
Van Heusen Sample Room New York City 1954

On January 22, 1918 John Manning van Heusen patented the "soft folding collar"
"Isaac Phillips bought Mr. Van Heusen's U.S. patent for his "soft-folding" collar, and the Phillips-Van Heusen alliance, and The World's Smartest Collar, were born."
Phillips Van Heusen Corp. Bonds
PVH Corp. stock now trades at $87.17 up $35.68 cents from a year ago. The Phillips Van Heusen corp. bonds (issued before the company changed its name) currently yield 28 times PVH Corp. stock's annual dividend.
Phillips Van Heusen 7.75% 11/15/2023 bonds are rated junk by Moody's with a positive outlook, so I am cautious. In April 2010 S&P cut PVH's credit rating to junk and has since raised PVH's credit rating to BBB the second lowest of S&P's investment grades.
| | |
| --- | --- |
| Phillips Van Heusen 11/15/2023 7.75% CUSIP: 718592AB4 | Price: 117 Yield: 5.7% Credit Rating: Ba1/BBB |
*For more information on Phillips Van Heusen debenture call PVH Corp. investor relations.
These are non callable corp. bonds, with sinking fund protection and conditional puts, based on covenant violation. The past two issuer events listed for the bonds state:
09/19/2011 4:20 PM EDT MOODYS RATING UPGRADE UPGRADED TO Ba1 ON 09/19/11

06/24/2011 7:25 AM EDT OTHER MATERIAL EVENT NAME CHG FROM PHILLIPS-VAN HEUSEN CORP ON 06/24
Apparel & Retail Industry Comparison
Most of the selected equities here are at 52-week highs or in some cases all time highs. Here is a look at how PVH's 5 year stock chart compares with competitors and retailers:
Apparel
PVH Corp.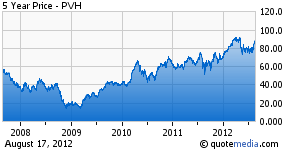 Ralph Lauren (NYSE:RL)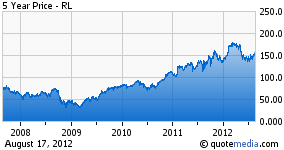 American Eagle Outfitters (NYSE:AEO)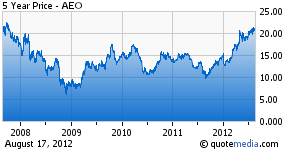 Aeropostale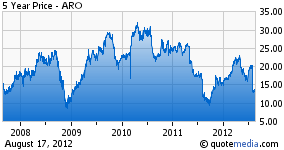 Cherokee (NASDAQ:CHKE)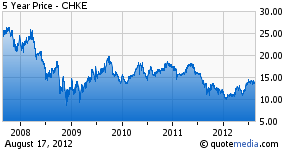 Gap (GPS)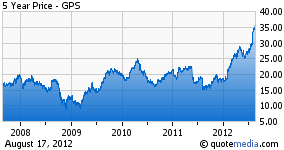 Retail Stores
Macy's (NYSE:M)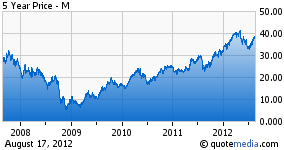 TJX Companies (TJX)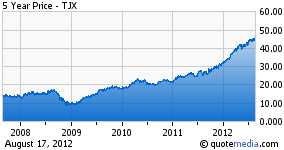 Apparel investors have seen both strong and weak performances lately. Eddie Bauer went bankrupt while Ralph Lauren has soared, American Eagle dropped then flew back to a middle ground, while Aeropostale has not been so lucky. The fit have survived leaving other businesses in the dust.
Example Portfolio
Fidelity is the top institutional holder of PVH Corp. with 9,286,467 shares as of March 30, 2012. Fidelity keeps large PVH stock holdings in four of their mutual funds.
Fidelity Capital Appreciation Fund (FDCAX) has no front end load, a 0.91% expense ratio and owns 1,739,616 shares of PVH Corp. as of May 30, 2012. Fidelity Blue Chip Growth Fund (FBGRX) has no front end load, a 0.94% expense ratio and owns 936,800 shares of PVH Corp. as of May 30, 2012.
Here are the Fidelity fund holdings:
Though American Century Balanced Fund (TWBIX) does not hold PVH Corp. it could serve as a good alternative to Fidelity Capital Appreciation. The American Century annual prospectus shows $2.8M in North Carolina based apparel maker VF Corp. (NYSE:VFC) in addition to 120,000 Gap, Inc., 5.95%, 4/12/21 and 140,000 Hanesbrands, Inc. (NYSE:HBI) 6.375%, 12/15/20 corp. bonds.
American Century Balanced Fund
Apple
Exxon Mobil (NYSE:XOM)
International Business Machines (NYSE:IBM)
Chevron (NYSE:CVX)
United States Treasury Note
Microsoft
Fannie Mae Pool
Phillip Morris
Verizon (NYSE:VZ)
Google
Here is an example allocation to consider:
| | | | | |
| --- | --- | --- | --- | --- |
| Portfolio Size | Phillips Van Heusen 7.75% 11/15/2023 price: $116.50 | Fidelity Capital Appreciation Fund or American Century Balanced Fund | Vanguard S&P 500 (NYSEARCA:VOO) price: $65.08 | Total / Percentage |
| 50,000 | 1 | $2,000* | 2 | $3,300 / 6.6% |
| 100,000 | 2 | $2,500 | 5 | $5,155 / 5.1% |
| 250,000 | 3 | $2,550 | 7 | $6,501 / 2.6% |
| 500,000 | 4 | $2,750 | 10 | $8061 / 1.6% |
| 1,000,000 | 5 | $3,000 | 15 | $9,776 / 1% |
| 2,500,000 | 7 | $5,000 | 20 | $14,420 / 0.5% |
*The fund minimum is $2,500 however the minimum balance is $2,000. You might be able to request just $2,000 of either fund if you have an account with Fidelity of American Century.
Please note that Loomis Sayles Inv Grade Bond Class A (LIGRX) holds $3.7M of the Phillips Van Heusen 7.75% 11/15/2023 bonds. This fund has a 4.5% front end load in addition to a transaction fee.
Given market volatility consider watching for a downturn to contemplate the mutual fund. However the level of the market is one reason for the small allocations to begin with. The reality is now that many of these companies are going strong hindsight is 20/20.
Consider Ranges
Phillips Van Heusen bonds clearly generate more income than the company's stock. Investors should weigh the integrity of the company in order to decide if PVH Corp. could weather future economic storms. Looking back PVH Corp. has stood one test of time; however in times of economic uncertainty many families simply rely on hand-me-downs.
The importance of socio-economic factors relative to the apparel industry can not be overstated. The industry relies heavily on national employment and income levels; for instance one of my teachers explained that her mother sewed potato sacks for clothes when she was young. Today you can find a Calvin Klein Jeans dress for $89.50 and fashion designers have dreamed up a burlap dress for $1,400.
At right a mother during the Great Depression is dressed in a flour sack skirt.
Clothing stores were located in big cities, though not everyone could afford to buy clothes.

Click to enlarge

"Mother and baby of family of nine living in field on U.S. Route 70 in Tennessee, near Tennessee River" 1936 Carl Mydans U.S. Farm Security Administration
The idea behind a long term investment strategy is to figure how much you might invest for several years. You would not want to return to find that the one stock you picked did not do well. Therefore it makes sense to set up a balanced portfolio, in this example the holdings provide broad exposure to multiple industries.
The SPDR Dow Jones Industrial Average ETF (NYSEARCA:DIA) has taken investors on a rollercoaster ride.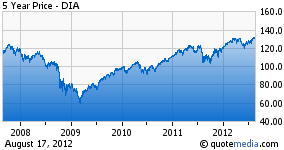 As we approach levels not seen since 2007 and 2008 investors should consider possible ranges upward and downward. This is the reason why the Phillips Van Heusen bonds may be worth considering in addition to or in place of the company's stock. Through a strategy that attempts to safe guard your portfolio in the event any one position fails.
If you have any comments on this example strategy or would like to suggest a security that might work please comment below.
Disclosure: I am long AEO, ARO, GPS, AAPL, RL, KO, JOEZ, MORN, AAPL, HBI, MCD, M, IBM, XOM.
Additional disclosure: I am long Phillips Van Heusen 7.75% 11/15/2023 and American Century Balanced Fund