Some stocks you buy for their dividend. Some you buy for their likely stock price appreciation. Others you buy for their solid value. Chesapeake Energy (NYSE:CHK) is guilty on all counts. However, that may not be what makes it great for you in these uncertain world economic times.
Because it has all of the above features, it is not a stock that is likely to go to zero or near zero in a downturn. It is instead a stock that may flounder in its bad press and its number two ranking as a natural gas producer, when natural gas prices are extremely low. This does not mean it does not deserve a higher valuation. It does. However, all of its negative press means it won't likely shoot up dramatically. Its complicated financial structure means the analysts hate it. It is just too much work for most of them to put in the time to understand it well. It suffers from its large debt load, which adds to analysts' uncertainty. It further suffers from the gambling style of its CEO, who also happens to be a great oil and gas mind. In other words, it is a fantastic value stock that is being held back by a number of factors, which should not greatly impact its long term performance. The fact that Carl Icahn bought a 7.56% stake in the company in May 2012 should tell you that the stock is unlikely to fall appreciably. Rather Icahn is a specialist at "unlocking" value in stocks.
When you encounter this kind of situation, you can simply buy for the long term. Alternatively you can buy on the dips. Wait for the stock to appreciate a bit. Then sell one month call options on your stock. In this way you can play the overall market cycles and the oil and gas cycles very profitably. For instance, I bought CHK for around $15 in May after it first tanked. When it got to $18, I sold one month $19 call options on the stock. It was called away at $19 for a real sale price of about $19.80. When the stock approached $17 again, I bought more CHK. When it got to $18.50or so, I sold more one month $19 call options on it. It was called away (barely) for another net profit. The $19 option price was again about $0.80.
Admittedly the first fall was a special situation that was due to a news driven panic. However, the stigma has remained, and it will likely continue to do so through the next year or more. The gains are more likely to be similar to the second example. However, you will note that a trader has made nearly 50% with little effort and little risk by using this strategy in the last few months. If you only make 30% in a year, you will still be doing well. If the stock is not called away, you can simply pocket the call premium. Then you can sell the next month's slightly out of the money call option again.
This does not mean that you want to buy CHK immediately. The current market is highly overbought. The overall market is due for a retracement. When it retraces, CHK will retrace with it. That is when you want to buy CHK. The future potential and value of the CHK stock protect you on the low end. You can just wait for CHK stock to come back. At the high end, you can hedge your gains by selling just out of the money calls for the next month for pure profit. You do not have to worry that you have not caught this stock at the very bottom. It will almost certainly rise above any near-term retracements given time. Plus you have Carl Icahn working for you. You may be able to make 100% or more on this stock in the next year, if you use this method, even though the stock may simply be fluctuating most of the next year. What retiree wouldn't want to make 100% on a stock, especially with little risk? In this case the great value and the contrastingly very negative press will increase the volatility of the stock. This in turn will help you make great profits using the covered call method. The absolute worst thing that could happen is that you might end up owning a great value stock long term. Even for this case, you would get to collect the 1.80% dividend. That's roughly the rate of a 10-year US Treasury Note, and CHK has a immensely more upside potential.
At some point you may decide you just want to own this stock long term without selling any calls. However, commodity based stocks, especially energy, are normally beaten down in an economic downturn. They are unlikely to go shooting up during these times. The current world economic downturn promises to last until next summer at least. That makes this an excellent method to reap good profits for the next year.
This process is based on CHK being a great value, as I have claimed. Let me give a brief synopsis of its good points. A few of the highlights of CHK's assets and activities are:
It has more than 15 million net acres in US onshore leaseholds.
It has 3D seismic on more than 30 million net acres. In other words it may be first in other new fields.
It is in the #1 or #2 net acreage position in 10 excellent new fields.
Total Q2 2012 production averaged approximately 3.8 bcfe/d (up 25% year over year).
Total Q2 2012 liquids production averaged approximately 130,200 bpd (up 65% year over year).
Liquids now constitute 21% of total production. CHK is aiming for 35% in 2015.
CHK anticipates monetization sales of assets for Q1-Q3 2012 to reach approximately $11.7B.
CHK has retargeted asset sales for FY2012 to $13B-$14B.
CHK expects the above sales to pay all 2012 Cap-Ex costs and to reduce long term debt to $9.5B.
CHK plans another $4.25B-$5.0B in asset sales in FY2013.
CHK expects to regain its investment grade bond rating within the next year or so.
Q2 operating cash flow was $895 million.
CHK has shifted operating rigs to 114 liquids and 11 natural gas in 2012 from 22 liquids and 100 natural gas in January 2010.
CHK is switching to harvesting its value. It is feeding money into developing its resources instead of buying more leaseholds. It will attempt to develop its core assets in the following plays: the Eagle Ford, the Marcellus, the Utica, the Anadarko Basin (Granite Wash, Cleveland, Tonkawa Tight sands), the Mississippi Lime, the Powder River Basin Niobrara, the Haynesville/Bossier, and the Barnett.
Despite major asset sales, CHK expects FY2012 production to exceed FY2011 production by 18%.
CHK pays a 1.80% dividend.
CHK trades at a P/E of 6.45 and an FPE of 14.81. The latter is mostly a reflection of lower natural gas prices.
This all sounds like a very aggressive plan, but it also sounds doable. CHK has excellent assets, and it has a strong history of making the above described asset monetization sales. Investors should be aware that the regaining of its investment grade bond rating will be mean that many if not all analysts will start recommending the stock strongly. That may be the point at which you may just want to own the stock for a few years instead of utilizing the covered call strategy. There is little question that CHK has great assets. The following CHK production chart shows CHK's near term production achievements and goals.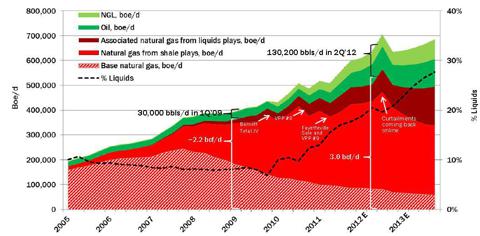 CHK is not a small player. It is a large oil and gas E & P developer (a $12.46B market cap and a $26.96B enterprise value) that wants to become an oil & gas major. It could succeed. If it does, you would definitely benefit from investing in it. If so, it stock price will multiply several fold. Take note of the fact that CHK is planning $18B-$20B in asset sales for 2012-2013. Yet these sales are not supposed to have an appreciable effect on CHK's production or on the number of properties needing development. It should be easy to see that the company is worth far more than its enterprise value.
The two year chart of CHK provides some technical direction for this trade.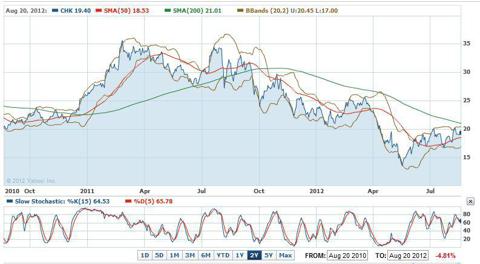 The slow stochastic sub chart shows that CHK is close to overbought levels. The main chart shows that CHK has been in a down trend. This downtrend seems to have bottomed. This is further backed up by the chart below. This EIA chart of both historical and forecast US natural gas prices shows there is good reason to believe the bottom in the above chart is real. Remember CHK is the second biggest natural gas producer in the US.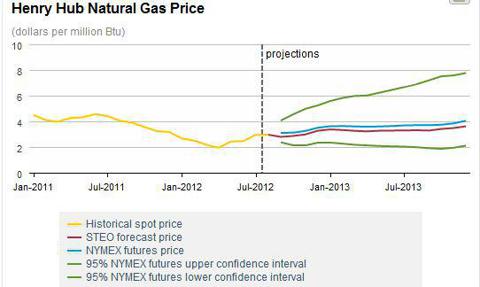 Further the early predictions are for an el Niño weather winter season in the North America this year. The likely colder than normal winter weather should help to push up natural gas prices. This should help CHK's profits immensely. Longer term, natural gas for transportation may provide increased demand. Plus the US may start exporting LNG in 2015 or 2016. Exports of NGLs based refined products such as olefins are expected to increase significantly too.
If you are interested in high growth liquids producers, you may be interested in looking at a few of the other top companies in the US. This list includes: Continental Resources Inc. (NYSE:CLR), EOG Resources Inc. (NYSE:EOG), Pioneer Natural Resources Co, (NYSE:PXD), and SandRidge Energy Inc. (NYSE:SD).
Note: Some of the above fundamental data above is from Yahoo Finance.
Good Luck Trading.
Disclosure: I have no positions in any stocks mentioned, but may initiate a long position in CHK over the next 72 hours. I wrote this article myself, and it expresses my own opinions. I am not receiving compensation for it (other than from Seeking Alpha). I have no business relationship with any company whose stock is mentioned in this article.