We told our Seeking Alpha followers back in February that Vringo, Inc. (VRNG) shares were getting ready for the next leg up. Shares were trading at a mere $1.43 then.
Now trading at more than twice the market cap, the company looks primed to move even higher having just acquired Nokia Corporation`s (NYSE:NOK) foundational wireless infrastructure IP portfolio. There are 31 families of patents in the takeout portfolio and most are declared essential with regards to communication standards. Given that, we would expect that we are going to start seeing several additional lawsuit announcements and enforceable IP infractions similar to the ones the company is going after now.
Last week, the company announced that they had sold 9.6 million shares of its common stock in a registered direct offering at a price of $3.25 per share, in order to raise approximately $31.2 million. Almost immediately, they turned around and used a majority of those funds to acquire Nokia's portfolio. Why? Because they obviously see an opportunity to monetize those assets.
Those of you who follow Vringo know that the firm has several strong pending patent infringement cases against Google Inc. (GOOG), AOL, Inc. (AOL), IAC/InterActive Corp. (IACI), Target Corporation (TGT), and Gannett Co., Inc. (GCI) in the Eastern District of Virginia. The case asserts that Vringo`s patents cover the ranking of Google's advertising search results based on content relevance and click-through rates. This strikes at the core of Google's revenues according to the complaint filed.
After a very active week of trading, which saw most of the shares from the financing hit the market, it looks to us that from a technical standpoint, prices have been bouncing off a strong level of support at the $3.20 mark. That is, as far as we're concerned, the downside risk level for now. As the overhang appears to be eaten through, we may start to see a bigger move up given Thursday and Friday's bounce.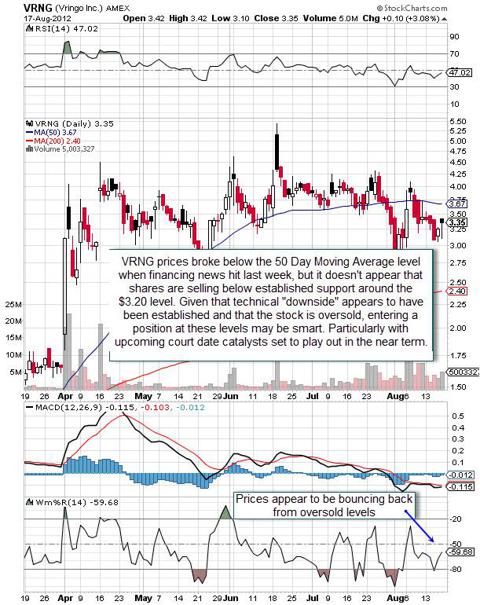 Fundamentally, Vringo has just increased its IP portfolio by 15x. Follwing the Nokia transaction, it now emerges as a power house loaded with assets and IP monetization potential across the entire range of tech`s hottest sectors from mobility, to search engines, to digital advertising. This creates an obvious pipeline of litigation and even more potential settlements (read about their recent settlement with AOL as an example) with a broad range news items that could start hitting shortly one after the other, if observers are correct.
The company had very positive Markman hearing-- which as of last Friday, has been upheld by a United States district judge, according to Dow Jones-- and loud credible rumors on Wall Street lead us to believe that the company will announce, any day, the actual amounts they are suing Google for. If those rumors are true, those figures could be in the billions of dollars, and it goes without saying that the impact of an announcement like that could be significant.
Their in-house lawyer, David Cohen, was formerly Senior Litigation council at Nokia, and during his time at that firm, Cohen managed the successful world wide litigation against Apple Inc. (AAPL) which resulted in a reported $715 million settlement, plus ongoing royalties for every iPhone sold worldwide.
Billionaire and Dallas Mavericks owner Mark Cuban has bought into the potential here and purchased a significant stake. He is reported to be VRNG's largest shareholder now, and we would not bet against him.
Investor and Fund Manager James Altucher wrote about Vringo`s claims against Google in an article titled, "Why Google Might Be Going to $0," as did Chuck Salter from Fast Company in "Vringo`s Patent Suit to Become a Multimillion-Dollar Bout Between Google and Mark Cuban."
Altucher, recently chimed in with a big headline-grabbing note stating:
I've done a lot of research on the case, I've talked to patent lawyers, I've gone through all the dockets on the case, I've gone through all the history on the court and so on. My own personal opinion is that Google is going to lose this case. They lost drastically on the Markman hearing, AOL has already settled part of the case... So Google is going to settle. The question is, how much are they going to settle for.
One of the main points Altucher has made is this: Google was Lycos' biggest customer. Why sue your biggest customer? Operating companies rarely sue other operating companies. It's easy to imagine that some of the same logic may apply to Nokia's placement of their IP policing duties in Vringo's hands.
As a fellow Seeking Alpha contributor points out, by striking this newly announced IP deal with Vringo, Nokia is cashing in on its valuable patents, outsourcing the legal troubles and risk of not monetizing extensive and expensive R&D, all the while, keeping a portion of any revenue generated from the patents sold.
From a historical analysis standpoint, if we compare the story to the one which played out at VirnetX Holding Corporation (NYSEMKT:VHC), watching VRNG's hearing and court dates could be key for investors and traders to get in at the right time and make some profits. With the trial date on the Google case now set for October 16, 2012, there will likely be plenty of speculators taking positions in the stock. The X-Factor here, of course, are the persistent settlement rumors and news about them which could come at any moment.
From day one, the company has told us that they intended to expand their intellectual property portfolio through both internal development and acquisition. That, in the most simple terms, is what the play is here; but again, at this point, even if the company (finally and) officially announces the financial sums and damages at stake as part of the Google lawsuit, speculators will flock to buy shares. Why? Because the numbers are likely far greater than anyone has guessed so far.
Given the pullback to these post-financing levels, that makes the case for a speculative bet on VRNG extremely compelling. Particularly since the company is now better-positioned financially and may have just set the stage for more news announcements, given their increased intellectual property reach and scope.
We continue to be very bullish on VRNG, despite the fact that risk exists in the form of the various binary events that stand ahead for the company in litigation. They must find a way to realize the anticipated benefits of these big recent corporate moves, otherwise these investments will fail.
Also, the challenge here will continue to be for management to accomplish the integration of Vringo's businesses smoothly, successfully, and within the anticipated costs or time frames they told the market about in their most recent conference call.
So long as the management teams keeps executing and showing investors that they have their interests in mind, they should continue to de-risk the play for the market. What's nice to see is that few appear to be willing to sell shares at lower prices now. They feel, like we do, that the upside here is too great to risk selling into right now.
Disclosure: I have no positions in any stocks mentioned, and no plans to initiate any positions within the next 72 hours.