I have noticed over the last few months that the silicon metal producers and suppliers are starting to vastly outperform the overall market after a year of underperformance (see the chart below, for example). I first noticed this as my position in GT Advanced Materials (GTAT) went from an absolute dismal performer to superstar status over the last three months. This morning, Globe Specialty Metals (NASDAQ:GSM) reported earnings that easily beat consensus estimates. We could be in the early innings of a move in the sector, and the space has a lot of momentum here.
Click to enlarge image.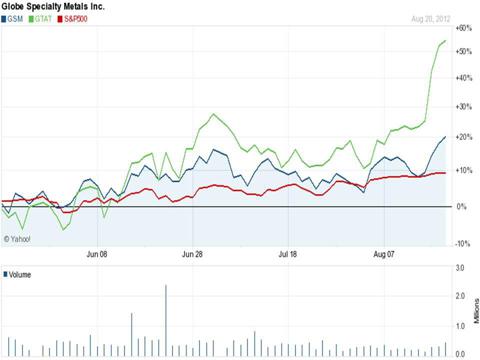 Here are a list of positives from GSM's earnings report:
The company posted EPS of 17 cents a share, 2 cents above estimates.
Revenues rose 9% to just under $192 million, $14 million above the consensus.
GSM raised its annual dividend to 25 cents annually, up from its current annual dividend of 20 cents a share.
The company expects further productivity gains to come. Key end markets such as steel, autos, consumer goods, and solar continue to grow despite Europe headwinds.
According to the business description from Yahoo Finance, "Globe Specialty Metals, together with its subsidiaries, produces and sells silicon metal and silicon-based alloys in North America, Europe, South America, and Asia."
Here are four additional reasons GSM still has upside at $14 a share:
The company has a solid balance sheet (net cash position) and will now yield just under 2%.
It has a reasonable five-year projected PEG (1.06), and analysts expect over 12% revenue growth in FY 2013 (look for that to be revised up based on this earnings report).
Even before earnings, the stock was behaving much better technically and just crossed over its 200-day moving average on Friday. GSM is also selling in the bottom third of its historical valuation range based on P/B, P/E, P/S, and P/CF.
The stock has been flat over the last year and is basically at the same level it was at last August when an insider bought $148,000 in shares. Insiders have held on to their shares, and I would look for the stock to move higher on improving sentiment in the sector and increasing earnings estimates based on this last quarter.
Disclosure: I am long GTAT.
Disclaimer: I wrote this article myself, and it expresses my own opinions. I am not receiving compensation for it (other than from Seeking Alpha). I have no business relationship with any company whose stock is mentioned in this article.