As I detailed in a recent Seeking Alpha article, REITs Allow A Broad Menu Of Appetizing Options: If It's Eat-Able, It's REIT-Able, a wave of possible IPOs has created an abundance of opportunities for companies in non-traditional REIT businesses to convert to REITs. Faced with limited investment opportunities as the global economy slows, a growing number of companies are weighing changing their entire corporate structure to become REITs.
By converting to a REIT structure, corporations engaged mainly in owning and operating real estate, are able to return excess cash to shareholders, while avoiding federal income taxes, and get a chance to boost their stock market valuations, which has led some investors to push for the change. Boosting that trend, the IRS has broadened its definition of qualifying an asset and that broader definition has created a wave of qualifying real estate REIT conversion candidates.
Equinix Inc. (NASDAQ:EQIX), a provider of carrier-neutral data centers and Internet exchanges, has been weighing REIT conversion for some time, and its management now seems to be aiming for a 2014 transition. Equinix could join another highly successful data storage peer as Digital Realty Trust, Inc. (NYSE:DLR), one of the 15 largest REITs in the US (with an equity market capitalization of $9.6 billion) has produced year-over-year total returns of 47.72 percent (Source: SNL Financial).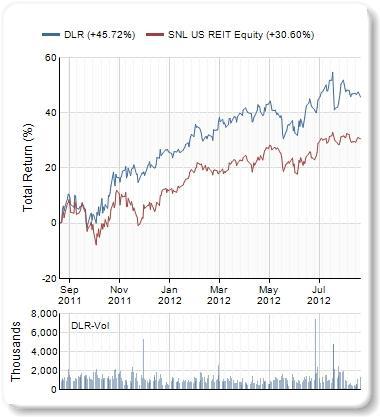 More recently, CyrusOne Inc. has emerged as the next likely data storage REIT conversion candidate as the colocation unit of Ohio-based telecommunications company Cincinnati Bell Inc. (NYSE:CBB) has filed a registration statement with the SEC on Aug. 8 for an IPO of common stock.
In the case of both data storage companies (Equinix and CyrusOne), conversion is some time off. But American Tower Corporation's (NYSE:AMT) most recent success with the process should only encourage the prospective new entrants. American Tower merged American Tower Corp. as part of the company's REIT conversion, effective Jan. 1, 2012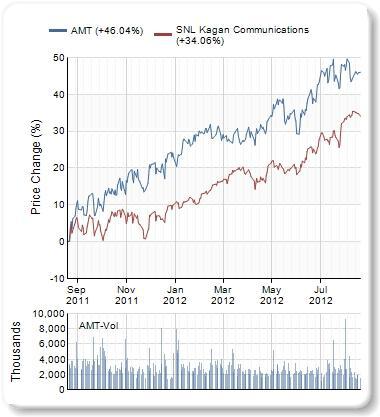 CyrusOne, formed as a Maryland corporation July 31, is an owner, operator and developer of "enterprise-class," carrier-neutral data center properties and has roughly 500 customers; its business is comprised of the historical data center activities and holdings of Cincinnati Bell. As of March 31, CyrusOne's portfolio includes 21 operating data centers in eight markets.
The proposed maximum offering price, estimated solely for the purpose of determining the registration fee, is $300.0 million. Currently, no public market exists for the shares. The company intends to apply to list its common stock under the symbol (NASDAQ:CONE).
CyrusOne cites the following competitive strengths in the S-11 registration:
We believe the following competitive strengths distinguish us from other data center operators and will enable us to continue to grow our operations.

High Quality Customer Base. The high quality of our assets combined with our reputation for serving the needs of large enterprises has enabled us to focus on the Fortune 1000 to build a quality customer base. We currently have approximately 500 customers from a broad spectrum of industries, with a particular expertise serving the energy industry, which comprises 36% of our annualized rent as of March 31, 2012. We currently have nine of the Fortune 20 and 108 of the Fortune 1000 or private or foreign enterprises of equivalent size as customers, including five of the six "supermajor" oil and gas companies. Our revenue is generated by a stable enterprise customer base, as evidenced by the following as of March 31, 2012:
| | | | |
| --- | --- | --- | --- |
| | • | | 70% of our annualized rent comes from the Fortune 1000 or private or foreign enterprises of equivalent size; |
| | | | |
| --- | --- | --- | --- |
| | • | | 60% of our annualized rent comes from investment grade companies or their affiliates, based on the parent company's corporate credit rating by Standard & Poors Ratings Services ("S&P"); and |
| | | | |
| --- | --- | --- | --- |
| | • | | 30% of our annualized rent comes from the Fortune 100. |
In addition, CyrusOne cites the company's strategically located portfolio:
Our portfolio is located in several domestic and international markets possessing attractive characteristics for enterprise-focused data center operations. We have domestic properties in five of the top 10 largest U.S. cities by population (Chicago, Dallas, Houston, Phoenix and San Antonio), according to the U.S. Census Bureau, and four of the top 10 cities for Fortune 500 headquarters (Chicago, Cincinnati, Dallas and Houston), according to Forbes. We believe cities with large populations or a large number of corporate headquarters are likely to produce incremental demand for IT infrastructure. In addition, being located close to our current and potential customers provides chief information officers ("CIOs") with additional confidence when outsourcing their data center infrastructure.
CyrusOne also details its experienced management team:
Our management team is comprised of individuals drawing on diverse knowledge and skill sets acquired through extensive experiences in the real estate, telecommunications and mission-critical infrastructure industries. In aggregate, our executive team of nine individuals has an average of approximately 15 years of experience in the data center and communications industries.
Several key members of the management team include:
Gary J. Wojtaszek, President, Chief Executive Officer and a member of the board of directors. Wojtaszek was appointed to CBI's board of directors on July 29, 2011, and was named President of CyrusOne effective August 5, 2011. Upon consummation of this offering, Wojtaszek will resign as a member of CBI's board of directors. Prior to becoming the President of CyrusOne in August 2011, Wojtaszek served as Chief Financial Officer of CBI beginning July 2008 and as Senior Vice President, Treasurer and Chief Accounting Officer for the Laureate Education Corporation in Baltimore, Maryland from 2006 to 2008. Prior to that, Wojtaszek worked from 2001 to 2008 at Agere Systems, the semiconductor and optical electronics communications division of Lucent Technologies, which was subsequently spun-off through an initial public offering. While at Agere Systems, Wojtaszek worked in a number of finance positions, ultimately serving as the Vice President of Corporate Finance, overseeing all Controllership, Tax and Treasury functions. Wojtaszek started his career in General Motors Company's New York treasury group and joined Delphi Automotive Systems as the regional European treasurer in connection with the initial public offering and spin-off of Delphi Automotive Systems from General Motors. Wojtaszek has an MBA from Columbia University and a BA from Rutgers University.
Kimberly H. Sheehy is the Chief Financial Officer and Treasurer. Sheehy joined CyrusOne in 2011 as the Chief Administrative Officer. Prior to that, she held various roles between 1996 and 2011 at CBI, including Treasurer and Vice President of Investor Relations from March 2011 through November 2011, Vice President of Finance and Treasurer from 2007 to 2011, and Vice President of Financial Planning and Analysis in 2007. Prior to joining CBI, Sheehy held accounting and tax positions at Ernst & Young.
John F. Cassidy is the Chairman of the board of directors. Cassidy has been the President and Chief Executive Officer of CBI since July 2003 and a director of CBI since September 2002. Cassidy has held various other positions within CBI, including President and Chief Operating Officer of Cincinnati Bell Telephone Company and President of Cincinnati Bell Wireless Company.
William E. Sullivan will serve on the board of directors upon completion of the offering as the lead independent director and the chair of the audit committee. From March 2007 to May 2012, Sullivan served as the Chief Financial Officer of ProLogis Inc. (NYSE:PLD), a REIT operating as an owner, manager and developer of distribution facilities. Prior to that, Sullivan served as the Chairman and Chief Executive Officer of SiteStuff, Inc., beginning in June 2001. SiteStuff, Inc. is a procurement solutions company specializing in real estate property and facility management. Sullivan worked for Jones Lang LaSalle (NYSE:JLL), and its predecessor LaSalle Partners, in a variety of positions from 1984 to 2001, including as Chief Financial Officer from 1997 to 2001 and as a member of the board of directors from 1997 to 1999.
Put This Possible REIT Conversion on the Radar
CyrusOne intends to elect and qualify to be taxed as a REIT for U.S. federal income tax purposes, commencing with the taxable year ending Dec. 31. This proposed REIT conversion is worth exploring and the potential revenue model could provide some attractive dividend opportunities down the road.
In the interim, Cincinnati Bell hit a 52-week high last week ($4.59) and the stock closed today at $4.49 per share. The year-over-year total return is 47.7 percent.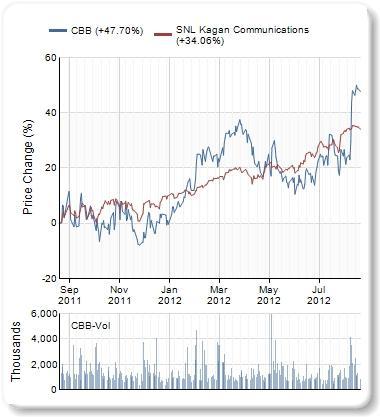 Source: SNL Financial and CyrusOne S-11
Disclosure: I have no positions in any stocks mentioned, and no plans to initiate any positions within the next 72 hours.