When we look at any product one thing we try to determine very early on is the potential market for that product. When investors look at an equity they are looking for the potential that the investment made will grow over time because the product the company we invest in has real potential.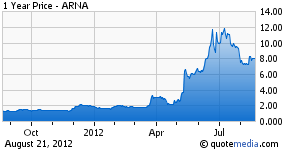 There is a substantial difference between potential market and the real market for any given product. For Arena Pharmaceutical (NASDAQ:ARNA) investors the size of the potential market for its FDA approved drug Belviq, prescribed for weight loss is massive (no pun intended).
Having a huge potential market is great, but what investors really want to figure out is the potential size of the real market. Being able to establish those expectations early on can offer hints as to the potential revenue stream a drug like Belviq can offer.
How do we determine the real market of a product? The honest answer is that it is nearly impossible. However, we do have some data to work with. For example, websites would love to see just 1% of readers click on an advertisement. The reality is that less than 1/2 of 1% actually do it. We could also look at popular drugs for erectile dysfunction (ED). I use this as an example because Viagra literally rewrote the book for Pfizer (NYSE:PFE).
It is estimated that in the United States, 30 million men suffer from erectile dysfunction. That is a pretty sizable potential market, and would be exciting for a potential investor to look at. In fact it was indeed a sizable market, and the numbers were well below 30 million when Viagra was first being contemplated. Incredibly, it is estimated that only 20% (or 6 million) of those that are impacted by the condition seek treatment. That is substantially smaller than the potential market, but well above what we in the world of the web look for. Even with just 20% saturation pills like Viagra and Cialis have made huge profits. Pfizer invented the market and dominated it until 2011 when Cialis overtook it. On a global basis Cialis and Viagra were nearly a $4 billion market in 2010. The potential market was $20 billion.
The point here is that as Arena's Belviq prepares to go onto the market in the U.S., there are many investors discussing the potential market and seeing huge dollar signs. I like to be more realistic in my approach. It is not that I am being bearish, it is simply that I try to be a realist. After all, my money is very real to me and I want to be very real in what I do with it.
According to the U.S. Census, the United states has a population of 311 million people. For the purposes of this article, and because there is no data on Belviq for juveniles, we will use only the demographic of people 18 and older. That would reduce the potential market to 237 million. However, not everyone is overweight or obese.
According to The Food Research and Action Center, 63.7% of adults ore overweight or obese. Taking this into consideration, we now need to reduce the potential market from 237 million to 151 million. This is a pretty incredible starting point that is 5 times larger than the market for erectile dysfunction!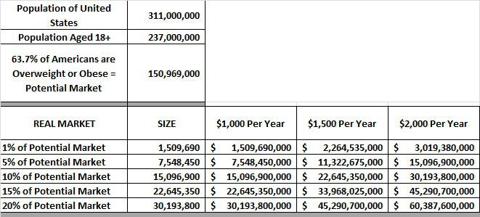 Click to enlarge
(Click to enlarge)
Now let's get down to some nitty gritty numbers. At 1% of the potential market we are looking at 1.51 million as the market. Smaller than ED's 6 million, but still quite substantial. At 10% of the potential market we would see a realistic market of 15.1 million people, over 2.5 times the size of the ED market. If the market can match the impressive 20% seen with ED, the number becomes a still staggering 30 million! Believe it or not, that would have 10% of the overall U.S. population seeking treatment!
How does this translate into dollars? In 2002, a decade ago, the average senior spent $1,500 per year on the average drug. This is the largest segment that gives meaningful data to the cost of a wide cross section of drugs. That number could be as high as $2,000 now by conservative estimates! There is speculation from Arena management comments that the market for Belviq could be as high as $3,000 per year. For the purposes of discussion I am using $2,000 per year per user. At a 1% of the potential market that would make the prescription diet drug market a $3 billion one in the U.S. At 10%, the market is an incredible $30 billion! At 20% we are talking about $60 billion.
Even with a 1% market the potential of a diet drug is a market that is right on the heels of the ED market! With just two drugs approved by the FDA for weight loss in the last decade, the market for Arena's Belviq and Vivus' (NASDAQ:VVUS) Qysmia are huge. Both of these companies have huge potential even based on just 1% penetration, and while a market split between Arena and Vivus cannot be determined, it could be an impressive windfall for both. Pricing of Belviq and Qsymia has not yet been officially determined.
What will determine whether we look at 1% or 20%? Good marketing and good results. Look out Wall Street, there is potentially a huge market developing! I always like it when even a very conservative model looks promising!
Disclosure: I am long ARNA.