Thanks to investors' flight to safety and unabated hunger for generous dividends, the Dow Jones Utility Average (DJUA) is within a few percentage points of its all-time highs.
Utilities' formula for long-term growth is to invest in vital infrastructure and operate those assets in an efficient manner that generates a solid return on capital deployed. This simple strategy helped keep sector dividends rising during the credit crunch and recession of 2007-09.
As "Growth Engines" shows, utilities expect to spend at least $2.4 trillion on power, gas, communications and water systems between now and 2030. That's a lot of fuel for further dividend boosts, which push stock prices higher.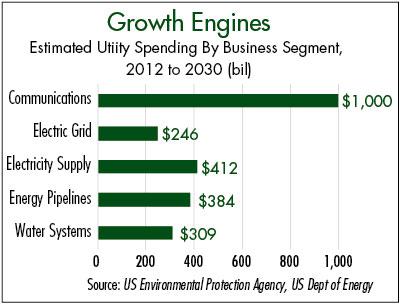 Companies strive to earn a reasonable return on capital expenditures. Those that meet this challenge will prosper and build shareholder wealth. Those that can't will become graveyards of capital for the unwary.
Sorting winners from losers is even more complicated today, because large pieces of power, gas and even water industries are no longer operated as integrated monopolies as they were in decades past. Profits on power and water sold on wholesale markets, for example, depend on supply and demand for those commodities. Meanwhile, distribution of electricity, gas and water is a regulated monopoly, as it's been for more than a century.
Regulated vs. Unregulated
Despite jagged volatility and a few dips along the way, the stock market's performance since the March 2009 bottom has been among the best on record. However, that's done little to lift the gloomy spirits of many investors, who remain convinced a day of doom is fast approaching that will dwarf even the calamity of 2008.
Consequently, it's no great surprise that investors have favored regulated utilities stocks, whose returns are literally set by law, over companies with exposure to the unregulated side. That's the point underscored by "Power Plays," which compares five-year total returns of Southern Company (SO), which operates regulated power plants, with that of Exelon Corp (EXC).
The latter is the nation's largest producer of nuclear energy, which it sells to wholesale power markets in the Northeast and Midwest. Exelon Corp also has a sizeable retail marketing business, which sells electricity to consumers and businesses at market rates.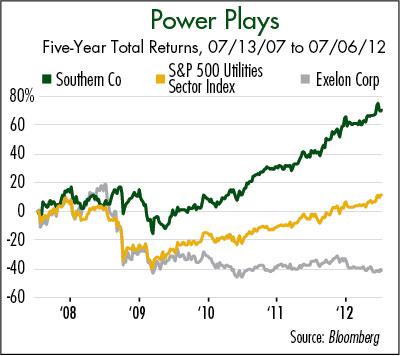 Until mid-2008, Exelon was by far the better performing stock, as investors chased growth. Then came the market crash and recession. Long-term price hedges protected Exelon's profits, but its stock has skidded sharply and now trades at a lower price than in March 2009. In contrast, Southern has continued to levitate higher.
Underperformance of Exelon and other mostly unregulated utilities, such as Williams Companies (WMB), has prevented the DJUA from making new highs. That, in turn, has held down returns on utility stock exchange traded funds and other products designed to mirror the averages.
Investing in their regulated rate bases is still the highest percentage way for utilities to lift profits, provided regulator relations are healthy. The question is whether the current era of good feelings - forged at a time when about two dozen utilities were either in bankruptcy or a hair's breadth from it - can last when so many Americans are feeling the pinch of stagnant wages and sluggish economic growth.
So far, the answer has been "yes," although utility-bashing has returned in some states. Most at risk is Pepco Holdings (POM), the utility serving Washington, DC as well as much of Maryland, Delaware and southern New Jersey.
The company's second-quarter profits took a 36 percent hit year over year, largely because of clean-up costs in the wake of the Derecho storm that devastated its service area in late June. Worse, Pepco faces potential penalties as regulators and politicians allege poor storm response.
Pepco may measure up to its challenges, but it's not pricing in much risk, with a projected 2012 price-to-earnings (P/E) ratio of 16. And if there is a dividend cut - the second-quarter payout ratio was 100 percent - the stock will head lower in a hurry.
Momentum reversal is another key risk facing regulated utilities. With all-too-many investors equating rising stock prices with safety - and falling prices with risk - sector favorites have enjoyed buying momentum. Any change in sentiment, however, would quickly reverse those gains.
For example, Xcel Energy (XEL) now yields less than 4 percent and trades at almost 20 percent above our buy target of 25. It's "all systems go" at the company itself, which this month sold 30-year bonds at an interest rate of just 3.4 percent. But after returning nearly 40 percent over the past 12 months, the stock is a candidate for taking at least a partial profit.
The same is true to a lesser extent for shares of Southern Co, which is trading at a rather lofty valuation.
Caution is also called for with water utilities such as American Water Works (AWK), which now yields less than 2.7 percent after a 50 percent 12-month return. Even PG&E Corp's (PCG) stock price is near new highs, despite regulatory and legal scrutiny over a 2010 pipeline explosion that claimed several lives and a likely cut in allowed returns by California regulators.
For most investors, utility stocks are more or less permanent holdings. Even companies that stumble eventually return to health by cutting operating risk and debt and repairing relations with regulators. However, timing purchases and occasionally taking a profits can enhance returns. Today, that means scrutinizing the unregulated side.
Exelon's key weakness is that wholesale prices are tied to falling natural gas prices, a trend that has weighed on the company's results and stock price. Fortunately, Exelon's successful acquisition of Constellation Energy Group for $7.7 billion earlier this year reduced the impact of a feared "earnings cliff," as Exelon's selling price hedges come off.
That's why I expect the stock's projected earnings per share [EPS]of $2.55 to $2.85 for 2012 to represent a bottom for the year, even though they'll still comfortably cover the 5.5 percent dividend.