It was just last week where I published an article about a new investment strategy in Dell (NASDAQ:DELL). The article detailed how Dell's new sizable dividend was a comfort for investors frustrated with a struggling stock price and a lack of growth. Strangely enough, Cisco Systems (NASDAQ:CSCO) decided to increase its dividend by 75% when it reported earnings last week. So now that Cisco has made a similar move, it's time to analyze the new investment strategy for Cisco investors. Cisco investors will now receive a generous dividend, in addition to the benefits of the stock buyback. However, one must question what this will do to the long-term prospects for the name, and this stock hasn't exactly been an investor favorite in recent times. Let's look at the ongoing battle at Cisco.
Fourth Quarter Results:
As I detailed going into the quarter, the fiscal fourth, this was Cisco's time to prove itself. After a few so-so quarters recently, and terrible guidance last quarter leading to a huge drop in the stock, investors were looking for Cisco to do something positive.
Well, it wasn't a tremendous quarter for Cisco, but it was good enough. Cisco reported revenues of $11.69 billion, beating estimates for $11.6 billion. That represented a 4.42% increase over the prior year period, towards the upper end of Cisco's guidance for 2% to 5% growth. Earnings per share of $0.47 beat analyst estimates by a penny, and were above the $0.44 to $0.46 range Cisco guided to.
In terms of guidance, Cisco gave lukewarm guidance, but it was certainly better than the guidance they gave last quarter. For fiscal Q1, Cisco gave revenue guidance for 2% to 4% growth, the midpoint of which was a little below the 3.6% the street was looking for. Earnings per share guidance was a range of $0.45 to $0.47, in-line with estimates calling for $0.46.
Overall, Cisco reported decent results. It wasn't the best quarter ever, but it was good enough to get by. Guidance was fair, but not terrible. Now let's look at the issues Cisco will have to deal with going forward.
Declining Margins:
Cisco's gross margins are coming down, and there's no arguing that. However, their ability to keep costs under control will be key to determine if their operating and profit margins will as well. Cisco underwent a huge restructuring plan, so in last year's fiscal Q4 they had a large restructuring expense ($768 million) that skews the results. This year's quarter only had restructuring charges of $79 million. So when I present Cisco's margins, I'll go back to 2009 so you can get an accurate view of the trend. Here are Cisco's Q4 margins.

Gross margins for Cisco's products have been coming down for a number of years, but gross margins in the services business also lost some of the prior year's gains. For reference, in 2010, Cisco's products accounted for 81.3% of revenues. In the 2012 quarter, they accounted for 78.3%. If Cisco can keep increasing services revenues as a percentage of the whole, gross margins could start to rebound since service margins are higher.
Now you can see the impact of the restructuring charge in the operating and profit margins changes. While some of the decline from 2010 to 2012 was due to gross margins coming down, operating expenses also rose faster (5.51% increase) than gross margin dollars did (4.30% increase). A decrease in other income also hurt, which is why net profit margins dropped more over the two year period (146 basis points) than operating margins did (118 basis points).
A similar trend was found in the full year results, as seen below. Gross margins declined over the prior year period. While operating and profit margins were up from fiscal 2011 levels, they were down from those levels seen in the fiscal 2010 period.
The Growth Issue:
One thing investors sometimes miss is the difference between growth in actual earnings (net income) and earnings per share. There is a big difference there.
The fourth quarter numbers are a great example of this. Cisco reported earnings per share (GAAP) of $0.36, up from last year's period of $0.22. That's an increase of almost 64%. But net income only rose by 56%. That's due to the share buyback, which reduced the diluted share count by about 142 million shares.
Going back to 2010, the results are even more interesting. Cisco's Q4 net income actually declined from 2010 to 2012, going from $1.935 billion to $1.917 billion. But earnings per share rose from $0.33 to $0.36. This is "fake growth," or growth not obtained by rising net income, but by share buybacks, and can potentially hide red flags. I'm not saying Cisco is in trouble or anything, but actual profits are down over the two year period, and that's despite a near 8% increase in revenues over that time.
The same looks true going forward. Below, I've compiled analysts' current estimates for revenue and earnings per share growth over the next two fiscal years.

While earnings per share are expected to grow a little faster than revenues over the two year period, a lot of that growth will be coming from the stock buybacks. That means that analysts figure margins will come down a bit more, and that net income growth will trail revenue growth going forward.
Cisco also loses out when you compare the name to other top tier tech names. Obviously, Cisco won't be growing as fast as a name like Apple (NASDAQ:AAPL), but even Microsoft and Intel show more potential. Microsoft's two-year projected revenue total is for 16.3% growth, largely thanks to Windows 8 product launches, and earnings per share growth of 21.6%. Intel, which uses a calendar year, is expected to show nearly 7% revenue growth and similar earnings growth in 2013. Add in the growth from the second half of 2012 (5%) plus some in 2014, and Intel will also be growing faster. To me, those are more attractive names right now, and I've held that stance for quite some time.
Don't forget as well, that Juniper (NYSE:JNPR) and Riverbed (NASDAQ:RVBD) also recently announced a partnership, which I covered in my "Cisco: Time To Prove Itself" article. Some analysts have noted recently that Juniper could be a stronger competitor to Cisco going forward, and the Riverbed partnership could certainly help.
The Savior - A Huge Dividend Increase:
Perhaps the most significant news during the earnings release and conference call, which really got the stock going, was that Cisco promised to return at least 50% of free cash flow to shareholders in buybacks and dividends. That meant that the company announced a huge raise in the dividend, from $0.08 per quarter ($0.32 per year) to $0.14 per quarter ($0.56 per year). Based on Friday's close, that gives the name a yield of approximately 2.94%. As a comparison, when I published my Dell article, Cisco's yield was under 2%.
Now, I put a dividend bar chart in the Dell article, and I've updated it to show how Cisco stands versus other top tier tech names in terms of yield, like Oracle (NASDAQ:ORCL) and Hewlett-Packard (NYSE:HPQ). Yes, I know some of these names aren't true competitors, but when you want to be a top tier tech name, you can compare yourself to these.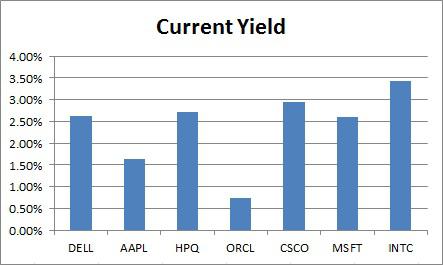 Cisco now has the second highest yield of these names, but I think it will settle into the third spot when Microsoft announces their expected dividend raise over the next few months. At that point, Cisco will have a lower yield than both Microsoft and Intel, two names that are also expected to show more revenue growth than Cisco.
Valuation - Does it fit?
For purposes of this argument, I'm only going to compare Cisco's valuation to three other top tier tech names, Microsoft, Intel, and Apple. Microsoft and Intel I'm using for their similar growth patterns and dividends to Cisco. Apple is the best tech name, and I'll explain its use in a little bit. For the following table, I've provided each company's price to earnings valuation, using two years (this year/next year). For each, I'm using the following fiscal years: Cisco (July '13, July '14), Microsoft (June '13, June '14), Intel (Dec. '12, Dec. '13), Apple (Sep. '13, Sep. '14).

After the recent rally, which has pushed Cisco shares from under $15 to over $19, the valuation has certainly pushed up towards other top tier tech names. I'd rather own Intel or Microsoft, even for a slight premium, as those names provide more growth potential and a higher dividend yield (assuming the Microsoft increase). I'd also rather own Apple for that valuation since Apple has the massive growth advantage, and is actually paying a fair dividend now.
Conclusion - Dividend Better, But is Cisco?
Cisco has become a more attractive dividend investment thanks to the recent increase, but that doesn't necessarily mean it is a better stock to own. Margins have decreased a bit, and I think the Juniper and Riverbed partnership could provide a bit more competition than some expect. Cisco's growth isn't as much as other top tier tech names, and a fair share of the earnings growth is due to the stock buyback, not rising net income.
The valuation certainly has been pushed up with the stock up more than $4 since the July 25 low. That's a 21.5% rally in the stock in less than a month. The earnings report was good, but not great, and guidance was fair. The move has been made in this name, and I don't see how the company's overall prospects have gotten that much better recently. This is still a company having tough times in Europe and US government spending isn't exactly tremendous. I think the top end of the range here is $20, with the bottom around $16 to $17. That means Cisco could be a short candidate at these levels, or slightly higher. I think a rally towards $20 could come, but that might provide a decent profit taking opportunity for those up a few bucks, and a decent short opportunity for those that don't quite believe in Cisco.
Disclosure: I have no positions in any stocks mentioned, and no plans to initiate any positions within the next 72 hours.