The fertilizer play is alive and well. On 3-2-08 I stumbled across a salt and specialty fertilizer stock, Compass Minerals International (NYSE:CMP). Since my call on theupdown.com, the stock is up 44.35%. No one could have known that fertilizer would run this long, and when I found the stock it was undervalued with respect to its peers (at least by my estimation). Potash companies are by far my favorite in the fertilizer space. Nitrogen margins are going to get tighter as natural gas continues to go higher, and phosphate's will do the same in the face of difficulty finding rock. Since potash is mined, I believe that they are less apt to see increases in costs then the other two.
CMP is not some small company but rather a group of businesses working in conjunction. They are the number one producer of sulfate of potash in North America. They are the number one North American and UK producer of highway de-icing. They are number two in North America with respect to production of salt. Also, they are the number one producer of magnesium chloride for use in de-icing.
Gross revenues have been impressive as they have increased 12% CAGR since 2001. Over the same period, pro-forma revenues have increased 11% CAGR. Operating earnings have increased 21% CAGR. Pro-forma operating earnings increased 19% CAGR. These increases have been sustained by creating profitable new products and developing markets. Management has improved the company's financial structure. Lastly, they have made synergistic acquisitions that have increased profits.
When discussing this company, the most important aspect is by far its sulfate of potash. Last year, they raised prices four times and another four times this year. The average price in 2007 was $85 a ton and will average $330 per ton this year. Right now the price stands at $733 per ton as an average of domestic and international markets. When looking at sulfate of potash, it is much more valuable than muriate of potash [MOP]. MOP has an annual worldwide production of about 70 million tons while SOP is approximately 7 million tons. SOP sells for anywhere from $100 to $170 per ton more historically than MOP. SOP is used on more expensive crops that are sensitive to chloride such as citrus fruits. The company is currently adding capacity to increase their production.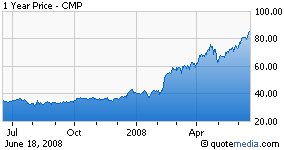 CMP has increased cash flow, paid down debt and increased its dividend. Now that its potash business is taking off we are seeing substantial growth that should continue into the foreseeable future. From the end of 2006 to the end of 2007, CMP's value grew 30%. So far this year shares have added another 70% and since the company's IPO (12/03), the total return is 255%.
Look for further increases as 5 million acres of farmland have been destroyed so far this year from flooding. I also believe that the price of corn will hit at least $10 a bushel this year and could even go higher, pushing up fertilizer prices exponentially. Remember, fertilizer will go up more than the commodity as there is more room for increases because of its ability to increase yield.
Disclosure: Long CMP