On Monday, Lowe's (NYSE:LOW) reported second quarter earnings and disappointed Wall Street due to revenue and sales declining in tandem. The company has taken on an "everyday low price" strategy that has not performed well against its largest competitor Home Depot (NYSE:HD) and its strategy of promotional pricing. This news comes in the wake of HD reporting better than expected quarterly earnings with both revenue and profit increasing nicely. The Associated Press reported:
The company's efforts to revamp its merchandise and prices isn't working while its rival Home Depot is reaping the benefits of the improving but still weak housing market.
LOW's poor performance is a direct result of the company's new strategy not taking hold in the way originally intended. LOW's second quarter earnings are as follows: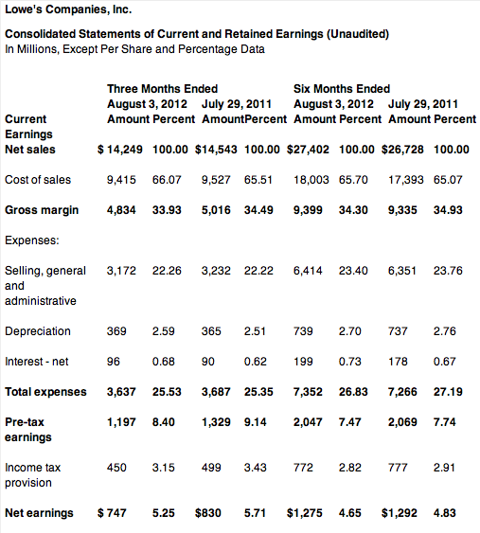 Click to enlarge(Lowes Second Quarter Earnings Report)
These results illustrate that sales, gross margin and pre-tax earnings all declined in comparison to last year's results. An investment in LOW is an investment in the company's new strategy and its current network of stores. For investors, this means taking a hard look at the health of LOW's fundamentals and whether its slightly lower valuation (as compared to HD) is worth the weakness in its current business model.
Changing the Business Model:
In retail, perception becomes reality and it is difficult to turnaround customer perception. LOW has attempted to change its business model from a "high-low" retailer that uses promotions to drive customers and revenue to one of "everyday low price" where customers can come to expect low prices everyday. This transition is one that is difficult and costly to pursue as customers often feel that EDLP means not receiving the bargains they previously did. The Stanford Graduate School of Business completed a study in the grocery industry last year which stated that although EDLP has lower fixed costs, promotional pricing results in higher revenue. Though this is just one source, it sheds light on the fact that for this change to be successful, the company will need to drive sales through its points of differentiation. Currently, customers do not see this within pricing and thus are going to HD and other competitors. Daniel Binder, an analyst at Jefferies & Company in New York, states:
The transition to everyday low prices is proving bumpy ... challenging in an environment where the customer needs to be incentivized, especially for big-ticket purchases.
For investors this means being cautious as to the revenue trend within LOW and to be constantly asking whether or not the company is heading down the path of becoming an ailing retailer due to poor customer perception. LOW is far from achieving the status of J.C. Penney (NYSE:JCP) or Supervalu (NYSE:SVU), but investors still need to be cautious as to whether the retailer's pricing strategy is working. With retail being as fickle as it is, LOW's switch to EDLP is risky and could easily result in decreased customer count and consequently decreased revenue.
Valuation/Financials:
From a valuation perspective, LOW is cheaper than HD on several metrics, but from the metrics that illustrate the health of the company HD is in a stronger position.
Forward Price/Earnings: 12.12
PEG Ratio: .91
EV/EBIDA: 7.17
Profit Margin: 3.72%
Operating Cash Flow: $4.39B
Quarterly Revenue Growth (yoy): -2.06%
Quarterely Earnings Growth (yoy): -11.1%
Cash-debt: -$6.38B
Dividend: 2.40%
These results show that on key performance metrics, HD is beating LOW, but on valuation metrics, LOW is cheaper than HD. From an investor perspective, this means that HD is "more expensive," but at the same time is performing better in the marketplace. These metrics make it difficult to assess whether or not LOW is a poor value, but in the long run fundamental strength will prevail.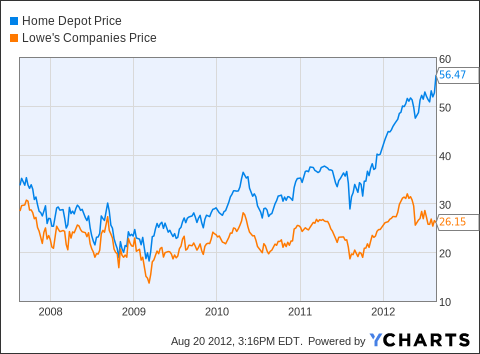 Conclusion: Buying LOW before seeing future quarters of earnings growth is taking the gamble that the company's EDLP strategy will take hold and ultimately beat out the HD promotional strategy. HD is a solid company with solid financials and is currently an investment. LOW is currently speculative as the company has not proven its new strategy.
Disclosure: I have no positions in any stocks mentioned, and no plans to initiate any positions within the next 72 hours.