Blood In The Streets, Spain, Part 1
Blood In The Streets, Spain, Part 2
Blood In The Streets, Spain, Part 3
Blood In The Streets, Spain, Part 4
Blood In The Streets, Spain, Part 5
Blood In The Streets, Spain, Part 6
This is the last part of a multi-part series on the Spanish (NYSEARCA:EWP) stock market. The logic is, again, the same: as Baron Rothschild once said, "The time to buy is when there's blood in the streets". The blood is certainly flowing in the European periphery.
In looking at the stocks, I'll try to gauge the sensitivity to internal demand, some factors important to their industries, the multiples they trade at and how the local stocks compare to U.S. listed alternatives in the same sectors. Obviously to trade some of these stocks, investors would need an account with a full-service broker.
I will cover the stocks that are members of the Spanish Ibex 35 Index. This index has the following 35 constituents and in this article I'll cover those bolded:
 
Abertis
Abengoa
ACS
Acerinox
Amadeus
Acciona
BBVA
Bankia
Bankinter
Bolsas Y Mercados
Caixabank
DIA
Endesa
Enagas
Fomento Construcciones
Ferrovial
Gamesa
Gas Natural
Grifols
IAG
Iberdrola
Indra
Inditex
Mapfre
ArcellorMittal
OHL
Banco Popular
Red Electrica
Repsol
Banco Sabadell
Banco Santander (NYSE:SAN)
Sacyr Vallehermoso (OTC:SYRVF)
Telefonica (NYSE:TEF)
Mediaset Espana (OTC:GETVY)
Tecnicas Reunidas (OTC:TNISY)
Banco Santander
Banco Santander is a large, geographically diversified, Spanish bank. It includes major operations in Spain, Latin America and the United Kingdom, as well as several other countries.
Santander generates 46% of its earnings from emerging countries, and 54% from developed markets, which means its exposure to Spain is smaller than the other quoted Spanish banks, most of which are entirely domestic (except for BBVA). 29% of Banco Santander's loans are to Spanish entities, 34% to United Kingdom entities.
Taking into account its earnings report for 2011, these are the multiples that Banco Santander trades at today (all values are in Euros):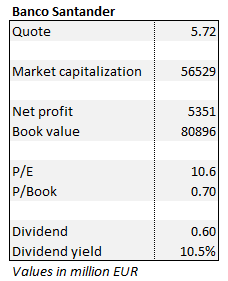 Although Santander doesn't have a huge exposure to Spain, it also really doesn't trade as incredibly distressed bank equity either. It still trades at a premium to U.S. counterparts such as Citigroup (NYSE:C) and Bank of America (NYSE:BAC), which trade at 0.36 and 0.44 price/book value ratios. This premium can probably be explained by Santander's generous dividend yield, though this yield now implies a dividend payout close to 100% and might not be sustainable in the medium term.
Sacyr Vallehermoso
Sacyr Vallehermoso resulted from the merger of a construction company with a real estate promoter. Not exactly the best of places to be during the aftermath of Spain's real estate bubble. The company has tried diversifying, mostly like every other quoted Spanish construction company as we've seen. 37.2% of Sacyr's revenues came from outside Spain. 26% of its EBITDA came from construction; 30% came from services; 37% from rental income, underscoring the attempt to move away from construction; around 18% of revenues came from concession businesses. These numbers don't necessarily add to 100% because the real estate segment contributed negatively towards EBITDA.
Taking into account its earnings report for 2011, these are the multiples that Sacyr Vallehermoso trades at today (all values are in Euros):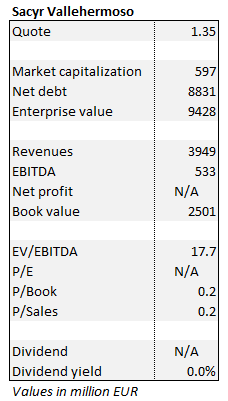 The main problem with Sacyr is its debt. It's massive for its EBITDA generation and the market is starting to discount the very real possibility that Sacyr might simply go bankrupt. At this point the debt doesn't allow us to say Sacyr would be cheap at any level, though it might trade as an option not much above zero.
To lessen its debt load, Sacyr has been selling a 10% stake in held in Repsol YPF, selling half of the stake during January 2012. The selling of the entire stake would bring down Sacyr's debt by about 1/3.
Telefonica
Telefonica is a Spanish telecom company with operations in Spain and Latin America, namely Brazil.
There are already 2 large articles on Telefonica's equity in Seeking Alpha by Caiman Valores, so I will reference those: "Telefonica: Cheap For A Reason (Equity) - A Comparative Valuation", "Telefonica: Cheap For A Reason (Equity)".
Taking into account its earnings report for 2011, these are the multiples that Telefonica trades at today (all values are in Euros):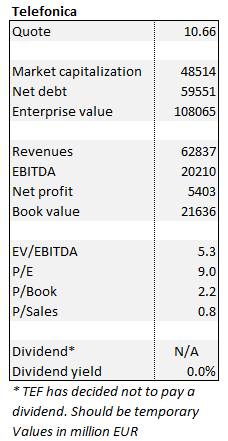 Telefonica doesn't show up as incredibly distressed. Its equity shows up as only slightly cheaper than, say, Vodafone (NASDAQ:VOD) while carrying the Spanish market stigma. The decision to forgo paying a dividend, even if temporary, removes another possible support for the equity.
Might be a buy at more distressed levels. The problem here is also that when I started doing this series on Spanish stocks, TEF was around 20% cheaper. At those levels it would be a lot more attractive than it is now.
Mediaset Espana
Mediaset is a media company operating 6 different TV channels in Spain, and selling advertising in these.
Advertising is one of the sectors which always suffers during a recession, due to the fact that advertisers can cut budgets and not see negative effects immediately. Another possible negative is that the internet is encroaching on the traditional TV business.
Taking into account its earnings report for 2011, these are the multiples that Mediaset trades at today (all values are in Euros):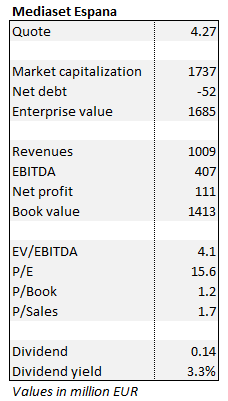 Due to the lack of debt, Mediaset already appears attractive from an EV/EBITDA perspective, even if the P/E leaves something to be desired. The clear threats to the business, however, require caution.
Tecnicas Reunidas
Tecnicas Reunidas is yet another construction company, illustrating how Spain's main index is populated with construction and financial stocks.
Taking into account its earnings report for 2011, these are the multiples that Tecnicas Reunidas trades at today (all values are in Euros):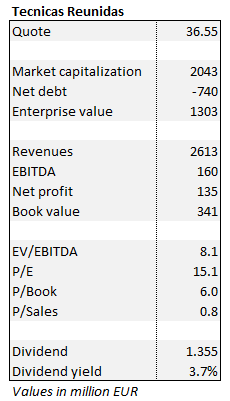 The main claim to fame in Tecnicas Reunidas' accounts, is the strong financial position with no net debt - indeed, it carries 740 million euros in net cash. This allows Tecnicas Reunidas to have a low risk profile and likely makes its dividend sustainable. However, it also means that Tecnicas Reunidas does not trade at distressed levels and is thus not very interesting to buy.
Conclusion
We found the following attractive equities:
 
2 construction and engineering companies, Abengoa and ACS, which given their geographical diversification might already be cheap enough to warrant inspection. Still, construction isn't usually the kind of sector that attracts great attention;
Amadeus might also be interesting because of its long term prospects;
Bolsas Y Mercados, can be interesting on weakness due to the possible consolidation in the sector, where it would be a natural target, while trading at reasonable multiples and carrying a large dividend yield;
Endesa is very cheap for an electrical utility, and might even be cheaper than it looks if we take into account the tariff deficit. It seems a like a decent long term buy;
Enagas might make sense for an income portfolio, due to its stable nature. But it's more of a fit for a local, than for a foreign investor;
IAG might be interesting as a speculative bet on a global airline/economic recovery, since it presents low multiples on an already punished sector worldwide. It can also be an interesting bet if crude were to drop due to excess supply (not motivated by a further economic impact), since fuel is the largest cost for airlines;
Mapfre might make sense given its international exposure and dividend yield, though there's risk in the balance sheet due to the exposure to Spanish assets. It requires the belief that Spain won't default;
OHL seems like a covert toll road operator trading at distressed levels because of its identification with construction. Such makes its equity attractive.

In this last part I didn't add any exciting opportunities to the list. It happens that between starting this series of articles and finishing it, the Spanish market went up more than 12%, with some stocks greatly exceeding that performance. This meant that in the later parts of the series Spanish stocks were already much less attractive.
Still, for a first contact with the Spanish market, I feel that this series was useful in highlighting some opportunities, and will become useful once again if the Spanish market retests or even takes out its lows.
Disclosure: I have no positions in any stocks mentioned, and no plans to initiate any positions within the next 72 hours.