Lately there has been quite a bull versus bear debate on Seeking Alpha related to InterOil (NYSE:IOC). My article from Friday apparently caused high volume in the stock, and a plunge of 7-8% on that day. With two more bullish Seeking Alpha articles following it yesterday, the stock has recovered some of its losses.
However, there is much more to analyze in InterOil's upcoming future. In this article, I will address InterOil's debt partners, and how they are pulling away from the company right now. Also, some of IOC's financials are particularly troubling, especially its low cash position.
In my continued analysis on InterOil, I looked through its second quarter 2012 News Release, Financial Statements, and MD&A. What I have found, is that InterOil is now getting no help from its financing partners and has very significant liquidity troubles.
From InterOil's Q2 News Release
From page 2 under Corporate Financial Results: "EBITDA for the quarter was a loss of $36.5 million versus a gain of $39 million the same quarter last year."
On page 19, its balance sheet shows that its non-restricted cash is only $20 million as of June 30, 2012. That's down quite a bit from the $68 million of non-restricted cash it had on December 31, 2011.
Also on page 2 - "Upstream - On April 30, 2012, InterOil signed an agreement with Pacific Rubiales Energy (NYSE:PRE). PRE staged initial cash payments of $116 million. PRE has paid the initial $20 million of cash payments. On July 27, 2012, the farm-in agreement was executed. Completion of the transaction remains subject to satisfaction of additional conditions within 18 months."
This deal means that after 18 months there are additional conditions to be satisfied before PRE pays InterOil more of the $116 million it promised beyond the initial $20 million. We know from this that PRE will no longer help to InterOil for its near term liquidity needs, at least for the next 18 months.
On page 7 is a table of InterOil's debt facilities: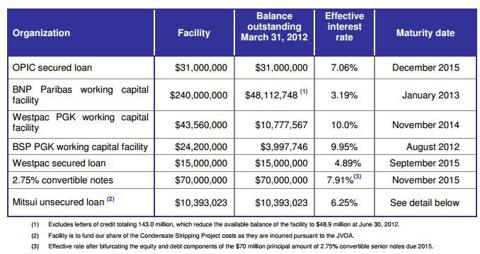 There are many interesting takeaways from the above table. That $11 million is probably all InterOil will be able to borrow from Mitsui (OTCPK:MITSY). We can also assume that neither Pacific Rubiales nor Mitsui will probably want to take initiative in InterOil's asset selldown. Since these huge companies won't lend more than $20 million and $11 million, respectively, to InterOil, they have shown they do not want to invest any more in its assets.
InterOil has borrowed all it can from the Westpac secured loan at the 4.89% interest rate. The Company's other low interest rate facility, the BNP Paribas working capital facility on which it is paying only 3.19% in interest, matures on January 2013. The Company will have to pay back the entire $48 million loan by then, and replace it with higher interest rate loans. The days of InterOil borrowing at low rates will be gone by the end of the year, and its total interest expense will rise significantly. With the additional debt and higher rates, we can expect it to roughly double.
Mitsui Appears Done Loaning To InterOil
On page 5 it of the MD&A it says: "The Joint Venture Operating Agreement ("JVOA") for our proposed Condensate Stripping Plant ("CSP") with Mitsui & Co., Ltd. ("Mitsui"), and associated agreements, have been amended so that the time allowed for Final Investment Decision ("FID") has been extended until December 31, 2012."
It's interesting that Mitsui isn't ready yet to make a Final Investment Decision. InterOil gave it a break by extending it without requiring Mitsui to finance the CSP anymore. If Mitsui really had faith in InterOil's wells' profitability, it would jump with both feet into the endeavor. Also, if InterOil had any pull, it would require Mitsui to make a decision, rather than pushing out the deadline even further and not getting any more funding from Mitsui at the same time.
What's even more embarrassing to InterOil, is Mitsui's investment is right now only debt, so it isn't even an equity investment. Mitsui isn't loaning any more money to InterOil because it doesn't want to give up any more of its capital, especially since the debt is unsecured. As you can see here, Mitsui is a huge conglomerate and has plenty of cash it could loan InterOil if it wanted to.
If the FID isn't made by the end of the year (unless there's another extension), then InterOil must immediately pay back all of what Mitsui loaned to it. Since it must be paid back right away if there's no FID, the Mitsui loan has now been moved to the "current liabilities" section, as stated on page 14 of the quarter 2 financial statements.
More on the Mitsui deal on page 22 of the MD&A says: "The preliminary financing agreement entered into with Mitsui provides for funding by Mitsui of all the costs relating to the Condensate Stripping Project. 50% of the funding is for Mitsui's share of the project and the other 50% is funding by Mitsui of our share of the project. There were no contributions from Mitsui during the six month period ended June 30, 2012 for either Mitsui's or our share, therefore leaving the total contributions at $21.8 million. In the event that a positive FID is not reached or made within the time specified (currently December 31, 2012), we will be required to refund all of Mitsui's contributions (i.e. for our share and Mitsui's) within a specified period."
The above paragraph is interesting. Mitsui is going to receive 50% of the returns on the project, and InterOil the other 50%. If Mitsui thinks InterOil's gas wells have promise, then why is it leaving InterOil in the lurch? The deal was for Mitsui to fund all of the costs relating to the Condensate Stripping Project, and will get paid back later for InterOil's half. Mitsui has completely cut off funding since the June 30, 2011 period.
Seeking Alpha poster "crazylikebudfox" has repeatedly mentioned how Mitsui is not living up to its side of the deal in funding the Condensate Stripping Project. I agree with the following quote by him on May 29th in the comments section of a previous IOC article:
"SI, as you point out, Mitsui is supposed to fund the CSP project. Per IOC's latest quarterly filing: "The preliminary financing agreement entered into with Mitsui provides for funding by Mitsui of all the costs relating to the Condensate Stripping Project." Yet, after contributing over $21mm to the project since early 2010, Mitsui hasn't contributed any money to the project since the June 2011 period. Yet, IOC continues to fork over cash to fund the CSP. For example, from the latest quarterly report, IOC spent $5.5mm on "costs for works in respect of the Condensate Stripping Project" (pg 22 MD&A). Yet, on the same page, IOC states: "There were no contributions from Mitsui during the quarter ended March 31, 2012 for either Mitsui's or our share, therefore leaving the total contributions at $21.8 million." IOC = $5.5mm, Mitsui = $0. Even more interesting, some of the $5.5mm was spent by IOC on the CSP project was for "negotiations for CSP project financing." Yet, again from the same quarterly filing: "Mitsui is to be responsible for arranging or providing financing for the capital costs of the condensate stripping facility." Why would IOC spend money on financing negotiations that are Mitsui's responsibility? Did IOC spend $5.5mm so Mitsui could negotiate with itself?
Question to SI: If Mitsui is supposed to pay for all of the CSP (eventually split 50/50 upon FID), they why aren't they funding the project per the terms of the original agreement?
Another question to SI: Mitsui has been involved in CSP project for 2 years now and isn't living up to the terms of existing agreement, given the lack of funding. Yet, now we are to believe Mitsui will bid on another another leg of the same LNG project with Kogas? How do you reconcile these two conflicting data points (Mitsui's failure to live up to existing project terms while at the same time being a bidder for a second project)?"
This is why the hedge fund manager I quoted in my latest IOC article mentioned the low amount of InterOil is paying for condensate stripping plant expenses. He said: "Also, The condensate stripping plant expenses are comically low. The issue with the condensate stripping was always going to be dry hole blow back. You can't test for that for $4 million. Only evidence - they have done NOTHING on the condensate stripping plant that is worth doing."
InterOil only spent $4 million on its condensate stripping plant last quarter because it can't afford to spend any more. It's getting no help from its partners.
Is Anyone Interested In InterOil?
On page 7 of the MD&A, it says in the Midstream-Liquefaction section:
"We are now set to engage with a shortlist of significant LNG industry participants with a view to concluding discussions and entering an agreement."
Although vague, this sounds promising to shareholders that a deal will get done soon. However, that bubble of hope is popped from the following line: "However, discussions are ongoing and we can provide no assurances that such a transaction will be completed and conditions satisfied."
In my opinion, that sentence basically says that the Company even now either has no urgency or isn't able to make a deal. InterOil could continue "discussions" for months or even years before a deal happens, if ever.
Debt Or Equity Financing?
The question is whether InterOil would be better off doing a debt or an equity financing, or both. Since the share price is historically at the high end of its range, and the Company's liquidity problems as bad as they are, I'd assume the Company would be better off doing an equity financing. Issuing a million shares or so would put the Company in a healthier position than borrowing around $100 million at double digit interest rates. The Company received $4 million from common share issuance last quarter, as shown on page 5 in the quarter 2 financial statements.
At the top of page 8 of the MD&A it says: "We are undertaking initiatives in relation to securing new long term facilities and the completion of the asset sell down process, which we expect to bring these ratios within our internal targets by the end of the third quarter of 2012. However, we can provide no assurances that such transactions will be completed."
This statement suggests the Company is seeking out debt financing rather than equity financing. If the Company is able to sell some of its assets, then debt financing would be fine. However, if it is unable to sell any of its assets, then I think equity financing would be preferable given its high market cap.
Disclosure: I am short IOC. I wrote this article myself, and it expresses my own opinions. I am not receiving compensation for it (other than from Seeking Alpha). I have no business relationship with any company whose stock is mentioned in this article.