Agree Realty Corporation (NYSE:ADC) is a shopping center REIT that primarily executes net leases with single tenants. In recent history, it has been best known for its struggles with a slew of troubled tenants including Best Buy (NYSE:BBY), Borders Books (BGP), and Kmart, which is currently owned by Sears Holding Corporation (NASDAQ:SHLD). While these tenants have created difficulties for ADC, it also made the stock very interesting due to the related price fluctuations. This article will detail how Agree Realty has handled these issues, and examine the stocks viability.
Tenant Improvement
On 5/30/12 ADC announced the sale of a property in Omaha, NE that was formerly leased to Borders. This allowed Agree to begin resolving the situation and continued with the in-progress disposition of 2 other former Borders stores.
In terms of Kmart and Best Buy, extension of leasing contracts was announced on 5/9/12 at some of these locations for 2 and 3 years respectively. While it may have been preferable to find stronger tenants, it seems probable that ADC was not receiving high enough offers. If that is the case, the short duration of the extensions was a strong choice as it will provide another chance at retenanting or redevelopment.
The company's intent to reduce exposure to troubled tenants was further evidenced by the disposition of 3 Kmart anchored shopping centers which took place in June and August. Together, these reduced the portion of ADC's rental income attributable to Kmart by 29%.
Although the stress from weak tenants has been mostly alleviated, a concern remains about tenant concentration. With Walgreens and CVS making up approximately 40% of ADC's rental income, I would encourage investors associated with Agree Realty to keep a close eye on pharmaceutical/healthcare legislation. Some diversification has been attempted through recent acquisitions tenanted to Goodyear, WaWa, and Dollar General Market.
Finances
Despite a market capitalization of only $268mm Agree Realty avoids some difficulties that typically trouble smaller companies: Financing and G&A.
· Typically smaller companies have to endure higher interest rates due to lack of official credit ratings, yet ADC has managed to get some excellent rates. Variable rate mortgages at LIBOR + 170 bps and a credit facility at LIBOR + 175-260 bps (based on leverage ratios), provide a low weighted average cost of debt and strong liquidity.
· While top ranking officials of small companies generally get paid less than their big company counterparts, salaries as a percentage of company size can get quite large for micro-caps. At Agree Realty, the CEO, COO and CFO combined make less than $1mm in cash compensation annually.
Given the above, the expenditures side of the balance sheet is strong, and ADC's revenues are as well. 2Q12 FFO of $0.50 per share equates to a price/FFO of approximately 12, as compared to the sectors average of 16.3. EBITDA/interest expense of 6.4 further evidences the strength of the overall balance sheet.
Management alignment with investors
Although insider ownership only amounts to a mere 3.4%, there is reason to believe management has investor's best interests in mind. In addition to being internally managed, there is something to be said for it being a family business. It was founded in 1971 by Richard Agree, and was initially offered to the public in 1994. While Richard remains Chairman and CEO, much of the responsibilities were passed on to his son Joey Agree who now functions as president as COO. Having originated the business and tying the family name to the stock, these guys are in it for the long run.
ADC as a stock
As mentioned above, the stock was very responsive to the Borders predicament on both the downside and upside. Consequently, there have been opportunities to get it at massive discounts. Even with the recent price recovery, it has significantly underperformed REITs as a whole.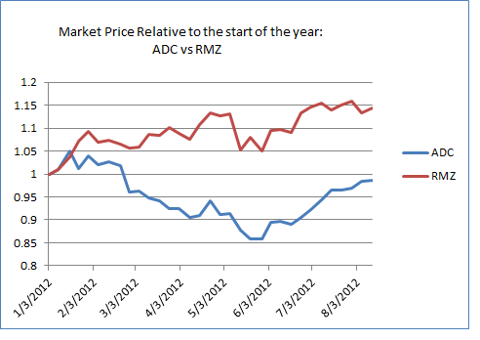 While the high yield (6.64%) and low price/FFO (12) suggest it is a value, it is expensive relative to itself based on a 200 day moving average of $22.95. Having already gone up so far from its low point makes me hesitant, but with its remaining discount relative to the market, even a slight dip in price could spell opportunity.
Disclosure: 2nd Market capital and its affiliated accounts are long ADC. This article is for informational purposes only. It is not a recommendation to buy or sell any security and is strictly the opinion of the writer
Disclosure: I am long ADC.