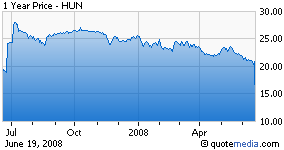 The buyout game is almost as much fun to watch on the way down as it is to watch on the way up.  Another day, another busted buyout but still a unique bust and therefore, worthy of consideration.  While the deal's death is not guaranteed, if we accept the argument in Hexion's suit (Hexion Press Release), then The Prince can safely put this one in a body bag.  This was a deal that struggled from the beginning despite the obvious synergies that Apollo could get out of combining Hexion and Huntsman.  The deal's completion was delayed multiple times and Huntsman's stock has been trading considerable off the offer price for sometime.  Apollo formed Hexion in 2005 through the combination of a number of Apollo-owned chemical companies, including Borden Chemical and Resolution Performance Products. The company has grown through acquisitions, but the Huntsman deal would have been by far its largest. 
The Prince cannot decide if Hexion's claim is ironic or just hilarious.  A buyout deal for a company that deteriorated so badly from the $10.6bn offer till now that the combined company would be insolvent.  If the deal is done under the capital structure in the merger agreement then the combined company, according to Hexion, would be insolvent because of Huntsman's increased net debt and its lower than expected earnings.
While both Hexion and Huntsman can be successful as separate companies, they cannot now support the debt load that was agreed to at the time the transaction was put together," said Craig O. Morrison, Hexion's Chairman, President and CEO. "We continue to have enormous respect for Huntsman, the Huntsman family and management team and still believe that a combination of the two companies would offer significant strategic benefits. However, the financing for the acquisition is predicated on a certain level of financial performance and, given the increase in Huntsman's total debt and decrease in earnings, Hexion does not believe that the transaction can be completed.
What kind of lunatic put so much debt on this buyout that a capital structure agreed to less than 12 months ago would now result in an insolvent company.  Was the deterioration in Huntsman's earnings that occurred over the last year even worst than the worst case scenarios that Apollo used in its models.   Apollo, if it is able to walk away from this deal unharmed, should take a good hard look at this one.  Where did their projections for Huntsman's performance go wrong and why?  What worst case-best case scenario analysis were they using and what can they learn from this mistake?  Or maybe it had nothing to do with forecasting and handicapping the earnings of Huntsman and everything to do with Apollo making a bad bet on a sector that was unexpectedly hit by rising costs.  The banks backing the buyout, DB and CS, have caught a huge break if Huntsman is dead and Apollo has many questions to asks itself.