The debate continues to rage, usually to the extremes, of whether Sears Holdings (NASDAQ:SHLD) has no value or enormous value due to a vast array of undervalued assets. For example, the owned real estate is mostly valued at cost and not current market values leaving a wide debate on the proper valuations. See my past articles on these subjects here.
The company operates as a specialty retailer in the U.S. and Canada. It operates under the Kmart and Sears segments with major brands such as Kenmore, Craftsman, DieHard, Joe Boxer, Lands End, and Jaclyn Smith.
This will be the first part of a series intended at discussing the recent Q2 earnings announcement, followed by the Bruce Berkowitz case study, and finally a review of the pending spin offs.
Q2 2012 Highlights
The company reported the following highlights for Q2 2012:
Adjusted EBITDA increased $95 million for the quarter to $153 million in 2012 versus $58 million in 2011. Domestic EBITDA increased $114 million ($144 million in 2012 versus $30 million in 2011). Sears Canada's EBITDA declined $19 million ($9 million in 2012 versus $28 million in 2011);
For the quarter, margin rate increased 100 basis points and selling and administrative expenses declined;
Net loss from continuing operations attributable to Holdings' shareholders for the second quarter of $132 million ($1.25 loss per diluted share) and $152 million ($1.42 loss per diluted share), in 2012 and 2011, respectively. The second quarter included an effective tax benefit rate of 39.3% in 2011 versus a benefit rate of 15.8% in 2012;
Adjusted loss per diluted share from continuing operations for the second quarter of $0.86 in 2012 and $1.18 in 2011;
Sears Domestic's comparable store sales declined 2.9% in the second quarter of 2012, Kmart's comparable store sales declined 4.7%, and Sears Canada's comparable store sales declined 7.1%;
Continued discipline of our inventory with domestic inventory declining $512 million from the prior year balance;
Liquidity of $3.1 billion with cash balances of $738 million and nearly $2.4 billion of capacity on domestic and Canadian revolving credit facilities, as well as Sears Hometown and Outlet Store transaction on track to raise $446.5 million of gross proceeds; and
Partial spin-off of our interest in Sears Canada expected to close in the second half of 2012 with distribution to our shareholders.
The adjusted net loss for Q2 came in below the $1.18 loss in 2011 showing an important improvement. Of course, the company still lost a considerable amount at $0.86. Sears was successful in increasing margins by reducing expenses even with the lower revenue. While the company clearly needs to improve retail results in order to maximize shareholder value, the asset base remains the reason to invest in the stock.
Liquidity
Liquidity remains a key focus of Sears' investors. The stock plunged below $30 as 2012 started on fears that the company didn't have enough cash to survive.
Unfortunately for the shorts, investors or more likely traders still fail to grasp that the company has a vast array of assets including real estate, business lines, and brands that can be sold or spun off to generate cash. These assets will be covered in more detail in Parts II and III of this series.
The company has $738M in cash balances and over $2.4B of capacity on various credit facilities. The cash balances are virtually flat for the year even though the company paid off $231M of long-term debt and contributed $164M to pension plans. A couple of timely real estate sales helped.
Another key form of liquidity has been the reduction of merchandise inventory by $512M over last year. As the company improves productivity and closes stores, the $8.7B inventory balance will be reduced for more cash.
J.C. Penney Gifts
Did Sears benefit from a gift from J.C. Penney (NYSE:JCP)? Credit Suisse was out with that opinion following the earnings report. In general, it seems rather implausible that a J.C. Penney customer went to Sears considering the reported numbers weren't a blowout.
Any gained customer would likely be considered as a re-gift considering Sears has lost so many over the years.
Other retailers such as Gap (NYSE:GPS) and Macy's (NYSE:M) had better quarterly numbers suggesting these companies may have been the actual beneficiaries. Just don't see somebody going to Sears instead of looking for bargains at Kohl's (NYSE:KSS) or stepping up to Macy's. Sears is not the place the vast majority of consumers would head for apparel or even home furnishings.
Stock Action
As noted above, the stock has had a good 2012 mostly due to the big plunge at year end on the liquidity fears. The stock is actually back into the trading range in the $50-60 range from September of last year.
12 Month Chart - Sears Holdings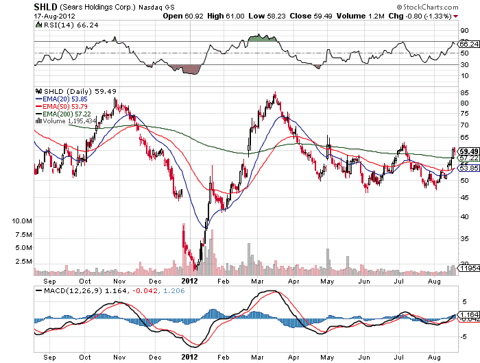 Conclusion
Sears remains a stock that will be hotly debated as some investors focus on the failures of the retail operations while others pay more attention to the asset base.
My theory remains that the brands are more valuable in other stores and the real estate can be sold at huge premiums to the value on the balance sheet. At a market cap of only $6.3B, investors get to buy assets that give a lot more value.
Disclosure: I am long SHLD, GPS, KSS.
Additional disclosure: Please consult your financial advisor before making any investment decisions.