Edited by Kate Boehme
Heckmann Corporation (HEK) is an environmental services company, which provides a range of services to oil and gas companies. Although Heckmann offers different services, water treatment remains its core business. Heckmann recently acquired TFI, a large oil recycler. TFI has operations in 18 states, though most are in western parts of the country. TFI collects used motor oil and converts it into reprocessed fuel oil. The addition of TFI gives Heckmann diversity in its business enterprises even though the company's focus remains on water treatment services.
The TFI takeover makes Heckmann more connected to the state of current oil prices. Furthermore, acquiring TFI will not generate operational synergies for Heckmann, since the two companies operate in entirely different areas of the environmental services industry. However, the TFI acquisition will allow Heckmann to increase and diversify its revenues by entering into other markets. Moreover, the oil recycling business has slower but steadier growth and will provide stability to Heckmann revenue.
Industry and Future Growth
Heckmann has shown exponential revenue growth recently, thanks to immense development prospects in the water treatment industry. There has been a massive increase in demand for fracking. This can largely be attributed to rising energy prices, which make it more feasible and cheap to explore on land rather than under water. Fracking is a method whereby oil companies drill horizontally to fracture oil and gas-bearing rocks. The U.S. has substantial deposits in the Texas, Pennsylvania and North Dakota regions. Naturally, these areas have been the focus of exploration companies, including Heckmann, which has a strong presence particularly in Pennsylvania and Texas. In 2006, there were 337 horizontal rigs in the region, which has since climbed to more than 1150. As the number of drills rises, the number of rigs drilled is also increasing every year.
Such solid industry growth has seen Heckmann capitalizing on the opportunity to increase business, especially as companies increase their water usage. Oil companies are now using high-powered pumps to inject chemicals into the rocks to open wells. Increasing water use in the oil industry gives Heckmann an unprecedented opportunity to increase its revenues and market share.
At the moment, oil industry water use stands at about six billion gallons a year, with plans to expand to around 15 billion gallons by 2035. In addition to this increased water usage within fracking activities, a heightened focus on the environment can be expected; both of these factors are certain to further demand for Heckmann services. Recent increases in Heckmann revenue indicates that the company is successfully tapping into the market. I believe Heckmann will be able to continue impressive revenue growth in the future.
Heckmann has a strong business profile. The company has a hefty asset base in the dedicated field of frack water treatment with trucks in excess of 635 and more than 1,100 frack tanks. A vital characteristic of the company's competitive position is its pipelines in Haynesville, Louisiana. One of these pipelines is made from PVC, and spans over 40 miles to supply fresh water for fracking process. Another is a fiberglass pipeline, which discards water into its 21 saltwater disposal [SWD] wells in the area. Heckmann also has five SWD wells in Eagle Ford, Texas, and two in the Tuscaloosa Marine Shale area in Louisiana and Mississippi, with more SWD permits in other regions.
Cash Flows
Heckmann currently has high levels of discretionary capital expenditures, mainly because of the recent acquisitions. Heckmann acquired TFI for $245 million - $227.5 million of the transaction value was in cash consideration - and then issued $17.5 million in new equity to the TFI shareholders. I expect that Heckmann will continue to acquire new companies in order to further expand its business. However, Heckmann's present cash flows do not paint a rosy picture due to the company's capital expenditures. Currently, Heckmann's cash flows are depressed, though I expect the situation to improve as soon as revenues from TFI start flowing.
Balance Sheet
Heckmann recently completed an exchange of 9.875 percent, senior notes worth $250 million. These notes are almost identical to the company's previous notes and do not represent a particular financial transaction. Rather, the exchange was conducted in order to fulfill a registration rights agreement. These new notes have been registered under the securities act and do not carry any transfer restrictions.
Heckmann is a relatively new and growing company, and therefore it needs substantial cash to take advantage of the high industry growth levels. I also expect Heckmann to continue making acquisitions and consequently expanding within the marketplace. In order to pursue these deals, the company may have to raise funds through either the debt equity markets, which could alter its balance sheet significantly. In the past, Heckmann has raised funds using a combination of debt and equity issues. Like any other company operating in a growth industry, I believe that the Heckmann balance sheet and cash flows will become stable once the company gets a foothold in the industry. In the near future, the balance sheet will most likely shift as a result of discretionary capital expenditures.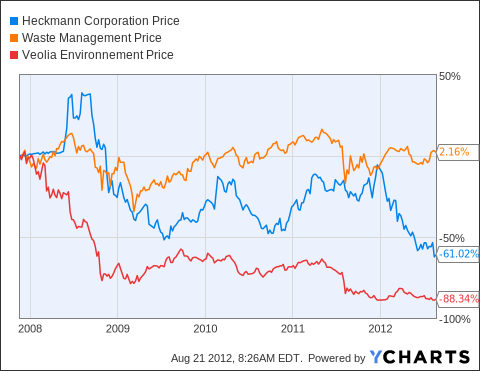 Data by YCharts
Peer Comparison
While most waste management companies performed well this year, Heckmann disappointed its shareholders so far. The industry leader, Waste Management (NYSE:WM) returned 8% in this year. Its annual return stands at 23%. However, it is still trading at attractive ratios. Trailing P/E ratio of 17.5 and forward P/E ratio of 14.54 is way below than Heckmann's valuation ratios. Waste Management also pays a yield of 4.1%. For those looking for safe income, Waste Management could be a better option.
Another high yielder in this sector is Veolia Environment S.A. (VE). The company is headquartered in France, but it operates on a global scale. Its current yield of 8.2% is the best among its peers, but the stock lost 24% in this year alone. It also has high debt ratios compared to Waste Management. Nevertheless, it can be a good speculative pick to play for the rebound in European stocks.
Compared to its peers, Heckmann stands somewhere at the middle. The stock is trading below the book value and only 1.7 times the sales. However, one thing for sure is that with Relative Strength Index of 43, the stock is almost at the oversold territory. I think the investors have over-reacted to current market conditions. $2.5 is a very strong support level, and I do not see any resistance until $7. Thus the downside is limited, whereas the upside potential is huge.
Summary
The Heckmann Corporation operates in an industry with exceptionally high growth prospects. An increased emphasis on environmental issues has placed Heckmann in a strong position to exploit the industry's growth potential. I expect this company to make significant strides within its industry to ultimately become a key player in water supply. HEK is trading at close to its lower 52-week limit. I think the market is too impatient with this stock. The company holds massive growth potential, and I expect the stock to start rising soon as the market realizes the company's growth potential.
Disclosure: I have no positions in any stocks mentioned, and no plans to initiate any positions within the next 72 hours. I wrote this article myself, and it expresses my own opinions. I am not receiving compensation for it (other than from Seeking Alpha). I have no business relationship with any company whose stock is mentioned in this article.