Commodity Chart Of The Day
Daily S&P
(click image to enlarge)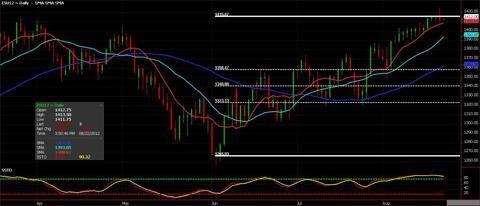 Click to enlarge
It is not my job to call tops or bottoms, and as a trader, it has gotten me into precarious situations over the years. It is not my intention to say definitively the stock market has reached a top, but a failed breakout and test of the 9 day MA as seen above are both preliminary signs that an interim top may be close if not established.
After a 13% rally in the last 2½ months, there is no doubt a compelling argument to be made that at some point we get a correction. Investors willing to gain bearish exposure are advised to scale into bearish trades until the market proves you're correct. Use the Fibonacci levels as your downside objectives. My favored plays would be bear put spreads or shorting futures while simultaneously selling out of the money puts 1:1.
Those with sizable stock exposure should also consider implementing some short of hedge against their portfolio as a way to insure on a large decline.
Risk Disclaimer: The opinions contained herein are for general information only and not tailored to any specific investor's needs or investment goals. Any opinions expressed in this article are as of the date indicated. Trading futures, options, and Forex involves substantial risk of loss and is not suitable for all investors. Past performance is not necessarily indicative of future results.
Disclosure: I have no positions in any stocks mentioned, and no plans to initiate any positions within the next 72 hours. I wrote this article myself, and it expresses my own opinions. I am not receiving compensation for it (other than from Seeking Alpha). I have no business relationship with any company whose stock is mentioned in this article.