Restaurateur Yum Brands (NYSE:YUM), purveyor of Kentucky Fried Chicken, Pizza Hut, Taco Bell, and its new Chinese acquisition Little Sheep, has experienced phenomenal growth in China. However, it has also experienced double-digit wage inflation and commodity volatility in China. The company noted in its Q2 2012 earnings call, held on July 19, 2012, that forecasting results in China is more difficult than it was five years due to wage inflation and issues related to commodities.
Yum reported strong sales growth in all of the company's divisions and achieved the growth via new unit development and exceptional same-store sales growth. The company's China segment didn't perform as well in the third quarter as in previous quarters, but expects modest improvement in China in the second half of the year as commodity inflation is expected to tame in the second half of the year. Additionally, the company expects to continue to experience double-digit wage inflation in China for the foreseeable future. While slower than in previous quarters, growth in China remained high with 27% growth including the new Chinese acquisition Little Sheep and 23% excluding Little Sheep. Yum experienced slower growth in Tier 1 cities in China, most likely as a result of slowing exports, but growth in Tier 3 through Tier 6 cities continued to perform well.
Yum increased its projection for new restaurants in China from 600 to 700. The company also noted that it plans to grow the 400-plus Little Sheep restaurants into thousands of new restaurants. Yum has 1,000 people involved in development in China, which it claims is unmatched by the company's competitors, such as McDonald's (NYSE:MCD), Burger King (BKW), and Domino's Pizza (NYSE:DPZ). Yum views the large number of people devoted to China development as a competitive advantage. The company noted it has four restaurants per 1 million people in China, as compared to the U.S. where Yum has nearly 60 restaurants per 1 million people.
The company recently created a training academy in China that it calls "Whampoa." Not sure how the company came up with the name Whampoa, but it's the name of an island where a battle was fought between the British and Chinese in 1841. Yum's restaurants in China are 90% company owned, in contrast to Africa where it expects the vast majority of growth to be franchise-driven.
In the U.S., Taco Bell was the company's star performer, turning in same-store sales growth of 13%. Taco Bell introduced a new taco line with shells made from nacho cheese-flavored Doritos, called Doritos Locos Tacos -- the new taco has been well received. Some analysts have even attributed Chipotle's (NYSE:CMG) recent malaise to the success of Taco Bell's new Doritos Locos Tacos. Taco Bell also recently introduced its Cantina Bell menu, which includes ingredients such as whole black beans, cilantro, white rice, and corn pepper sauce. Yum indicated Pizza Hut delivered solid quarterly results in the second quarter and that KFC in the U.S. is stabilizing and its profits are improving. However, a lot of work remains for improvement in KFC in the U.S.
The company has 479 restaurants in India and expects to open 100 new units this year and believes there is compelling evidence to put more capital at work for KFC in India. However, Yum does not expect meaningful profit contributions from India for a couple of more years. Yum experienced double-digit sales growth in Latin America, Africa, and the Middle East and realized a whopping growth rate of 44% in Russia.
The company considers Europe a long-term growth opportunity and has 218 restaurants in France and Germany. The company's French segment struggled in the second quarter and experienced a same-store sales decline of 4%. In the near future, the company expects the largest share of overall earnings growth to be realized via its China and YRI business, and expects to open 1,700 new international units in 2012.
Yum's stock price went ballistic earlier in the year, peaking around $74 in April. It has recently pulled back to the $65 range as shown below: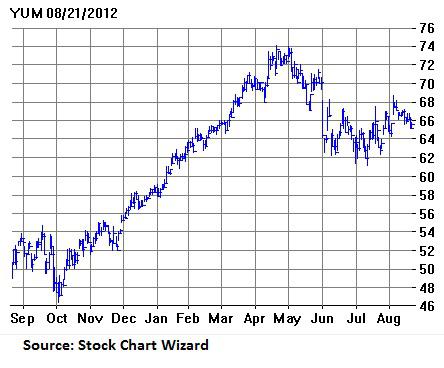 With Yum's international growth opportunity and its earnings in the rear view mirror, a bull-put credit spread is considered for the company. A bull-put credit spread may be entered for a net credit by selling one put option and purchasing a second put option. The goal is for the options to expire worthless and retain the initial net credit as profit.
Using PowerOptions, a variety of bull-put credit positions for September option expiration are available for Yum as shown below:
Click to enlarge image.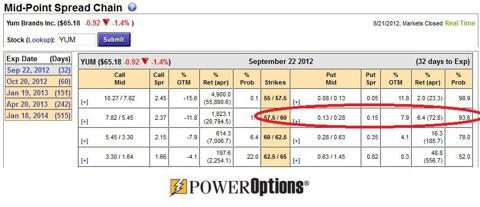 Click to enlarge
The YUM 2012 September 57.5/60 bull-put credit spread looks attractive and may be entered for a net credit of $0.15, which represents a potential profit of 6.4% (72.8% annualized). The separation between the stock price and the strike price of the short put option is 7.9%. One note of warning, the net credit of $0.15 is somewhat low, so only investors with access to low brokerage commission/fee execution should consider this trade. Otherwise, the potential profit will be eaten up by brokerage commissions/fees. The specific bull-put credit trade may be entered by selling the 2012 September put option at $0.28 and buying the 2012 September put option at $0.13.
YUM Bull-Put Credit Trade
Sell YUM 2012 September 60 Put at $0.28
Buy YUM 2012 September 57.5 Put at $0.13
A profit/loss graph for one contract of the Yum bull-put credit spread is shown below: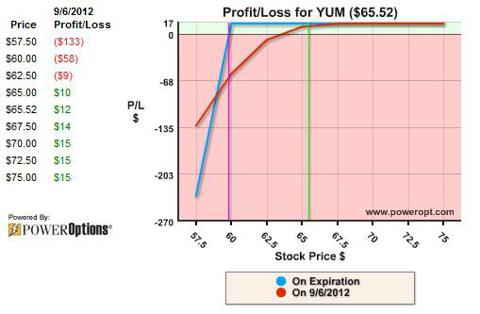 Click to enlarge
For a stock price at September expiration greater than the $60 strike price of the short put option, the position will be fully profitable. For a stock price at September expiration less than the $57.5 strike price of the long put option, the position will sustain a total loss; however, the position should be rolled or exited prior to sustaining a loss.
A management point of $62.50 is set for the position. If the price of the stock drops below the $62.50 management point, then the position should be managed for an exit or a roll.
Disclosure: I have no positions in any stocks mentioned, and no plans to initiate any positions within the next 72 hours. I wrote this article myself, and it expresses my own opinions. I am not receiving compensation for it (other than from Seeking Alpha). I have no business relationship with any company whose stock is mentioned in this article.