May 2008 brokerage metrics were released this past week by E*Trade (NASDAQ:ETFC), Schwab (NYSE:SCHW), and Ameritrade (NASDAQ:AMTD).  Reuters summarizes their comparative performances nicely by stating:
NEW YORK, June 18 (Reuters) - E*Trade Financial Group Inc (ETFC) on Wednesday reported its average daily trading volume rose 4.1 percent in May from a month before, slightly outperforming its rivals TD Ameritrade (AMTD) and Charles Schwab Corp (SCHW).

Average daily trading volume, a key indicator in the on-line brokerage industry, increased 10 percent from a year earlier while its retail customer assets were up 3.9 percent month over month.

But its retail customer assets were still down 15.6 percent over a year before. In November, customers fled in large numbers after E*Trade's holdings in risky mortgage securities generated big losses.

At a Sandler O'Neill conference earlier this month, E*Trade's Chief Executive Donald H. Layton said the brokerage was focusing on its main brokerage business as if there was no crisis.
E*Trade continues to outperform in the online brokerage market and for all of 2008 has strongly established that "their core business is intact."  But the mortgage portfolio problem is constantly being presented in current articles as a problem; not because recent developments or announcements from E*Trade indicate any problems exist, but because unplanned exorbitant subprime write downs are daily presented in the news from other banks and financial institutions; so the assumption is that E*Trade's Mortgage Portfolio must be having the same issues.   
This assumption that E*Trade's Mortgage Portfolio currently has similar problems is completely contrary to the report by Donald Layton earlier this month at the Sandler O'Neill conference.   Below are a couple of slides and commentary by Mr. Layton from that conference. 
How is the home equity doing?  It is the big item here.  Interestingly enough, markets have been bad, economy has been bad, but as we show here in the first quarter, something is a little better than the usual run of the mill troubled home equity portfolio on [E*Trade's] books.
Per Layton's comments:
This chart shows the change in the total delinquencies, one universally regarded leading indicator for charge offs during the last several quarters … what you see usually is that there is a credit cycle where  delinquencies grow rapidly, then they grow at a low rate, then they go flat, then they will decline.  The first quarter was quite a surprise because it showed a very small dollar growth in the delinquencies and as a percentage (8 percent) a very low growth rate …

In addition, the leading indicator of delinquencies, even more, is the early stage delinquencies (the green line 30 to 89 day buckets) which are called special mention loans.  We had a reduced growth rate in the 4th Quarter and an absolute decline in the 1st Quarter.   While it is too early to claim victory, this was very positive.
Mr. Layton finished by commenting on a common question he is asked:
Why is E*Trade having a more favorable experience in regards to portfolio performance in comparison to Bank "X" and Bank "Y?" 
He gave a few reasons why:  1) Early in 2007 E*Trade ceased to accept the types of "2007 vintage" loans that are resulting in higher subprime defaults.  The "2007 vintage" loans are much worse than 2006 or 2005 loans and E*Trade has a lower quantity of those problematic 2007 loans; and 2) E*Trade maintained a higher FICO score requirement for loan applicants.  While this has not prevented defaults, it has resulted in lower delinquencies. 
In summary, the performance of E*Trade's Mortgage Portfolio and management's position of "full disclosure" are unusual in the current financial industry.  As a result, analysts have recently responded favorably to E*Trades positive results. 
On June 11, the S&P Upgraded E*Trade and specifically stated,
We think management has been straightforward in their disclosure of exposures to troubled mortgage securities and has made strides to reduce this exposure. It has also been able to attract customers and post strong trading volume despite balance sheet issues. We expect loan loss provisions and valuation adjustments will continue to weigh on results, but we think ETFC has acted in a timely manner and should be able to sustain its business.
A summary of E*Trade's analysts, change dates, rating changes, and target prices is shown on the chart below (click to enlarge).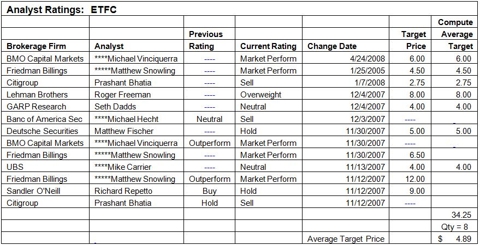 The most recent analyst change prior to the S&P was a Target Price revision to $6.00 per share on April 24, 2008.  This target price by analyst Michael Vinciquerra from BMO   Capital is significant because Mr. Vinciquerra is a 4-star accuracy ranked analyst (see here for more details on star ranking of analysts).  An average of all the analyst's target prices is $4.89.
Since late November 2007, E*Trade's share price has been range-bound:  dropping as low as $2.08, rising as high as $5.48, and sitting at around $4 for the past two months.  The current $3.60 to $3.80 range is lower than in November  2007 when no one was sure whether E*Trade would survive bankruptcy. 
E*Trade has done more than survive bankruptcy.  April and May metrics were better than the industry averages, and their loan portfolio is actually performing better than management expectations.  Unique marketing strategies, innovative brokerage tools (BlackBerry), improved brokerage metrics, and stabilizing balance sheet transactions are assurances that E*Trade's shareholder value will continue to improve, especially with the potential continuation of favorable results in the 2nd Quarter 2008 report next month.
As stated in a prior article, many financial stocks like Lehman (LEH), Merrill Lynch (MER), UBS AG (NYSE:UBS) and Citigroup (NYSE:C) have just started to reveal their problems, are questioned regarding whether they are revealing the true extent of their problems, and are still figuring out what they are going to do to survive.  E*Trade's true position among them is more of a "First One In,  First One Out" and moving forward with success.    
Disclosure: Long ETFC