The Nokia (NYSE:NOK) patent portfolio leads the mobile technology industry in both quantity and quality of patents. The recent licensing agreement ordering Apple (NASDAQ:AAPL) to pay Nokia a royalty fee for each iPhone sold proves the profit potential of this patent portfolio. Given that the Google (NASDAQ:GOOG) based Android operating system is essentially a copy of the Apple operating system, it is fairly certain that all "Google " based Android devices may infringe on the same Nokia patents as the iPhone and other Apple products, thus it appears only a matter of time before the royalties from these devices start to add up for Nokia. (This is according to award winning intellectual property analyst Florian Mueller, in a blog post following the Apple Nokia Settlement).
Since Nokia holds the most patents relating to the cutting-edge 4G/LTE technology, it is very plausible to assume that these total patent royalties will come to rival those of Microsoft (NASDAQ:MSFT), holder of the most patents related to the traditional 2G/3G technology which allows them to receive royalties on a staggering 50% of all Android devices sold. In total, these Android based royalties alone are estimated to net Microsoft upwards of $3.2 billion per year. As technology progresses and more internet usage moves to mobile devices, it is my opinion that Nokia could garner double or triple this amount in the not so distant future.
The wide-ranging patent infringement suit against leading Android manufacturer HTC (along with RIM and View-sonic) was announced in a Nokia press release on May, 1 2012; and the huge discrepancy between the robust Apple patent portfolio (which Nokia already defeated) and the very weak HTC portfolio was succinctly stated by IP analyst Florian Mueller on his blog FOSSPATENTS, "(In their patent battle) Apple brings heavy patent artillery, (while HTC only brings) guerrilla warfare." The overall lack of quality patents within the HTC portfolio coupled with the 2010 cross-licensing agreement that Nokia came to with Motorola which precludes Google from transferring the numerous patents it recently acquired from Motorola Mobility in last year's $12.5 billion acquisition, infers that HTC has little chance of successfully fighting the Nokia infringement claims.
Thus, it appears that a licensing settlement is relatively imminent as HTC would be unwise to continue fighting the litigation thereby wasting massive sums in legal costs with little chance of success. With a per phone royalty rate that is just half of the one HTC pays Microsoft, Nokia would be looking at nearly $800 million in annual free cash flow from this one Android manufacturer alone. This is a tremendous amount for a company that has a current market cap of only $10.6 billion (bgr.com). It is my opinion that this settlement will occur prior to Nokia's Q3 2012 earnings release on October 18, 2012 at which point the stock will see a significant jump as both analysts and investors begin to realize the tremendous future profits that this immense portfolio holds. With this in mind, it would be incredibly wise to take advantage of the significantly low Nokia stock price and purchase shares before the incredible rise in price occurs in a few short months.
A recent blog post by a Google executive claiming that a standard smartphone contains approximately 250,000 separate patented technologies gives an insight into the rapidly increasing technological complexity of mobile devices. A fact that will come to benefit Nokia immensely as they own a vast majority of this patented technology. The following image, which appeared in a recent New York times article, shows just a few of the many thousands of patents found in today's standard smartphone device: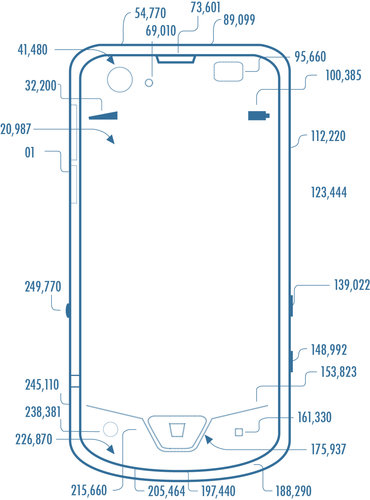 (James Best Jr./The New York Times)
Nokia: Industry leader in Both Patent Quantity and Quality
Nokia currently holds the second largest portfolio of US patents, behind only new strategic partner Microsoft. A recent review of Nokia's patent portfolio by Envision IP resulted in the following total patent calculations: "(they) identified 15,897 issued US patents, and 4,453 pending US patent applications assigned to Nokia. In addition, Nokia holds over 20,000 foreign patents and pending applications, with a majority of those being in Europe. As far as Nokia's US patents are concerned, these patents have an average remaining term of 13.8 years." Although the sheer volume of patents within the Nokia portfolio is impressive, the quality of the overall portfolio separates it from others within the industry.
This industry leading quality is clearly apparent in a review of the 3,144, 4G/LTE patents considered essential to the application of the technology (as of November 2011) performed by the research firm Article-one Partners in collaboration with Thomas Reuters which found that as of Q4 2011, Nokia held 18.9% of the total essential 4G/LTE patents in circulation. This substantial position in LTE holdings is even more remarkable when the following revelation found in the footnotes of the Nokia 2011 annual report is considered, "In 2008, Nokia and Qualcomm entered into a new 15 year agreement, under the terms of which Nokia was granted a license to all Qualcomm's patents for the use in Nokia mobile devices and Nokia Siemens Networks infrastructure equipment." Thus, the company has complete access to an unrivaled 31.4% of the essential LTE patents, a fact that will undoubtedly save Nokia a significant amount of time and money in the coming years as the patent litigation war which has raged in the past shows no sign of letting up. The following graph depicts the distribution of these essential 4G/LTE patents among Nokia and its various competitors.
(The chart below shows the companies with the highest essentiality (A rating) ranked based on their ratio of the number of high novelty patents (4 or 5 ratings). The study revealed that traditional mobile phone makers, such as Nokia, Qualcomm, Samsung and Ericsson, are the ones with strong patent portfolios in the LTE patent space.)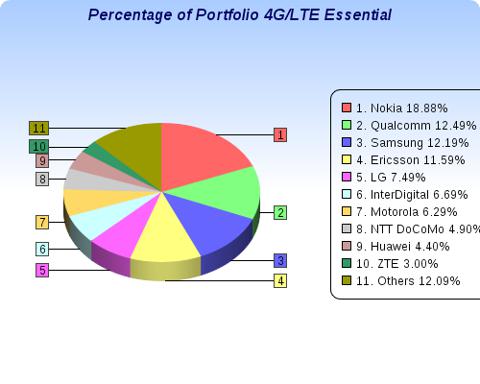 (Data from the Article-One, Report entitled, "LTE Standard Essential Patents Now and in the Future,")
Huge R&D Expenditures Will Finally Pay Off
While the numerous innovative failures of Nokia over the past decade are well-documented, this inability to introduce cutting-edge products was not due to a lack of funding for the research and development department. In fact, from 2001 onwards the R & D budget saw a significant increase throughout the decade as the following chart shows.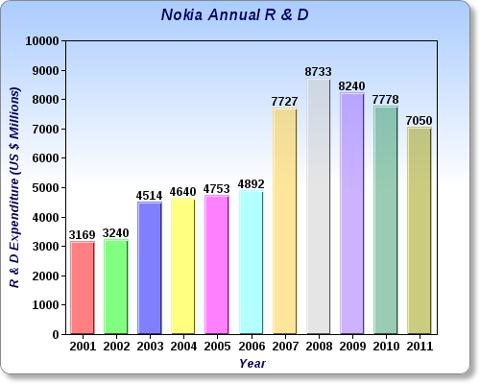 (Data for 2001-2004 taken from the respective year's annual report filed by research firm IEEE Spectrum entitled, "Top 100 R&D Spenders," Data for 2005-2011 taken from the respective year's annual report filed by research firm Booz & Company Inc., entitled, "The Global Innovation 1000,")
In total, the net expenditure on R & D over the past 11 years was an unfathomable $64,737 billion, an estimated 10 times the amount Apple has spent on research and development. On the surface it may appear that no silver lining could possibly be found in the revelation that a company has burned over $60 billion over the last decade on R & D yet has little to no tangible products to show for it.
However, as a recent Wall Street Journal article exposed, the lack of ingenuity was primarily due to managerial politics, not technological inaptitude. In the article appropriately titled, "Nokia's Bad Call on Smartphones," former chief executives at Nokia and rival firms explain that truly groundbreaking technology was in fact developed years ahead of others, yet it was never pushed to market because company executives lacked a clear vision of the mobile future. "More than seven years before Apple rolled out the iPhone, the Nokia team showed a phone with a color touch screen set above a single button. The device was shown locating a restaurant, playing a racing game and ordering lipstick. (Also) In the late 1990s, Nokia secretly developed another alluring product: a tablet computer with a wireless connection and touch screen-all features today of the hot-selling Apple iPad. (However) consumers never saw either device. The gadgets were casualties of a corporate culture that lavished funds on research but squandered opportunities to bring the innovations it produced to market."
Although Nokia devices were void of this type of cutting-edge technology, the R & D department documented and filed patents for a vast majority of the technological breakthroughs that occurred during this research heavy period. This is evidenced by the following graph showing annual Nokia patent applications over the past 20 years. Notice the peak levels reached and maintained from 2000-2010.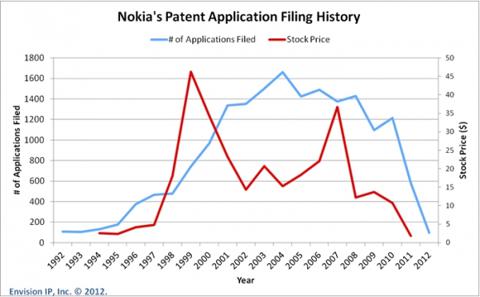 (Chart From the following Envision IP, Inc. blog post entitled, "Nokia Has a Valuable and Relatively Young US Patent Portfolio,")
This chart provides an enormous amount of insight into the value of Nokia's patent portfolio. Due to the 20-year term placed on awarded patents, a large portion of their value is directly correlated to the remaining amount of time left on a particular patent. Thus, a specific portfolio's average term remaining per patent is a vital statistic used by industry experts when attempting to calculate the value of a particular company's overall portfolio. And as the above chart clearly indicates a majority of Nokia's portfolio consists of patents with remaining terms of a decade or longer. According to analysis done by Envision Ip, the average remaining term on Nokia's over 10,000 US patents is a robust 13.8 years, making it plausible to assume that the company could continue to accrue revenue from this seemingly endless supply of intangible assets far into the future.
To demonstrate this, "averageterm remaining" calculation I will apply it to Nokia's most recent and farthest ranging infringement suit announced on May 1, 2012 which claims infringement on 45 patents by three separate companies; HTC, RIM and Viewsonic. Using the individual patent filings made available on various US websites, I conclude that the 19 US patents claimed by Nokia in this case have an average remaining term of 10.74 years. This infers that if Nokia can come to a licensing agreement on the use of these patents, the global leaders in Android sales would have to pay a per device premium to Nokia for over a decade, thus the potential revenue stream of these assets would not be limited to a short-term influx of capital. Instead they would constitute a steady long-term source of free cash flow.
In order to show the dominance of the Nokia patent portfolio in terms of average term remaining per US patent, I have produced the following chart wherein the average remaining terms of the Nortel and Motorola Mobility patent portfolios are plotted in relation to the average term remaining of the Nokia patent portfolio. Each of these portfolios were sold for absurdly high prices in the last year, the Nortel portfolio for $4.5 billion to a consortium of companies including Apple in July 2011, and the Motorola Mobility portfolio for $12.5 billion to Google as part of the company's acquisition of Motorola in August 2011. These patent portfolios contain a small fraction of the essential patents that the Nokia portfolio contains, as previously shown, and the average remaining terms are 20-25% less than the Nokia patents. This infers that the Nokia patent portfolio would garner significantly more than either the Nortel or the Motorola Mobility patent portfolios did in their recent auctions, if the company was forced to auction the entire portfolio in a similar fashion.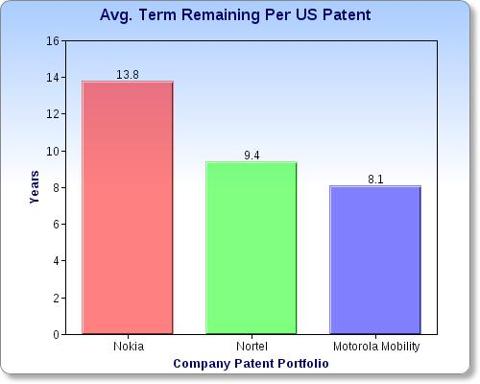 (Data from the intellectual property research firm Envision IP)
A more subtle - yet equally profit maximizing - conclusion can be drawn from the last data points on the aforementioned chart depicting annual patent applications. The severe drop-off in patent applications over the last 12 months is directly related to the downsizing plan set forth by new CEO Stephen Elop and the board of directors. While budget cuts and layoffs affected every department in the company, nowhere was this cost cutting more profound than within the R & D division. Of the projected 10,000 layoffs, expected to be finalized by early next year, 4,000-5,000 are coming from research and development. In particular, Elop has reiterated his desire to rid the company of the exorbitant R & D expenditures related to the failing Symbian platform (in 2010 it was reported that Symbian R & D alone accounted for nearly one-third of total wireless R & D at approximately $2 billion). With the outsourcing of Symbian to Accenture over 3,000 Nokia employees were transferred from this capital draining division.
In a recent interview with the Wall Street Journal, Elop spoke of the R & D stagnation that the company faced when he was first hired, "Nokia represented a landscape of unpolished gems ... as I began to see what was going on in the labs, as I saw the innovation underway, as I accounted for where the R&D dollars were being applied, there were and there continue to be all sorts of great efforts and products and technology available, under way, but they weren't landing in the products. They were certainly showing up in the strength of the patent portfolio, something we're very proud of."
The chart below shows the potentially enormous amount of capital that will be saved with the elimination of Symbian from overall R & D expenditures.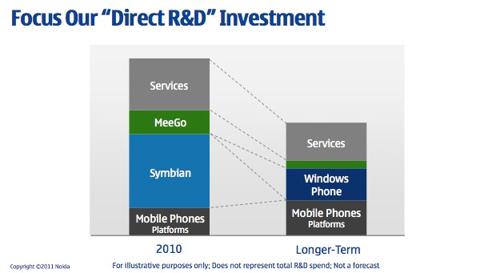 (This is slide 21 from the March 9, 2011 presentation entitled, "Nokia -New Strategic Direction," given by Nokia CFO Timo Ihamuotila at the annual UBS Technology Conference.)
Nokia Patent Portfolio Monetization Will Follow the Highly Lucrative Microsoft Model
Elop, introduced as Nokia CEO in September 2010, is the former head of the Microsoft business division and a former member of the company's senior leadership team. Due to his experience as a top executive with Microsoft, it seems that he has intricate knowledge of the IP licensing program and intends to emulate this program using the substantial 4G/LTE patents that Nokia currently holds. It is my belief that Nokia will come to monetize its patented technology in a similar fashion to Microsoft in the coming months and years.
In an interesting revelation, the management within Microsoft did not feel an IP licensing program would provide a significant monetary influx to the company as reiterated by general consul, Brad Smith, in the 2003 announcement of Microsoft's intellectual property Licensing program, as he stated, "The effort, which has been in the planning stages for about a year, is not expected to contribute significantly to Microsoft's bottom line. Fundamentally, that's not why we are doing this, We are doing this to work better and promote better collaboration with the industry."
This position stands in stark contrast to the statements made in the October 23, 2011 blog post by the same general consul, Brad Smith, following a groundbreaking patent licensing agreement with yet another Android manufacturer, in which Smith boasted of the company's position as licenser of over 50% of all Android devices on the market, "Today's announcement marks Microsoft's ninth Android agreement in the last four months. More important, today's announcement means that companies accounting for more than half of all Android devices have now entered into patent license agreements with Microsoft. At Microsoft, we're building on our extensive experience with patent licensing. Over the past decade we've spent roughly $4.5 billion to license in patents from other companies. And as reported in this morning's Seattle Times, we've now entered into 1,133 agreements over the last decade to license our patents to other companies that share our desire to respect IP rights."
Nokia will soon have a Patent Licensing and Litigation Map that is very similar to the following Microsoft Map.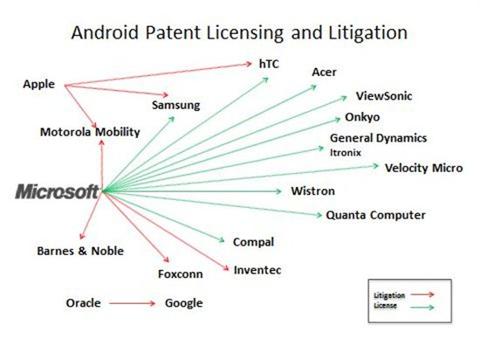 Although exact figures of the amount paid per device sold by each manufacturer is unknown due to the fact that most license agreements are sealed, various analysts have come up with ball park estimates that all seem to agree are close to the actual profit accrued. In particular, in a recent interview a trefis research analyst concluded the following from his estimates, "HTC pays Microsoft $10 for each Android phone sold while Samsung pays $12-13 per Android unit sold. (This amounts to) nearly $800 million in the second quarter alone from just HTC and Samsung in royalty payments for licensing its technologies."
Litigation Settlement With Apple a Sign of Things to Come
In June 2011, after nearly two years of litigation, Nokia and Apple finally reached a licensing agreement that required Apple to make a one-time payment ($500m) to Nokia followed by ongoing royalty payments for the duration of the agreement. While the exact royalty payments are unknown due to the agreement being sealed, this legal victory was less about an influx of capital from Apple and more about proving the power of Nokia's patent portfolio against the wealthiest company in the world.
According to renowned intellectual property analyst Florian Mueller, by defeating Apple in what he referred to as the most bitterly contested patent dispute in the history of the industry, Nokia is set to file suit against the world's many Android developers and manufactures as the Android device copies a majority of the patents and technology found in the iPhone. "This is also very significant with a view to Android. Given that Android is in many ways a rip-off of Apple's operating software, Android-based devices are highly likely to infringe on largely the same Nokia patents that Apple now felt forced to pay for. "
To this end, on May 1, 2012 Nokia filed a total of 11 patent infringement lawsuits against three companies; leading Android manufacturer, HTC, in addition to fellow mobile competitor RIM and visual technology designer View-sonic. This claim alleges that collectively these three companies infringe on a total of 45 Nokia patents relating to a variety of technologies. In comparison to the Apple litigation, Mueller states that this lawsuit will take much less time and should result in a higher per phone revenue, "I think these disputes won't take as long as the Nokia-Apple battle-and on a per-device basis. HTC and ViewSonic will likely end up paying significantly higher royalties than Apple, which brought more IP of its own to the negotiating table." The legal standing of Nokia in relation to Android manufactures is also helped by the cross-licensing agreement the company established with Motorola in 2010, which precludes Google from using the numerous patents it acquired from Motorola against Nokia or allowing any of its subsidiaries to use them in legal cases with Nokia.
Nokia spokesman Mark Durrant, stated in an interview following the litigation announcement that this marks a change in licensing strategy for the company, "This is why we have flagged this as a next step for us. Our activity to date has been primarily focused on licensing our essential patents and we have around 40 licensees for them (and of course, we also have licensees to standards essential patents from many other companies). "These actions are primarily around implementation patents, which represent the majority of the patents in our portfolio."
Location Based Mapping Patents Are Hidden Jewel of Nokia Patent Portfolio
One emerging and potentially highly profitable area in which Nokia has a distinct patent advantage is indoor-mapping. This technology is vital to the expected future trends of mobile advertising which will come to directly target individual users based on their proximity to retail locations within malls and other large indoor locations. Currently, the positioning systems within mobile devices rely on traditional satellite based line-of-sight technology (GPS) which is greatly hindered when inside large enclosed structures as the needed line-of-site connection is non-existent. To provide accurate and fluid device placement while indoors, the new positioning systems rely upon radio wave signal interaction between the mobile device and strategically placed antennae, or Wi-Fi hotspots, in and around the particular structure.
Google was the first company to unveil a version of this new technology on current smart devices, with the "My Location," feature within the November 2011 release of "Google Maps 6 for Android." Despite being the first to release this technology in a platform compatible with current mobile devices, a December 2011 report on the particular indoor-positioning patent holdings of each major technology company by the research firm Grizzly Analytics found that Google held an alarmingly low amount of indoor-positioning relevant patents. The firm ranked the companies by the breadth of their research and the number of years they've been working on indoor positioning, said founder Bruce Krulwich in an interview for a December 2011 Forbes magazine article on this topic. "Of the five indoor positioning leaders, Google may actually have the fewest patents. Krulwich examines just two Google patents in his report and both are only patent applications."
With the two strongest indoor-positioning patent portfolios, the Grizzly Analytics report concluded that the Microsoft and Nokia partnership puts the two companies in prime position to dominate this potentially monumental growth industry, "if Microsoft and Nokia pool their mapping assets, as they have pledged to do in upcoming Windows Phone devices, they could offer the industry's strongest indoor positioning service. Both have made such investments in this area, they would have a leg up if they can get a combined system out to market," said Krulwich.
In particular reference to Nokia, the report found the company was way ahead of the curve having researched and filed patents in this domain over 5 years prior to the November 2011 article, "Nokia's indoor positioning work is sophisticated with patents going back to at least 2006. In September 2006, Nokia filed a patent on "Direction of Arrival" detection. That strategy leverages ultra-wideband (UWB) radio technology to estimate location. In fall 2007, Nokia also filed three patents related to determining location via Wi-Fi signal strength."
The following image depicts the advanced geographic precision gained with IPS vs. GPS;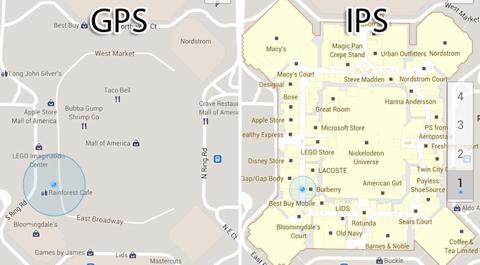 (Image from the following extreme-tech.com article entitled, "Think GPS is cool? IPS will blow your mind.")
Nokia: World leader in mapping from the outset
Although the Nokia foray into map-based services began in the early 2000s,it was the extremely expensive purchase of NAVTEQ, which at the time was the global leader in providing map databases and additional points of interest to its clients, to mobile devices participants, and also to Internet-based mapping providers for navigation and POI solutions, in October 2007 that put Nokia at the forefront of map-based technology. In addition, the Navteq acquisition of, "The Map Network," just months prior to the Nokia deal provided the company with the largest supplier of mapping to U.S. tourism and convention agencies, greatly increasing its possible future benefits to Nokia as a provider of unique personalized advertising within this vast collection of maps. With an acquisition cost of $8.1 billion the Navteq deal constituted the single largest acquisition in Nokia's long and storied history, making it known the world over that Nokia was serious about mapping and the possible revenue opportunities it could provide.
To this end, on September 14, 2009, Nokia purchased Aquity Mobile, whose embedded mobile advertising platform (eMAP) technology enables precise location targeted advertising. The service supports robust campaign management, tracking and reporting as well as APIs for integration into marketing databases providing content, promotions and advertising to virtually any application on any platform (Venture-Beat).
According to Nokia Vice-president of advertising, Ben Smith, at the time of purchase, with this acquisition the map-based technology it had developed over the previous decade would be strengthened by the ability to better pinpoint the preferences of individual users, which Aquity clearly supplied, "Our research indicates that the more finely we target advertising, the higher value it brings to consumers and advertisers alike. NAVTEQ is committed to providing the leading location-based advertising capabilities and Acuity Mobile technology is an important piece of this."
Potential profits from location-specific advertising astronomical as market is completely untapped
Despite the increasingly large segment of the population that uses mobile devices to surf the internet advertisers have yet to take this new medium seriously, instead continuing to focus on the large-scale PC advertising which has dominated for the past decade. According to US research firm eMarketer in a recent report on the topic, mobile internet use accounted for 10.1 percent of media use in the US at the end of last year but attracted only 0.9 per cent of the total money spent on advertising.
According to most industry experts the reason for this lack of interest in mobile advertising is due to the fact that companies cannot "track" or monitor users on mobile devices to the same degree they can and do on standard computers. A July 2010 Wall Street Journal investigation highlighted the extent to which these advertisers went to track the personal data of internet users, "The nation's 50 top websites on average installed 64 pieces of tracking technology onto the computers of visitors, usually with no warning. Tracking technology is getting smarter and more intrusive. Monitoring used to be limited mainly to"cookie" files that record websites people visit. But the Journal found new tools that scan in real time what people are doing on a Web page, then instantly assess location, income, shopping interests and even medical conditions. These profiles of individuals, constantly refreshed, are bought and sold on stock-market-like exchanges that have sprung up in the past 18 months."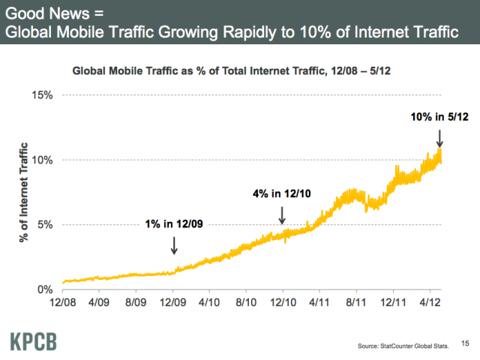 (Image from the 2012 Presentation of Mary Meeker at the annual All Things digital Conference)
This type of highly personalized data allows advertisers to directly market their products at specific segments within the population. In contrast, due to the capacity restrictions and protocol differences between mobile internet browsing and PC internet browsing, this type of tracking data is very difficult to embed on mobile devices. The only substitute for this embedded data according to industry analysts is the aforementioned indoor positioning technology that Nokia has come dominate. To this end, as Nokia and others have advanced these new methods of geo-location, large brands have become more accustomed to the realities that are currently changing the market. This fact was reiterated within a an August 2011 whitepaper published by mobile research firm Mobilesquard, "Research conducted in April 2011 revealed that approximately 70- 80% of brands that are active in mobile are now inquiring about how they can capitalize on the location element that mobile delivers. This research is in stark contrast to the views expressed 12 months previous, when the majority of media agencies claimed their clients were expressing little or no interest in location as part of a mobile campaign."
The parallel paths of advertising and indoor location services finally converged in early August 2012, when Nokia and Chicago based coupon distributor Groupon (NASDAQ:GRPN) entered a partnership to create the real-time, "Groupon Now!" application for Nokia Lumina smartphones. A press release provided the following details, "Finding, buying and redeeming Groupon Now! deals is easy. When looking for something on Nokia Maps, you will be shown relevant deals among the usual search results clearly marked with the green G of Groupon. All deals on Nokia Maps come with an exhaustive description and when you have selected one, you will be redirected to the Groupon mobile site." The following smartphone screenshots depict the, "Groupon Now!," function in real-time:
(Image from Nokia press release announcing, "Groupon Now," deals with Nokia maps)
The aforementioned white paper offered the following calculations regarding the large disparity in revenue accrued from geographically optimized advertisements in comparison to traditional mobile advertisements: "Consumers are undoubtedly more receptive to mobile advertising when location is applied. Location relevant ads increase the digital mobile advertising average mobile click-through rate from 0.5-0.8% to 1.5-2% and upwards. Results from the US reveal that geo-location targeting delivers 10-20 times the click-through rates compared to the web, depending on the mobile ad network."
If these estimates prove true in the Groupon partnership and other subsequent advertising deals between Nokia Navteq and individual companies, exceedingly larger portions of total advertising budgets will flow towards these location-based advertisements and away from the traditional online marketing campaigns which targeted PC users. The benefits of such a shift would be two-fold for Nokia as they would receive a large share of this mobile-advertising capital, and in addition would stand to receive significant royalties from their mobile competitors whose individual and collective patent portfolios in regards to mapping technology fall far short of the robust portfolio held by Nokia.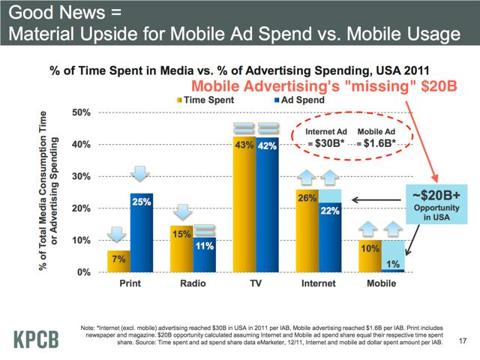 (Image from the 2012 Presentation of Mary Meeker at the annual All Things digital Conference)
While it is impossible to calculate the precise trajectory of the mobile advertising market, the highly respected Mary Meeker, a former Morgan Stanley Analyst known for her annual presentations analyzing specific pertinent aspects of the internet growth cycle, concluded in her May 2012 presentation at the D10 (All Things Digital) Conference that the mobile advertising industry has vast material upside as depicted in the preceding slide which appeared in the original presentation. According to Meeker, the mobile advertising market is still in its early stages but is currently ahead of where the desktop market was at a comparable point within its relative growth cycle. Going one step further, she states that the $30 billion gap which separates the 1.6 billion spent on mobile ads domestically and the approximately $30 billion spent on traditional internet ads will close significantly in the coming years, thus alluding to a $20 billion future opportunity in the domestic mobile advertising market.
S&P Rating Not Applicable to This Discussion of Intangible Asset Value
On Wednesday, August 15th the credit rating agency Standard & Poor's downgraded Nokia's long-term credit rating to BB-or further into, "junk status." However, the ratings of S&P and other similar agencies rely very little, if at all, on the intangible assets of a particular company when a rating upgrade or downgrade is made. According to a 2008 research report on the impact of intangible assets, ratings agencies have few concrete procedures for valuing these assets, "Despite the frequent reference to specific intangibles in their ratings manuals - it appears that there is no algorithm or procedure to track down in a systematic and formalized way the role of intangibles in the evaluation process."
The lack of attention paid to intangibles can be seen in the official transcript released by S&P announcing the rationale and motivations behind the Nokia downgrade. The document is completely void of any mention of intangible assets, and of course patents. Instead the downgrade focuses on the lack of growth the agency predicts Nokia having in the smartphone segment of its business. In addition, the document specifically states that these projections exclude the benefits of divestments, "The sharp decline includes cash restructuring outflows and excludes the possible benefits from divestments." This means that the agency is not considering the previously mentioned $2 billion annual R & D expenditure for Symbian that came of the books when Symbian was transferred to Accenture.
Due to the major intangible asset omissions inherent to the S & P ratings criteria, this downgrade has little to any relevance as to my current argument that the patent portfolio of Nokia will be a source of huge profits in both the near and long-term. In fact, I would argue that such downgrades create a significant buying opportunity for the astute investor who realizes the limitations of these ratings and thus can purchase Nokia stock at an even lower level as the majority of uninformed investors sell in panic.
In conclusion, the near-term revenues from the patent portfolio are likely to reach well-over $1 billion annually as the HTC litigation is likely to reach a licensing royalty settlement in the coming months. It seems very probable that this will be immediately followed by infringement litigation against many of the other top Android manufactures, resulting in royalty per device payments from these companies as well.
It is my opinion that these royalty agreements will be similar to those previously instituted by Microsoft, thus the mid-term revenues from these many licensing settlements are likely to amount to nearly $3.5 billion, annually, for Nokia.
In the long-term, these royalty agreements coupled with the growth of geo-location advertising using the indoor mapping technology for which Nokia owns a vast majority of the available patents could amount to nearly $5 billion in total annual revenues. With this in mind, please do yourself a favor and buy Nokia stock at its current discount as Wall Street is bound to take notice of Nokia's immense patent related profit potential when the aforementioned HTC licensing agreement is signed in the coming months. Thus, the window to buy this stock at such a discount is closing rapidly so grab at least a few shares at this extremely low valuation while you still can.
Disclosure: I have no positions in any stocks mentioned, and no plans to initiate any positions within the next 72 hours. I wrote this article myself, and it expresses my own opinions. I am not receiving compensation for it (other than from Seeking Alpha). I have no business relationship with any company whose stock is mentioned in this article.