On Tuesday, Best Buy (BBY) reported second quarter earnings to the tune of a 91% reduction in earnings (year over year) along with revenue declines of 3.1%. This comes in the wake of the company announcing the appointment of its new CEO Hubert Joly. In February, I wrote an article entitled: Best Buy: The Writing Is On The Wall where I outlined the fundamental weakness that existed with BBY: self-inflicted wounds, the fact that good locations are no longer the largest differentiator in the age of Amazon (AMZN), along with the company's inability to connect with 21st century consumers. The landscape has not improved by any metric since February and has continued to get worse and worse. Eight out of the past nine earnings releases have showed declining revenue and earnings in tandem. The most recent quarter results are as follows:
(click to enlarge)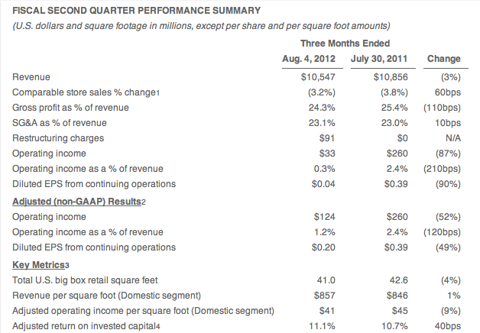 (Best Buy Second Quarter Earnings Release)
These results show declining sales, but also show that earnings are decreasing at a faster rate than revenue. This being said, BBY wrote off $91 million in expenditures (mostly relating to store closures) and in doing so brought its earnings down. Excluding the write-offs, BBY EPS was $.20 vs. $.39 last year's second quarter. Even with BBY $1.50 billion free cash flow, these types of declines in earnings (excluding write-offs) is not sustainable.
The key issue that Joly has to face is how to reinvent the image of BBY in the eyes of customers. This task is difficult, as evidenced by Barnes & Noble (BKS) and J.C. Penney (JCP), as it involves both a reengineering of the brand along with a reengineering of the stores themselves. For BBY to become a destination for consumers and provide a strong value proposition, the company will need to tie in its online infrastructure with what the physical store can offer consumers.
Interim CEO Mike Mikan stated this morning:
In the U.S., economic conditions are soft and will probably remain so for the indefinite future. Consumers remain very cautious and sales in the industry may be dampened at the moment by those who are holding back on spending as they await some highly anticipated new technology releases. Like virtually every other competitor in the consumer electronics sector, Best Buy's second quarter reflects these realities.
This illustrates another issue that BBY has not done: face the brutal facts. The fact of the matter is that on BBY's current trajectory they will continue to experience revenue declines in the face of an increasingly competitive environment. For BBY to have the sentiment that economic issues are what is perpetuating their reality is absurd. Though this plays a part, the true issue lies in the fact that BBY is simply losing market share to AMZN and other internet retailers due to its complacency and inability to meet the needs of the 2012 consumer. The first step to Joly's journey needs to be to ask the hard questions and to restructure the business no matter what the short term consequence may be, because if this does not occur, BBY will become a company of the past in the same way Circuit City did in 2009.
While BBY's valuation used to be a point of strength for investors, today it is less important because the business is fundamentally failing. Though BBY is trading at only 4.78 times forward price/earnings with a PEG ratio of .89 this does not carry the weight it used to. Investors should wait to see positive sales growth and signs of a changing retailer, both from an image and store perspective, before taking the chance on BBY. Joly has a substantial amount of work to do to first turn around the company and then turn around the chart below.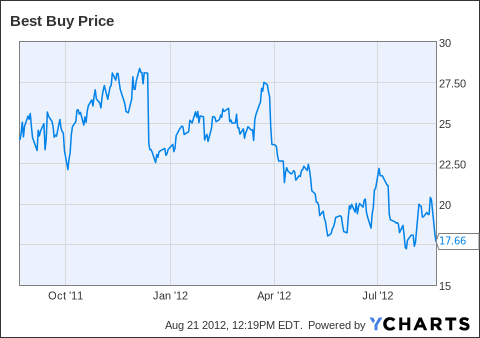 All financial metrics referenced above are obtained from Yahoo Finance, CNBC Analytics, S&P Capital IQ and Thomas Reuters.
Disclosure: I have no positions in any stocks mentioned, and no plans to initiate any positions within the next 72 hours. I wrote this article myself, and it expresses my own opinions. I am not receiving compensation for it (other than from Seeking Alpha). I have no business relationship with any company whose stock is mentioned in this article.