On Monday, August 20, Enerplus Corporation (NYSE:ERF) reported that it has entered into an agreement to sell its interest in Laricina Energy, a private Canadian oil sands development company, for net after tax proceeds of approximately $141 million. Enerplus plans on using the proceeds from the sale to repay outstanding bank loans. This is the first sale the company has announced since revealing plans to divest non-core assets to reduce debt and fund production growth.
Enerplus shares spent much of the first half of 2012 in decline, following natural gas down the charts for several months, and a spike down for oil prices in May. On June 12, Enerplus cut its monthly dividend in half, from 18 Canadian cents to 9 Canadian cents. (Presently, $1 U.S. is roughly equal to $0.9865 Canadian.) The company also noted that it intended to continue with its plans to increase production and shed non-core assets to both reduce debt and fund its production acceleration endeavors.
Since ERF recently reduced its dividend, oil and gas prices have stabilized and subsequently increased, as have the company's shares. Enerplus has now appreciated by about 40 percent since bottoming out in late June, though shares are still down about 40 percent over the last year. See a recent performance chart for ERF:
(click image to enlarge)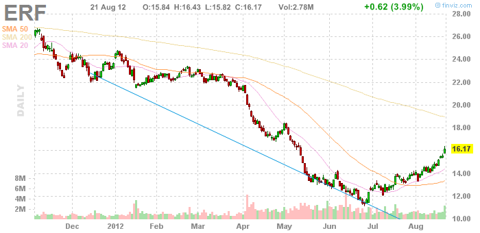 Gordon Kerr, Enerplus president and CEO, said, "This is an important step in our plans to monetize non-core assets within our portfolio to fund the growth opportunities we have captured and preserve our balance sheet flexibility." Enerplus' production growth plans primarily involve the development of oil, though the company has also indicated it would also continue to grow its natural gas production. The company's sale of its interest in Laricina should help it fund these activities, as well as calm any fears of further dividend reductions that may still be plaguing shares.
Earlier this month, Enerplus reported results for the second quarter of 2012, noting that its net income fell to $100.3 million Canadian, or $0.51 per share, compared to $268 million, or $1.50 per share, during Q2 of 2011. Funds flow was approximately $147 million during the quarter, or $0.74 per share. Most of ERF's above-mentioned reductions were based upon lower commodity prices, with some of that being offset by its increased production rates.
Enerplus also reported an average production rate of 82,108 BOE/day during Q2, which is about a 4% increase in average production volume compared to Q1 of 2011, and about a 9% increase in production compared to Q2 of 2011, with total crude volumes increasing by about 7% compared to Q1 of 2011.
Enerplus has 18,500 bbls/day of oil production hedged at $96.17/bbl for the remainder of 2012 and 14,500 bbls/day of oil production hedged at $101.36/bbl for 2013 (both rates are listed in U.S. dollars). Enerplus drilled 18.7 net wells during Q2, with 18.4 net wells being brought on stream. About 75 percent of drilled wells were oil wells, in keeping with the company's plans to increase production of crude oil and natural gas liquids, which represented 49% of ERF's total production in the seconds quarter.
The meniscus shape of ERF's performance between May and now indicates a growing comfort with the company and its valuation. Additionally, Enerplus' crude oil and NGL production appear likely to represent over half of the company's total production during Q3. As a result, it appears likely that shares will see continued strength through the next few months.
Given shares of ERF have appreciated by over 15% since the start of August, it would not be surprising to see shares briefly correct to the downside, or weaken if energy commodities decline substantially. Nonetheless, it does appear that ERF is continuing to proceed with its plans, including production growth, and that additional non-core asset sales could be forthcoming. All of this should bode well for shareholders.
Disclosure: I have no positions in any stocks mentioned, and no plans to initiate any positions within the next 72 hours. I wrote this article myself, and it expresses my own opinions. I am not receiving compensation for it (other than from Seeking Alpha). I have no business relationship with any company whose stock is mentioned in this article.