Excerpts from this article were taken from an exclusive Forbes.com interview with Brad Thomas and Ben Butcher, CEO of STAG Inc.
As Graham taught, a fundamental principle of investing is that, over time, diversification is the key to stability of performance and preservation of capital. You might have outstanding results if you put a huge portion of your assets in one stock, but nobody can foretell the future.
Occasionally, even Warren Buffett has zigged when he should have zagged, and real estate has, in the past, been a somewhat cyclical investment.
However, in uncertain economic times, a stock's dividend is often regarded as more important than the market price of its shares. The dividend represents the anchor of a REITs total return composition and REIT stocks - normally paying out almost all of their profits - are an important part of an investment portfolio during volatile times.
So a primary reason to invest in REITs is the current shortage of quality yield in the marketplace. The dramatic monetary stimulus - the printing of more money in the U.S., the U.K., and other countries - has stimulated interest in real assets: investments that can protect your portfolio from the effects of inflation. Real estate can do that.
STAG Inc. (NYSE:STAG) is one such equity REIT that has a well-defined investment model built on a differentiated strength of yield. Accordingly, STAG's competitive advantage is its focus on Class-B assets and secondary markets.
Unlike many of the REITs and institutional buyers fighting to gain stakes in larger markets with trophy assets, STAG's strategy is to acquire properties in smaller markets where there is less competition and higher yield.
With a focus on the industrial sector, STAG aims to invest capital for higher returns in second tier markets where there is less occupancy and rent volatility. This simple, risk-averse model is built on market niche differentiation that has resulted in accretive dividend yield.
STAG closed on its IPO 16 months ago when it generated around $205 million (in gross proceeds). The offering included 13,750,000 shares of common stock priced at $13 per share. STAG has a market cap of around $524 million and the price is up to around $15.30 per share.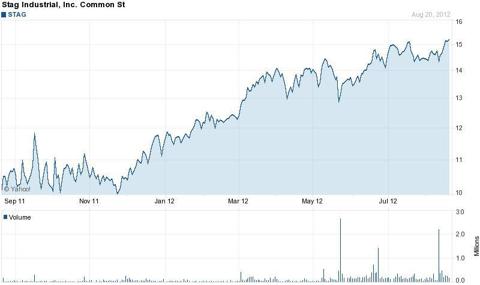 STAG's platform has performed well for investors as the combined 7.1 percent dividend and strong capital appreciation has rocketed the industrial REIT's total return performance of 61.84 percent (year-over-year).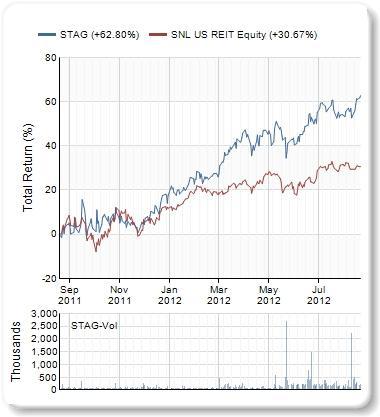 Recently, I caught up with STAG's CEO, Ben Butcher, in an exclusive Forbes.com interview.
Brad Thomas: STAG is an industrial REIT but your company seems to focus on secondary markets. Can you tell me about your business model?
Ben Butcher: I would say that we focus on good returns for our shareholders and are relatively agnostic as to markets. Our business model is to rationally underwrite the probable returns to be derived from owning an asset given its location, age, tenancy and other salient parameters that will determine cash flow. We avoid the use of decision rules.
Thomas: It appears that STAG does not compete directly with other peer REITs directly. How does that add value to your business model?
Butcher: Our willingness to look for good returns in secondary markets and in Class B assets gives us a broader playing field in which to operate compared with the other REIT industrial operating companies. The success of our external growth model is enhanced by the relative lack of competition for these assets.
Thomas: With your focus on secondary markets and Class B assets, doesn't your strategy carry more risk than a peer that just buys Class A assets in core/port markets?
Butcher: We believe that the answer is, perhaps surprisingly, not really. First, our assets/markets are less volatile than their core/primary market counterparts (see CBRE-EA study available on our Web site)- less volatile on occupancy, rental rates and cap rates. This is undoubtedly due in part to the new supply imbalance from speculative development that occurs in the core/primary markets.
Second, in constructing our portfolio we are ever vigilant to keeping correlated risk across the portfolio at a minimum. Our portfolio is consciously diversified on all of the key metrics-geography, expiration year, industry and individual tenant credit. With our portfolio scheduled to shortly reach 150 assets, the aggregate predictability provided by this diversification can be fairly compelling.
Thomas: It seems that your company has a good history of retaining tenants. What is your secret?
Butcher: Our team has deep experience in operating industrial real estate and we are responsive to our tenant's operating issues. That said, perhaps the biggest reason for our high tenant retention experience is our focus on large, single tenant buildings-high tenant retention is just a feature of this asset class.
Thomas: You have been very active in the acquisition front. What is your projected volume this year (in new acquisitions)? Will you reach $1 billion in assets under management this year?
Butcher: We have not given any updated guidance for our annual acquisition volume for 2012 and won't at this time. We have enjoyed an active acquisition pace year to date and look forward to a busy fourth quarter (historically an active quarter for us, this may be enhanced in 2012 by pending tax law changes).
If you add the potential transactions listed in our recent prospectus supplement (assets under contract and under LOI) to our current portfolio, the undepreciated cost of our assets would be right around $1 billion if these are all closed.
Thomas: STAG has produced year-over-year total returns of 57 percent. What do you think has made STAG such a high growth REIT?
Butcher: It has certainly been a good year for total return for our shareholders. Part of the story is that we have enjoyed some pretty significant accretive growth since our IPO. We also have been working through the discounts associated with our IPO and with a bit of a differentiated investment strategy.
Thomas: STAG's occupancy has climbed from around 91 percent in second quarter 2011 to more than 95.7 percent today. What is driving the trend?
Butcher: This increase has been driven by a combination of good operating results on our existing portfolio (strong underlying fundamentals for the industrial sector have helped) and the addition of 100% leased assets through acquisition.
Thomas: STAG is clearly a winner in Boston. What do you think about the Red Sox and the Celtics?
Butcher: The 'yin and the yang' of Boston sports teams-one overachiever and one (at least so far) dramatic underachiever. We continue to hope for the Sox and take solace in the fact that we have two other winners (Patriots and Bruins) who will be competing in the not too distant future.
STAG's peer group include Monmouth Real Estate Investment Corp. (NYSE:MNR), EastGroup Properties (NYSE:EGP), Prologis Inc. (NYSE:PLD), and Duke Realty Corp. (NYSE:DRE).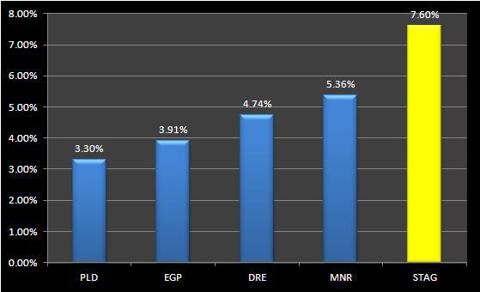 Chart Source: SNL Financial
Disclosure: I have no positions in any stocks mentioned, and no plans to initiate any positions within the next 72 hours. I wrote this article myself, and it expresses my own opinions. I am not receiving compensation for it (other than from Seeking Alpha). I have no business relationship with any company whose stock is mentioned in this article.