As the big energy providers desperately seek more untapped sources of oil and natural gas, there has been an epic jump in demand for drilling services providers.
The TFN Hot Stock Pick for this week is a Houston-based driller that operates 28 land rigs in ten countries and 18 barge rigs in the inland waters of Mexico, the U.S. Gulf of Mexico, and the Caspian Sea.
Watch this TFN Hot Stock Pick video.
Parker Drilling Company (NYSE:PKD)
Parker Drilling Company was founded by Gifford C. Parker in 1934. His grandson serves as Chairman and CEO today.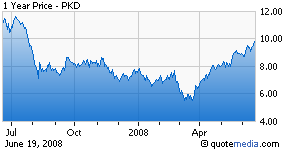 Besides the building and operation of land and offshore barge drilling rigs, this firm provides front-end engineering and design and project management services to both oil and gas operators worldwide.
A main subsidiary, Quail Tools, provides rental equipment for oil and gas exploration and production companies.
On the immediate horizon
In May, Parker announced the issuance of a letter of intent from a subsidiary of BP PLC (NYSE:BP) to a subsidiary of this company for the building of two new land rigs in Alaska worth $250 million. The five-year drilling contract includes a five-year option and should be executed any day now.
Know-how is not a problem for Parker Drilling as they've been drilling in the Artic since the 1960's.
They seem confident that this contract will happen, as they are already advertising to fill the various staff requirements of the new rigs.
Room to grow
Company revenues were impacted earlier this year by international difficulties in Kazakhstan and Saudi Arabia. These problems have been resolved. But it resulted in a slight decrease of net income with first quarter 2008 coming in at $23.9 million –- $6.1 million less than the same quarter in 2007. This naturally affected the company's stock price.
The pending contract is a perfect short-term price catalyst.
The valuation of the stock is still good, with a P/E ratio of just 10.53. No doubt some of the bigger players have taken note and may move to take over the company –- which wouldn't be a bad thing for investors either.
I recommend you buy shares of Parker Drilling Company (PKD) at or under $10. I anticipate 20% gains within the next six months.
Disclosure: None