Tiffany & Co. (NYSE:TIF) will report Q2 results on August 27th.
The Street expects:
Revenue: $896 million
EPS: $0.75
Q3 revenue guide: $868 million
In Q1, Tiffany reported an EPS of $0.64 per share that missed consensus of $0.69 per share. While revenue of $819 million, +8% y/y, was within expectations, the EPS miss and management's pessimistic guidance indicates that the soft macro environment is negatively affecting the business performance.
Heading into the earnings, we could see weakening comps performance throughout Tiffany's key geographical regions.
Despite the growing wealth in Asia and the consumers' desire to purchase brand jewelries, Asia-Pacific region ex-Japan, which has been the bright spot over the past year, is starting to show signs of slowdown and could worsen amid macro overhang in China.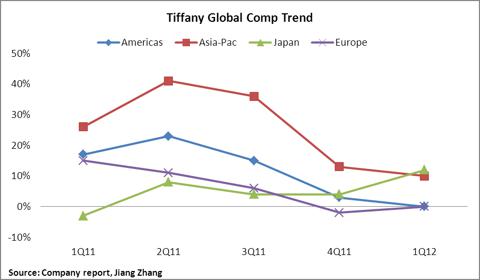 Margin could continue to be under pressure as Tiffany's price increase will be unlikely to offset cost pressure amid decelerating topline.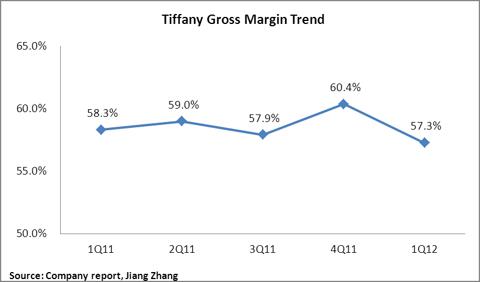 Finally, investors might look for additional color on Tiffany's relationship with Elsa Peretti, who decided last quarter that she would end her relationship with the company. Over the past three years Elsa Peretti accounted for 10% of Tiffany's net revenue. One interesting aspect in Tiffany's Q1 filing was that the management raised their interest expense to $55 million from $43 million due to expected cost of additional debt incurred for working capital. However, this additional interest expense increase could be a move that paves the way for a potential acquisition of Elsa Peretti brand so that the company does not have to look for an alternative to fill in the 10% revenue void.
Disclosure: I have no positions in any stocks mentioned, and no plans to initiate any positions within the next 72 hours. I wrote this article myself, and it expresses my own opinions. I am not receiving compensation for it (other than from Seeking Alpha). I have no business relationship with any company whose stock is mentioned in this article.