Fifth Third Bancorp (FITB)—like many other regional banks—has struggled through the current market environment and the stock is down more than 70% in the last year. The Ohio super regional bank has been hamstrung by bad real estate bets in the particularly depressed markets of Michigan and Florida. The credit crunch is also making the real estate downturn that much more worrisome.
Furthermore, Ohio banks are struggling mightily of late (FITB, KeyCorp (KEY), and National City (NCC) to name a few) which does not bode well for the state's economy going forward, as jobs continue to steadily leave the rust-belt. On June 13, FITB was downgraded by an analyst at BMO Capital and the stock was off more than 12%.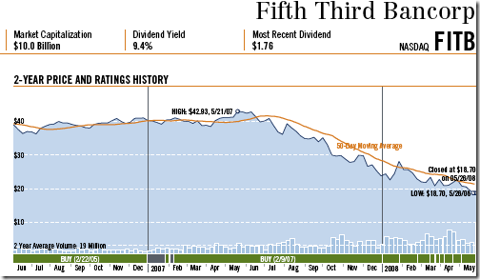 In a value methodology, such as ours, it is of great importance to be able to distinguish between a real potential value play and a "value trap." The trouble for Fifth Third right now is that it was too exposed to the most inflated regions of the real estate bubble and those areas have plunged in value the fastest once the bubble burst. The national real estate market may well take a year or more to recover, but FITB's holdings have likely already taken the bulk of their losses.
The BMO analysts' concern stemmed from the possibility of a dividend cut. While a dividend cut is distressing to shareholders, FITB's dividend yield is a whopping 13% and there is no logical reason why a company should continue paying such a generous dividend while absorbing huge losses in its mortgage portfolio.
The stock continues to hit new 52-week (and multi-year) lows and the trading volume balloons on down trading days. There are a lot of reasons for pessimism about the stock, but a contrarian investor might identify this as an opportunity. Our valuation model is more attuned to the company's cash flow and revenues, as compared to historical norms. From this perspective there is reasonable cause for cautious optimism.
While revenue growth has slowed in the tough economy, FITB has historically traded at 3.1-4.3 times revenue. However, the stock is currently trading only at 1.08, which is about 35% of the low end of its historically normal range. The price-to-cash number is also at an extremely low level as the stock normally trades at cash flow multiples of 15.9-22.3. The price-to-cash flow measure currently stands at 6.67.
So, by extension of this logic, if FITB could rebound to just the low end of the stock's historically normal price-to-sales and price-to-cash metrics, we would expect the stock to trade above $32. There is significant potential for a patient, long term investor who can ride out the stock until it rebounds because the current valuation is compelling.