Shares of Home Depot, Inc. (NYSE:HD) have run up a stellar return of 74.47% over the past 12 months. At $56.32 per share, the stock is trading very close to its 52-week high of $57.18. I agree that Home Depot is a terrific company, with a strong financial performance and a solid market position. The stock also has a decent dividend yield of 2.1%, which appears to be secured with HD's robust FCF-generating ability. However, given Home Depot's elevated valuations, I am of the view that the investment's risk/reward profile is becoming less favorable. The following are the thoughts that help me formulate the buy/sell decision.
Positive Factors
1. Home Depot's growth prospects and financial performance are significantly better than its peers' (Lowe's Companies, Inc. LOW and Rona Inc [[RONAF.PK]] - see table below). Analysts on average forecast HD's revenue, EBITDA, and EPS to rise by 2-year CAGRs of 3.7%, 8.6%, and 16.7% over the current and next fiscal years. Except for EPS, HD's estimated revenue and EBITDA growth is much faster than that of the two peer firms.
In terms of profitability, Home Depot outperforms the two peers in all the measures of margin and capital return. The firm's LTM FCF margin also doubles the peer average. Despite carrying an above-average debt level, HD is able to maintain a healthy interest coverage ratio. Although both the current and quick ratios are below the averages, the difference is just marginal.
Click to enlarge

2. Over the past 12 to 18 months, there have been multiple upward revisions for Home Depot's consensus financial estimates (see below), reflecting the market's firm confidence in the company.


3. Management has a strong commitment to maintain a sound dividend policy by gradually raising the payout. The chart below shows that annual dividend per share has been lifted to $1.08 in FY2012 from $0.18 in FY2002 by a 10-year CAGR of almost 20%.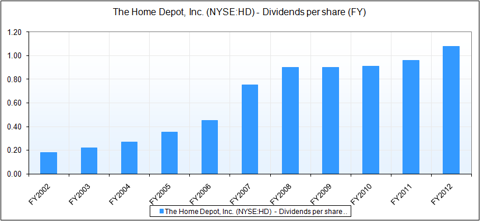 4. Home Depot appears to have ample cash resource to continue raising dividends down the road. According to the chart below, in average, annual dividend paid only represents less than half of the annual FCF generated, indicating ample capability for dividend hikes.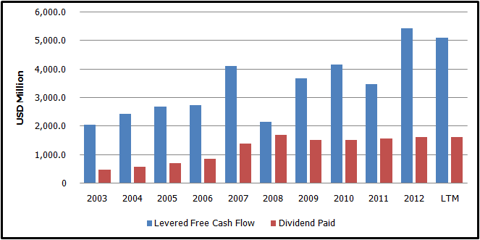 5. The company also tends to spend the remaining FCF on buying back shares. Over the past five fiscal years, HD has repurchased shares with a value of approximately $17.2B.
6. On a technical perspective, the stock's 50-day simple moving average has been a strong price support over the past 12 months (see below), and the momentum may last for a while.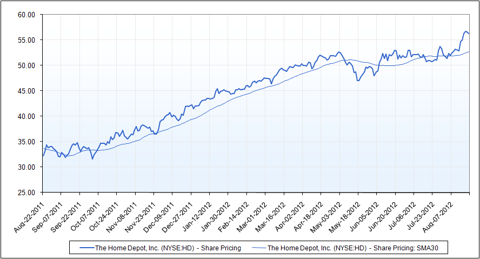 Negative Factors
1. The Home Depot stock is trading at a high valuation compared to its historical level. Its LTM EV/EBITDA is already at the 5-year high, and the LTM P/E is close to that (see below).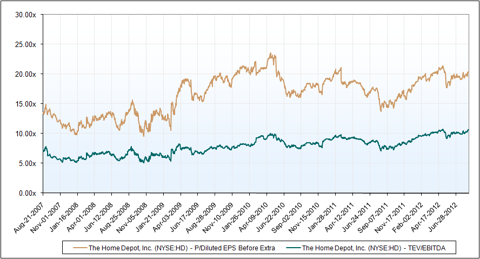 2. Accounting for earnings growth, Home Depot currently trades at 1.2x PEG, a higher level compared to the peer average of 0.9x, reflecting market's optimism on the firm's growth.
3. The current stock price of $56.32 implies a valuation premium of 48% over the five peer-average trading multiples (assuming they have equal weights in determining the stock value) (see below). The large valuation gap appears to have fully factored in HD's superior fundamentals relative to the firm's peers, and as such the upside potential may be limited.

Bottom line, given that Home Depot's valuations may completely reflect the company's better growth potential and financial performance, I would not directly acquire the shares at the current price. However, as there is also no clear sign of overvaluation, I may consider selling out-of-money puts to potentially establish a long position at a lower price.
Comparable analysis and relative valuation tables are created by author, all other charts are sourced from Capital IQ, and all financial data is sourced from Morningstar and Capital IQ.
Disclosure: I am long LOW. I wrote this article myself, and it expresses my own opinions. I am not receiving compensation for it (other than from Seeking Alpha). I have no business relationship with any company whose stock is mentioned in this article.