No less than Alan Greenspan has been said to view FedEx (NYSE:FDX) as an indicator of economic conditions to come. So it wasn't a great sign when the shipping giant announced Wednesday its first quarterly loss in 11 years on the back of higher fuel prices.
The damage came from the domestic side of the business, so the following chart shows the annual change in daily domestic package volumes for FedEx (blue line) and competitor UPS (brown line, of course) since 2000. In the last cycle, both companies saw domestic volume growth declines 6 to 9 months prior to the recession.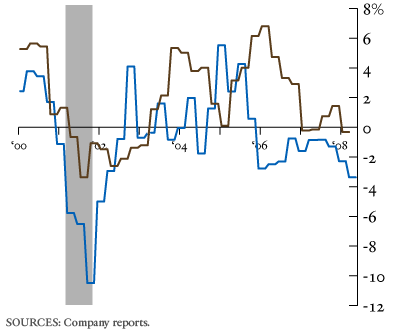 And what about the United States Postal Service? The next chart shows growth rates for the USPS (gray line) and FedEx since 2001. (The growth rates for the USPS represent changes in quarterly parcel post volumes.)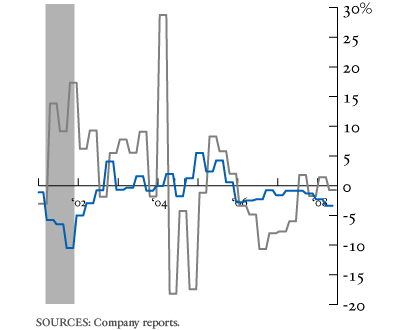 Interestingly, volume for the USPS increased during the last recession. Recently, Emek Basker of the University of Missouri showed that consumers shop less at Wal-Mart when economic times are good, and more when they need to stretch their dollars. That would mean that the products Wal-Mart sells are "inferior" in economic parlance. It wouldn't be out of the question if the same holds true for the USPS.