Exxon Mobil (NYSE:XOM) officially joined the fast expanding list of contenders to export US abundant natural gas via LNG. Golden Pass Products, Exxon's joint venture with Qatar Petroleum International, announced on August 17 its intent to build a $10 billion, 2 Bcf a day natural gas export facility adjacent to the existing Golden Pass LNG receiving terminal. The announcement is not unexpected as Exxon has stated on several occasions that it was in the process of studying LNG export alternatives for its US natural gas production.
While the announcement presents a strong vote of confidence by the number one US natural gas producer in the long-term viability of US natural gas exports, it offers no immediate relief to the over-supplied market. Exxon's project, like the majority of similar proposals submitted for approval, is unlikely to see its in-service date for at least another five to seven years. Exxon's LNG export initiative can also be interpreted as the reflection of the company's view that natural gas prices in the US will remain low for a long time, hardly a bullish signal as it relates to the natural gas sector fundamentals.
The Brownfield Expansion Should Achieve Substantial Time and Cost Savings Relative to a New Construction
The severely under-utilized Golden Pass re-gasification terminal (owned 70% by Qatar Petroleum International, 17.6% by Exxon and 12.4% by ConocoPhillips (NYSE:COP)) has been viewed by the industry experts as a logical candidate for a brownfield LNG export facility. The Sabine-Neches ship channel is one of only a few deepwater ports on the Gulf Coast capable of receiving LNG ships.The project will benefit from substantial existing infrastructure which includes two berths for LNG tankers (including the world's largest double-hulled Q-Flex and Q-Max ships), five storage tanks, and a 69-mile pipeline system. The Golden Pass Pipeline provides access to key natural gas markets, connecting to several major intrastate and interstate pipelines which service the Gulf Coast, Midwest and Northeast. The combined facility will have the capability to import and export LNG.
The site is located between Port Arthur and Sabine Pass, Texas. It neighbors Cheniere Energy's (NYSEMKT:LNG) development which is on track to become the first US LNG export facility. Cheniere's project has been granted permits by the DOE, secured key purchase agreements from customers in the U.K., South Korea, India, and Spain, and is currently under construction (first shipments expected by the end of 2015 assuming an on-time completion).
The LNG Export Project Can Be a Strong Positive for Exxon from a Value Perspective, Although Long-Term Market Risks Exist
The proposed project certainly falls within Exxon's core operating competencies. Exxon has in its arsenal outstanding project management capabilities, the balance sheet and credit strength to drive the project's cost of capital to the lowest imaginable level, and the ability to become the project's anchor shipper.
The joint venture's terms and the partners' operating interests have not been announced (it appears though that ConocoPhillips has elected not to participate). It is clear however that the project's key economic benefit is in the expected material price uplift on the exported gas volumes relative to the domestic price. Unfortunately, the project will not start contributing to Exxon's bottom line for another six or seven years (if it does go ahead).
The project's success is hinged on the premise that the favorable arbitrage in natural gas pricing between the US and LNG consuming markets will sustain itself in the long term, well beyond the start date of the facility. Assuming, for illustrative purposes, a 2019 in-service date, $3/MMBtu pricing uplift for the life of the project, and 1.0 Bcf/d Exxon's export volume, the net present value from the step up in price realizations to Exxon (at 10% discount, before tax) would come close to $5 billion. In addition, Exxon should be able to earn a compelling rate of return on its investment in the LNG facility.
The US Application Backlog Has Grown to Over 20 Bcf/d of LNG, But Not All Proposals Will Go Ahead
The Exxon/QP application joins in the queue with over a dozen other LNG export permit filings with the federal authorities (the list and map below).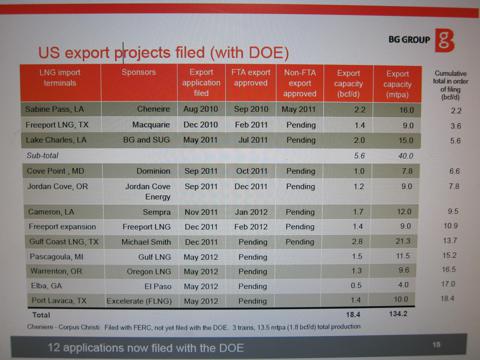 Click to enlarge
(Source: BG Group June 2012 Investor Presentation)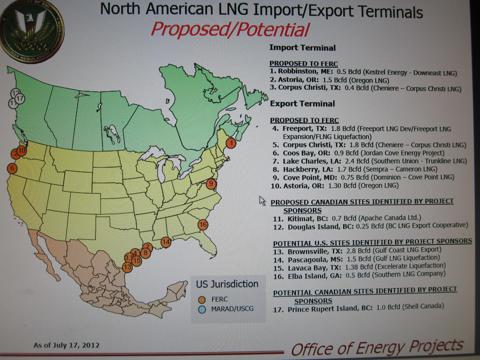 Click to enlarge
(Source: FERC)
Exxon is the second oil major deciding to pursue North American LNG export opportunities. Royal Dutch Shell (NYSE:RDS.A), which had acquired Cenovus's site in Kitimat, British Columbia for a potential LNG export terminal, has announced its preliminary decision to proceed with a proposed LNG export project which it will own in a joint venture with three Asian partners (Petrochina (NYSE:PTR), Mitsubishi, and Korea Gas). No specific timeline has been announced yet. Also in Kitimat, Canada has granted its first natural gas export license to a $5.6 billion, 1.4 Bcf/d LNG export project to be operated by Apache (NYSE:APA) in partnership with Encana (NYSE:ECA) and EOG Resources (NYSE:EOG). The latter project could begin shipping LNG by late 2015 (about the same time as Cheniere's Sabine Pass facility).
The Golden Pass Project Presents Significant Economic and Execution Challenges
The proposed expansion project will have a massive scale and complexity, even by Exxon's standards. Like any project of this nature, it will face significant economic and execution challenges. It is instructive to remember that Exxon's existing Golden Pass re-gasification facility took over six years to permit and construct (the first formal application was filed with the FERC in August 2004 and the plant was commissioned in October 2010). The facility came online more than a year behind its initially announced schedule and above its original $1 billion budget. The re-gasification facility was expected to deliver into the US market captive LNG supply from the Ras Laffan 3 and the QatarGas 3 projects which liquefy natural gas produced from Qatar's giant North field. The receiving complex came in service seven years after it was originated, only to see a dramatic change in the industry fundamentals and vanishing demand for LNG imports into the US market.
The proposed LNG export facility will cost almost ten times the amount that was originally budgeted for the existing re-gas terminal. Under the most optimistic scenario, the new plant will be commissioned in 2018, although the 2019-2020 time frame looks more realistic. The project's economic rationale is based on several significant premises. First, that the cost of supply for US natural gas will remain low in the long term and will stay competitive versus major LNG exporting regions (the Middle East, Australia, Africa and Russia). Second, that the structure of the long-term purchase agreements will mitigate a substantial portion of the future LNG pricing risk. Finally, that the construction will be executed flawlessly and major time delays and cost overruns, the biggest return-destroying factors, can be avoided. None of these conditions can be taken for granted.
Exxon's announcement does not guarantee that the Golden Pass project will ultimately go ahead. The final investment decision is unlikely to be made for at least another year.
Full Permitting Process May Take Two Years
LNG export projects must go through a rigorous application and permitting process with federal and state authorities before receiving approval. The US Department of Energy evaluates projects using several criteria, such as energy security and price implications, for non-FTA applications in order to determine whether a particular project would be in the public interest. The Federal Energy Regulatory Commission is mandated to ensure and oversee safe and reliable operation of the proposed LNG facilities. FERC has adopted a rigorous application and permitting process for LNG export applicants. While the application and permitting process has been clearly defined, it may still take two years or more to receive the final approval for a project to move forward.
Disclosure: I have no positions in any stocks mentioned, and no plans to initiate any positions within the next 72 hours. I wrote this article myself, and it expresses my own opinions. I am not receiving compensation for it (other than from Seeking Alpha). I have no business relationship with any company whose stock is mentioned in this article.