We think Peregrine Pharmaceuticals (NASDAQ:PPHM) is highly overvalued, following its 500% run-up over the past two months on what we consider to be overhyped and inconclusive Phase II results for its cancer drug Bavituximab, also known as Bavi. The recent massive stock price increase for PPHM is highly unjustified and we think that the company is worth much less than the $300 million market capitalization it is currently valued at.
In our opinion, investors are assigning an overly inflated valuation to an unproven Phase II drug with an unusual mechanism of action on a substantially incomplete subset of data.
The market's reaction to Bavi's trial data release in May has certainly been bizarre. For more than a month after news of the Bavi study was released, the stock traded flat, as the market correctly concluded that the data was incomplete and inconclusive, and that there are still numerous hurdles Peregrine must overcome simply to get to a Phase III trial, let alone getting FDA approval. This is often the case for unproven companies with novel treatments for cancer.
Yet beginning in the end of June, the market apparently decided to propel Peregrine's market capitalization from a reasonable $50 million to $300 million over the subsequent two and half months - a lofty valuation for a company with a phase II cancer drug. As longtime market participants know, for every small cancer-focused biotech company that actually succeeds, there are numerous others that end up in complete failure, when their interesting idea just doesn't pan out.
In this article, we will explain why we are highly skeptical that PPHM will maintain its current valuation much longer.
BAVI: IT'S TIME FOR REALITY TO SET IN
While the most recent Bavi data gives its proponents some hope, let's not forget that it follows March data that seemed to indicate the drug was a complete bust. For historical context, Peregrine has been working with Bavi for nearly 9 years now; it filed its trademark for Tarvacin (which has since been renamed Bavituximab) back in November 2003. Since then, it has been a long and winding road for Bavi, with briefs spurts of enthusiasm quickly giving way to long periods of discouragement. With the company running trials for Bavi for many different types of cancer, Peregrine frequently has had opportunities to promote small bits of positive information that may often turn out to be no more than statistical anomalies.
This is an important consideration when thinking about the ongoing Phase II Bavi trial for Second-Line Non-Small Cell Lung Cancer ("NSCLC"). Back in December of last year, investors were treated to preliminary data from a Phase II study of Bavi in front-line NSCLC patients. The study was open-label. Peregrine informed investors that Bavi had shown a 50% improvement in overall tumor response rate versus the control group. While this is not a key FDA endpoint for an NSCLC drug trial, it certainly seemed to be a piece of good news. However, the data was not statistically significant - in fact, there can be a fairly wide range of tumor response rates just due to chance factors, and Peregrine's study used numerous international patients from a variety of countries and examined too small a number of patients. As a result, the data simply wasn't conclusive despite the seemingly positive headline.
In March, hopes with respect to the trial were crushed, and Peregrine shares collapsed, losing nearly half their value in a few weeks following updated results from the Bavi study showing that the overall response rate for Bavi was only 25%, nearly identical to the control group's 23% response rate. Results weren't much better for mortality; Bavi delayed tumor progression or death by 6.7 months, a mere 0.3 month gain in comparison with the control group. It seemed like the drug was a bust. Peregrine's shares sunk to less than 50 cents, and the company was all but left for dead.
Of particular note was a key difference between the preliminary December reading and the March results. First, the March results were based on independent central review, which meant that the statistics were reviewed via a more independent analysis than the December results, which presumably were based on a preliminary viewing by the investigators actually running the trial. The FDA and prospective partners will always place more reliance on independent central review, particularly in open label trials where doctors and patients know which patients are receiving the control therapy and which are receiving the drug being tested. In the case of Peregrine's front-line NSCLC trial, independent central review in March 2012 yielded materially different results than the preliminary reading issued in December 2011.
Naturally, we assume that the May 2012 announcement for the second-line NSCLC trial was again not based on independent central review, since if it was, Peregrine would have likely eagerly disclosed it in its May press release. As well, we'll explain below that in the same way that the December headline figures were not statistically significant, the May 2012 data that was released to much fanfare is also unlikely to be statistically significant.
More to the point, we have concerns about the incompleteness of the May data - other than a few headline-grabbing figures, there is little scientific meat to analyze at this point. It is nearly impossible to judge whether or not the May results are finally a genuine breakthrough, or whether Peregrine is simply taking advantage of another fortuitous statistical anomaly.
Problems with the May data abound. No hazard ratios (NYSE:HRS) or p-values were released. Without a discussion of p-values or HRs, investors cannot conclude whether the May results are statistically significant. Rather, the conspicuous lack of mention of p-values or HRs indicates that the trial likely did not reach statistical significance with respect to Overall Response Rate (ORR) and Progression-Free Survival (NYSE:PFS).
Management has also hinted at potentially meaningful results regarding median overall survival (OS) for the second-line NSCLC trial. On that topic, given the small size of the trial's sample and the nature of NSCLC survival curves, as well as the fact that HRs and p-values were conspicuously not disclosed, we find it quite unlikely that the median overall survival (OS) will ultimately be statistically significant. Furthermore, we would also point out that overall survival was not the primary endpoint of the trial. This is all yet further illustration that Bavi is still only in phase II trials, and still has a long road ahead of it.
We would next add that the study was unblinded in May 2012. This has implications on ultimate findings regarding the median overall survival. Simply put, measuring OS after unblinding introduces potential bias.
As well, we have yet to see a comparison of results between the U.S.-based patients and the international patients who were included in the May results. A listing of locations for the second-line NSCLC trial is available here, and the testing locations include India, Russia, Ukraine and the country of Georgia. Are OS results consistent across all geographic regions? The inclusion of these international patients adds additional complexity to the data.
There are even more basic questions and assumptions that have not been clarified. For instance, were baseline factors such as performance status and EGFR status, which refers to a cell receptor whose overexpression has been linked to numerous cancers including lung cancer, balanced between all three treatment arms? Variances in these statuses would be yet another potential cause of bias that could render Bavi's preliminary results statistically insignificant.
Various analyst attempts to dig deeper into the data have been rebuffed with the claim that the data needs to mature but that it is "trending" in the right direction (for example, see management's comments in their most recent conference call). We'd remind readers that the data was trending well for frontline NSCLC back in December, and then suddenly the "trending" stopped in March and Peregrine shares lost half their value. It is difficult to understand how the data can go from poor in March to "as compelling Phase II data as I've ever seen", according to Peregrine's Head of Regulatory Affairs, in such a short span of time.
As we said in the beginning of this article, we would note that the market's initial reaction to the May 21st results were muted. In the chart below, we can see that Peregrine's shares wallowed for a month following the release of the May data.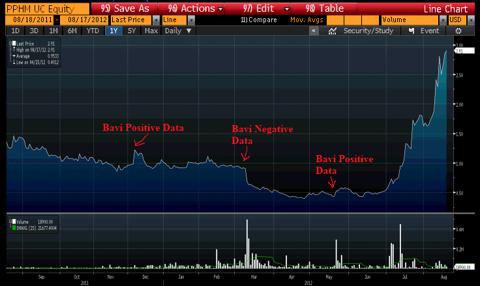 Click to enlarge
Our interpretation? We believe that when the May results were released, investors who had long followed Peregrine essentially shrugged them off. These investors had learned to wait for more conclusive results when it came to Peregrine management's claims before, rather than drawing unfounded conclusions from preliminary data. In short, regardless of the quality of Peregrine's drug program, we think that longtime investors readily recognize that Peregrine's public pronouncements have been less than forthright in the past, to put it diplomatically.
Then suddenly in late June, the stock began to rally and soon went parabolic without any significant new developments. The trading action speaks more to some combination of bullish newsletter articles, investment banking chatter, and then a short squeeze to top it all off, rather than any great market faith in Bavi. Why is this stock worth $3/share now when it was still worth a mere 50 cents weeks after the release of the "exceptional" data?
If investors are buying into the Bavi story on news released in May, keep in mind that investors who have been following Peregrine for years had the opportunity to buy all the Peregrine shares they wanted under 50 cents and passed on the opportunity. Furthermore, not only were longtime Peregrine investors not buying shares, but management was issuing new shares at [approximately 50 cents] during May.
SUSPICIOUS DILUTION: IF RESULTS WERE SO PROMISING, WHY WAS MANAGEMENT SELLING SHARES AT 54 CENTS?
One of the more revealing disclosures in the recent annual report was the fact that the company was selling its own shares at approximately 54 cents during the same period that the supposedly "exceptional" May data was being made public.
As disclosed in the company's 10K:
"Subsequent to April 30, 2012 and through June 30, 2012, we sold 2,752,691 shares of common stock at market prices under the December 2010 AMI Agreement for aggregate gross proceeds of $1,496,000."
Peregrine has various At Market Sales Issuance Agreements, which allow the company to raise money continuously at current market prices. In other words, PPHM can issue and sell shares periodically on the secondary market without disclosing the share sales until after the fact. Based on its 10K disclosure, Peregrine was issuing these shares during the May and June time frame at less than a fifth of where PPHM stock is currently trading at.
Despite having access to the supposedly great May results which have been a catalyst for the stock, Peregrine's management team was concurrently unloading millions of shares of stock onto the market at depressed prices. What did management know that investors buying the stock at $3 per share are not understanding? We would guess that management - which was flooding the market with shares when they traded at all-time lows - has a better sense of what the company is worth than third-tier investment banks such as Roth Capital or various internet articles that have stoked the flames of speculation about Peregrine's stock recently.
When management says one thing and does something else, it is always prudent to be skeptical. And given how the data from this particular drug went from supposedly great (but not statistically significant) in December '11 to a bust in March '12 and now back to "exceptional", according to CEO Steve King, we are less than impressed by his verbal characterizations, and more interested in his actions.
If investors buy Peregrine at $3/share, they better know something that management and long-time Peregrine investors do not. In our opinion, the share sales and the initial month of flat trading speak are far more revealing than the recent flurry of buying by momentum and day traders looking for a quick trade. Compared with its peers, it is baffling to try to figure out why the market has assigned Peregrine a $300 million market cap.
FURTHER DILUTION IS ON THE HORIZON
Peregrine supporters have suggested that it is a statement of great confidence in Bavi's prospects that the company will be able to raise a substantial amount of capital from a convertible bond instead of more equity raising. We find this line of reasoning to make no sense at all. Peregrine has a real asset - its contract manufacturing facility organized under the Avid Biosciences moniker - that generates real revenues and even some EBITDA. It is not surprising that a bank would be willing to lend against such an asset. There is no reason to think this loan suggests anything unusually promising about Bavi's drug pipeline prospects. It is simply an acknowledgment that unlike many small biotechs, Peregrine has a real recurring revenue asset to borrow against. The CFO partly ascribed its ability to take out convertible debt to its ownership of the Avid Biosciences asset, saying in the most recent earnings call:
"…our next immediate focus is to secure a less-dilutive debt-financing vehicle similar to a term loan. Recognizing the growing value in the Avid asset, and the strong clinical data in second-line lung cancer, we are pursuing a non-convertible-type loan in the range of $20 million to $30 million."
Raising capital by debt instead of equity may be a little less dilutive for shareholders in the short run, although the convertible could very well be packaged with warrants issued to the lenders. While a convertible offering is better than, say, selling shares at 50 cents a pop as management was doing one quarter ago, it is not any reason to be bullish. Debt is still debt at the end of the day, and with Peregrine still so far from bringing a product to market, any encumbrance to the company's balance sheet should be viewed negatively.
And contrary to a recent bullish article's suggestion, Peregrine will still need to issue equity - a lot more of it - to get Bavi through Phase III and into production and marketing, should it be so lucky to get FDA approval. Peregrine has only six months of cash at current burn rates, and the suggested convertible debt offering only buys it a couple more quarters worth of time. Given that Peregrine has taken nine years to get Bavi toward the end of Phase II, it is quite the assumption to think Peregrine will be able to get its drug through the rest of the FDA approval process in an expedited fashion. This company will need a lot more cash in coming years.
In his Wedbush conference presentation last week, CEO Steve King made a stunning statement. He said (at the 24 minute mark) that:
"We've not been raising money through the capital markets in any way, we are not currently planning on going out for or have we been actively involved in any other fund raising activities."
We're not sure if Mr. King misspoke, was attempting to mislead, or whether he simply has a very poor memory. Peregrine's latest 10-K filing shows that Peregrine has been raising tons of money through the capital markets by issuing millions upon millions of new Peregrine shares, in contrast to the CEO's statement. Peregrine's most recent 10-K states:
"Historically, we have funded a significant portion of our operations through the issuance of equity. During fiscal year 2012, we raised $34,330,000 in gross proceeds (Note 7). Subsequent to April 30, 2012 and through June 30, 2012 we raised an additional $1,496,000 in gross proceeds under an At Market Issuance Agreement (Note 7). As of June 30, 2012, additional shares of our common stock for aggregate gross proceeds of up to $185,886,000 may be available under our current effective shelf registration statements on Form S-3."
A simple glance at the company's number of shares outstanding shows that Peregrine's survival has depended on raising capital by issuing equity.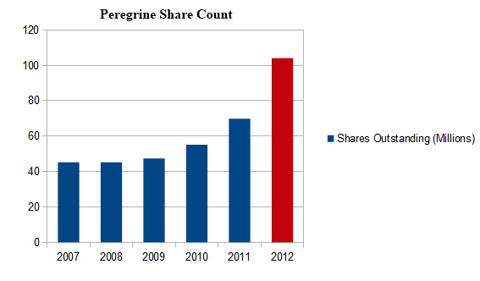 Click to enlarge
Clearly, Peregrine has become increasingly reliant on equity offerings to fund its business, and in our opinion, that's unlikely to change anytime soon, regardless of what CEO King may have said in passing at the Wedbush conference.
BAVI AND PEREGRINE: UNPROVEN AND OVERVALUED
Peregrine has been working on Bavi for nine years and still has not even reached Phase III. It has been working on Cotara for an even longer period of time, and Cotara has now been put on the back burner after Peregrine stoked shareholders' hopes for years with press releases about Cotara's Phase II trials. Normally drugs that are actually game-changing treatments reveal their amazing capabilities in a shorter period of time, particularly for diseases that have median survival periods of only a few months. If either Cotara or Bavi were revolutionary treatments, it seems unlikely that they would have needed nearly a decade to prove themselves. And if Bavi were really an amazing treatment for a variety of cancers, we would think that another pharma company would have recognized that by now and already partnered with Peregrine.
Instead, we appear to be seeing the same pattern that played out only six months ago. Peregrine rode a positive but thin sample of Bavi data to boost investor enthusiasm in December. When more complete data from the study came out, shares tanked. Now we again have a limited optimistic sampling of data from the same Bavi study and investors have bid the company's shares to the heavens. There are ample reasons to suspect this will end the same way it did in March, with Peregrine shares experiencing a rapid decline once the market takes a more realistic view of the May data release.
Disclosure: I am short PPHM. I wrote this article myself, and it expresses my own opinions. I am not receiving compensation for it. I have no business relationship with any company whose stock is mentioned in this article.
Additional disclosure: Read our disclaimer at apsarabiotech.com/legal-disclaimer.