AstraZeneca (NYSE:AZN) is trading at 7.7 times 2012 earnings and at the current price the dividend yield is 6%, which is best in the industry. You may call the valuations attractive or dismal depending on the way you look at it. Investors are pessimistic on AZN's ability to make up for the huge patent expiries that it faces in the next five years (2012-16). The concerns are genuine, but I would prefer to be optimistic now, as I see the worst case scenario priced in.
AZN has a comfortable cash position and is constantly eying strategic maneuvers, (alliances and M&A opportunities) to rejuvenate growth. On June 30, AZN joined hands with Bristol-Myers (NYSE:BMY) to acquire Amylin for $7billion. The key products that AZN got from the takeover include:
Exenatide Franchise - Exenatide belongs to the class of drugs called Glucagon like Peptide (GLP-1).
Byetta (exenatide) - Byetta is a twice daily GLP-1 injection and was launched in 2005. It is generating about $600m in annual sales.
Bydureon (once weekly exenatide) - This is once weekly version of exenatide (Launched recently - February 2012).
Exenatide (once monthly) - This is a once monthly exenatide version in Phase 3 trials. The drug should reach the market by 2014.
Symlin - Symlin is the first in-class diabetes therapy. It is an analogue of the human hormone amylin offering improved glucose control with potential for weight loss. Symlin is on the market and brings about $100m in sales.
Most analysts found the takeover price stretched, but a few who are bullish on the potential of the exenatide franchise found it dirt cheap. Personally, I have a positive view on the takeover and foresee peak sales potential over $5billion.
Exenatide Franchise could reach peak sales potential over $5billion
Globally, the diabetes space is growing at double digits and AZN may be able to ride this wave to build multi-billion dollar sales around the Exenatide franchise. At the takeover price ($7billion), AZN just needs $2billion in peak sales from the product portfolio to reach breakeven.
As discussed, the exenatide franchise belongs to the GLP-1 class of drugs, which as a mechanism for treating diabetes is ideal. The clinical profile of GLP-1 class when viewed in comparison to other classes of antidiabetic medicines, are the best. They offer better efficacy, rarely cause hypoglycemia and provide robust weight loss, which no other class of approved drugs in the diabetes space offers. They make an ideal treatment for obese diabetics, which comprise about 60% of the diabetes patients. Nausea and Diarrhea is a concern, but gets better with use.
Other than Byetta / Bydureon, there is another GLP-1 on the market, sold under the brand Victoza by Novo Nordisk (NYSE:NVO). The use of GLP-1 drugs is less and is prescribed to about one in 100 diabetes patients not dependent on insulin (Chart 1). With the approval of Bydureon, the growth of GLP-1 category has regained some momentum, but it is still far from its full-blown potential. Bydureon (once weekly exenatide injection) was launched just six months back, and has rejuvenated the growth of the GLP-1 class. The prescriptions of GLP-1s are now growing @ 25%, which otherwise were growing @15% at the time of launch (Feb. 2012).
Chart 1
Market Share - Non-Insulin Anti-Diabetic Market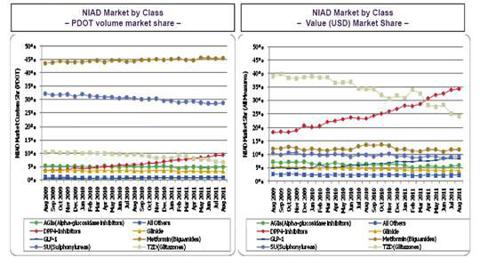 Source - AstraZeneca
The growth trend should improve as newer formulations which offer better convenience and compliance are launched. The best thing that can happen for the exenatide franchise is a favorable outcome from the ongoing clinical trials to evaluate cardiovascular outcomes benefit after treatment with Bydureon (Exenatide Once Weekly) in Type 2 Diabetes Patients. The outcome study will take a couple of years to complete, but in the meanwhile we will see physician experience with regard to safety and patient compliance together with launch of more convenient formulations to help the exenatide franchise in gaining market share.
Exenatide franchise: with just 0.5% market share in the non-insulin anti-diabetic market, there is enough room for it to grow. Overall, the non-insulin anti-diabetes market in the US is still largely genericized, and patent expired drugs like metformin and sulfonylurea take the lion share (~75%) of the market.
With best in class clinical attributes, and expected launch of once monthly formulation, a market share of 10% for the exenatide franchise is a reasonable assumption, which at current price implies a peak sale of $12billion. The potential opportunity will further magnify because of a fast growing diabetes market (~ @ 12%).
The larger intent of BMY and AZN behind the Amylin takeover was to become a powerhouse in the diabetes space. BMY and AZN are already marketing a DPP-IV drug (Onglyza) in the diabetes market, and have an SGLT2 inhibitor (Dapagliflozin) also for Type 2 diabetes that is close to approval in Europe. With the Amylin takeover, BMY and AZN now have a full bouquet of new generation anti-diabetes products (GLP-1s, SGLT2 and DPP-IV's). They are now best positioned among peers to leverage their reach among diabetologists.
BMY is strong in the US and AZN complements it well with a solid Ex-US reach. AZN is also entrenched in the primary care market because of its existing blockbuster product portfolio that includes Crestor (Dyslipidemia), Atacand (Hypertension), Nexium (GastroIntestinal).
AZN / BMY should be able to launch once monthly Exenatide suspension by around 2014. This once monthly exenatide formulation will be in more convenient pen formulation and unlike Bydureon would not require reconstitution. This will improve compliance and thus help penetration of exenatide franchise into earlier settings (second line) in a larger diabetes population.
BMY / AZN timed the Amylin Takeover Well
During the negotiations, Amylin never had a strong bargaining position and BMY & AZN did a wise job by stretching a bit and grabbing this one. A range of alternate GLP-1 assets that as well are available to buyers, constrained Amylin bargaining power to a great extent. Cash was also scarce as most large pharma were full with their M&A appetite, and had no cash on their balance sheet.
It is time to be optimistic - buy AstraZeneca.
Disclosure: I have no positions in any stocks mentioned, and no plans to initiate any positions within the next 72 hours. I wrote this article myself, and it expresses my own opinions. I am not receiving compensation for it (other than from Seeking Alpha). I have no business relationship with any company whose stock is mentioned in this article.