Recently, we wrote an article on how a lot of concern investors were having about Google (NASDAQ:GOOG) didn't materialized and why Google looks ripe for buying. In this article, we will be discussing three more aspects of the Google story which makes it a good near and long term buy.
Frommer's Acquisition could bring incremental revenues
In an attempt to throw TripAdvisor (NASDAQ:TRIP) from its perch, Google recently acquired the travel assets of John Wiley & Sons (the most notable of which is the Frommer's brand) for an undisclosed sum. Frommer, through its travel guidebook series and website, provides reviews and recommendations for over 4,300 worldwide destinations. Most notably, the service features extensive local travel reviews are written by Frommer's "experts" (professional travel writers and qualified expatriates) vs. TripAdvisor, where the reviews are written by a common traveler. In our view, the purchase of Frommer's regurgitates Google's focus on building its own suite of local and travel research products like Google Places, Hotel Finder and Flight Search. This was previously seen through Google's acquisition of Zagat, which put Yelp (NYSE:YELP) on the sidelines (As Zagat's reviews appear higher than Yelp's reviews on the Google search engine). Though TripAdvisor has a higher quantity of reviews and properties than Frommer's Travel Guide, we believe that with the acquisitions of Frommer's Travel Guide, Google will obtain higher quality reviews for its service. We believe that as these products gain traction they have the potential to bring more local business advertising dollars into Google's pocket.
A Holistic view on Google CPC's: We believe that the CPC's will increase over time
Google's advertising revenues depend on two important factors. Number of advertisements and Cost-Per-Click (CPC) (the cost an advertiser bears whenever an ad is clicked). We believe that Google has chosen to boost ad volumes at the expense of lower CPC rates as Q2 showed an average CPC decline of approximately 16% YoY while the the paid clicks increased approximately 42% YoY. As the search advertising market remains in early stages, we see that this is the right thing to do. This step arms Google with a considerable price leverage opportunity in the long term when search markets reach maturity with its significantly higher customer base in comparison to its competitors. We believe that the following factors are responsible for CPC declines:
1) Product listing ads: Google has been working towards attracting advertisers to utilize Product Listing Ads (PLAs). Product Listing Ads allow advertisers to promote their products on Google Shopping and thus create a more engaging user experience. Although PLAs offer lower CPCs as PLA keyword marketplace is thinner than non PLA marketplace, we believe that the PLAs will result in higher click-through-rates due to the highly-specific nature of the ad format and thus deliver superior ROI to advertisers, which might be a key differentiator for Google in the long term.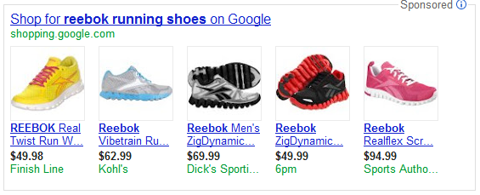 Click to enlarge
(Click to enlarge)
Source: Google.com site and TheAnalystHub.com Research
2) Emerging Markets CPCs are low: Google's geographic revenue distributions lead us to believe that the emerging market revenues continue to grow faster than developed market revenue. When we look at emerging market search engines, such as Baidu (NASDAQ:BIDU) in China and Yandex (NASDAQ:YNDX) in Russia, we see that these geographies incur lower average CPCs than developed markets (due to fewer advertiser participants, a less-developed e-commerce ecosystem and lower per-capita incomes) resulting in lower consolidated CPCs for Google. However, in the longer term as these economies eventually catch up, it will prove to be an positive for Google.
Positive August-December stock seasonality
While we cannot call this a fundamental factor, Google's stock has historically outperformed from August through December. We believe that this over-performance could be attributed to Google attending industry conferences like SES (to be held on November 12-16 in the U.S. this year) and SMX (to be held on October 2-4 and December 5-6 in the U.S. this year). Also Google has had a track record in introducing new ad formats and monetization changes in 3Q ahead of the 4Q holiday season. We believe that we can see similar trend for Google in the fall/winter period with the threats becoming extinct from Facebook (NASDAQ:FB) and innovative products being announced by Google at various conferences.

Click to enlarge
(Click to enlarge)
Source: Google Finance and TheAnalystHub.com Research
As Google looks to perform in the August- December cycle, we believe that the stock is ripe for buying amidst the lowered risks from social networks. With Google increasingly becoming a fundamental part of consumer's life through its diversified businesses, we believe that Google is becoming hard to replace in the highly fluctuating internet domain and therefore we rate it as a buy.
Disclosure: I have no positions in any stocks mentioned, and no plans to initiate any positions within the next 72 hours. This article was co authored by Rahul Agarwal and Ashish Sharma. Both have no positions in any stocks mentioned, and no plans to initiate any positions within the next 72 hours.