The market has risen for most of the last month. The media headlines have remained mostly tame during all of that time. The market is now overbought, and it is set up to fall. Further you can see the sentiment is changing as you read the many media outlets. Each day you read more about the approaching US fiscal cliff and tax-maggedon. You also read that Nomura Securities (NYSE:NMR) is predicting a 25% fall in the US stock market before the US elections this fall. Goldman Sachs (NYSE:GS) is telling investors to sell stocks before the fiscal cliff hits. David Kostin, Chief Forecaster for Goldman Sachs, has a 1250 target on the S&P 500 for the end of 2012. This is a long way from the S&P 500's current reading of about 1410.
With the Greeks now trying to convince the troika to give then a four year repayment period instead of a two year period, the worry of an imminent Grexit -- Greek exit of the Euro -- is center stage again. The Greek Prime Minister meets with Jean-Claude Juncker, head of the Eurogroup, in Athens on Wednesday August 22, 2012. Later this week the Greek Premier will meet with German Chancellor Merkel. Subsequently he will meet with French President Hollande. The troika will meet in Greece in September to review Greece's progress based on the current bailout terms. A prior agreement for a two year extension would make such a meeting go much more smoothly. Unfortunately, many Germans are growing increasingly frustrated. They are now talking openly about Greece leaving the Euro. Such an event would be a shock to the Greek banking system and the Greek economy. Greek asset prices would plunge among a myriad of problems. That shock would filter through to other European banks and economies. A Grexit might easily become a Lehman type (or worse) event for Europe. It could cause a negative domino/cascade effect in European banking, especially in the already troubled PIIGS. It could cause already weak Spain and Italy huge problems. Banks have been slowly acknowledging the growing problems. For instance, on August 6, 2012 Morgan Stanley (NYSE:MS) cut its Euro area GDP growth forecast to -0.5% for 2012 and to 0 for 2013. It cut Russia's 2012 growth forecast from 5.0% to 4.2%.
The talk of how the ECB can support the Spanish and Italian bonds is back in the news. Most people agree that neither country can afford to pay the recently higher bond yields for very long. There is talk of the ECB effectively trying to cap those bond yields through large Spanish and Italian bond purchases. Many Germans seem to be against this. Some are saying this is a moral quagmire.
There is talk of an imminent Spanish bailout. The Spanish banking system has already received a bailout. The uncertainty of the situation is upsetting to the market. The worry is that Spain may be another Greece in the making. This is worrisome for good reason. Spain has approximately 25% "official" unemployment. This promises to get worse as the new austerity measures start to take effect. Spain has a huge residential real estate problem. With its high level of unemployment, this problem will likely cause ever bigger banking problems due to bad loans. The problems will likely be much bigger than many are now willing to admit.
Chinese exports to Europe were down -16.2% in July. This more than anything else tells one just how serious the EU economic situation is. Further the export fall is very bad news for China, which is trying hard to avoid a hard landing. Recent headlines from China include news that the Chinese steel industry is ramping up, even though there are no new buyers for the steel. Analysts are now expecting a glut that will send already weakening steel prices spiraling downward. This again tells you that the situation in China is getting more dire. It tells you that the government is far from in control.
When you see all these worrisome events occurring at the same time, the fear is palpable. Chances are if you are afraid, many others are too. During times of high fear, US Treasury bonds act as a safe haven. One action may be to buy US Treasury bonds yourself. This will work out well for you if the fear increases. That usually pushes more people into the bonds, and it pushes the prices of the bonds up (yields down). Often you can make a quick profit if you enter at the right time. The iShares Barclays 20+ Year Treasury Bond ETF (NYSEARCA:TLT) is an easy way of doing that, especially if you are looking for a quick profit. "The fund usually invests at least 90% of its assets in bonds of the underlying index and at least 95% of its assets in US government bonds. It attempts to mimic the performance of US Treasury bonds with 20 or more years until maturity" (Yahoo Finance). Via the TLT ETF, you can move easily in and out of this trade. If the fear that the media is spreading continues to increase, this could turn out to be a very good investment for the near term. I am always unsure exactly how to time this trade. The actions of the world's central banks often have a big impact. However, while you still feel major fear, it is probably a good trade.
The two year chart of the TLT may lend some technical direction to this trade.
(click to enlarge)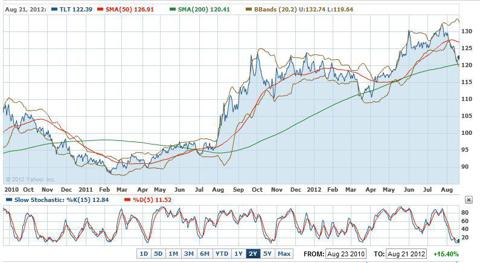 Click to enlarge
The slow stochastic sub chart shows that TLT is far oversold. This tells you it may be a good time to enter the trade. The main chart shows that the TLT is still trending strongly upward. This is another good reason to enter the trade. The TLT seems to have just bounced off its 200-day SMA. With all of the new fears entering or re-entering the market, now is probably a good time to buy the TLT. If this trade goes as the technicals indicators and fundamental news items indicate, you may be able to make a quick 5% to 10% profit with little risk. It may further give you some peace of mind. You have to pay attention though. When the fear abates, you probably want to sell it.
Note: Some of the above information about TLT came from Yahoo Finance.
Good Luck Trading.
Disclosure: I have no positions in any stocks mentioned, but may initiate a long position in TLT over the next 72 hours. I wrote this article myself, and it expresses my own opinions. I am not receiving compensation for it (other than from Seeking Alpha). I have no business relationship with any company whose stock is mentioned in this article.