A few weeks ago, my wife found some quarters in the laundry room. She was overly excited about her newly found wealth. I advised her to invest those quarters in Nokia (NYSE:NOK) but she didn't listen to me. She would have made nearly 50% on her coins if she had listened to me. Oh well, she'll have to delay her retirement plans now. Anyways, as it turns out, not all news regarding Nokia tastes like disaster. Today it was revealed that 59% of all Windows (NASDAQ:MSFT) Phones sold recently were Nokia's. Here is the caveat though; Windows Phones make up less than 5% of all smartphones sold globally.
Currently Apple's (NASDAQ:AAPL) iPhone and Google's (NASDAQ:GOOG) Android continue to dominate the global smartphone market with two companies having almost all the market share out there. Many people argued that Nokia could have competed much better with Samsung (OTC:SSNLF) if it had chosen Android as its operating system rather than Windows. Then again, many others argued that as Samsung crashes all the companies that produce phones running on Android, Nokia's fate would have been no different. Of course either argument is difficult to validate as Nokia never actually went for Android. On the other hand, Samsung produced Windows phones and so far, those phones were unable to compete with Nokia's Windows phones.
Samsung enjoys a 13% market share in global Windows phones and 26% market share in American Windows phones. Notice that the margin between Nokia and Samsung fall in America compared to the global market, and this could be due to the limited availability of Nokia phones in the U.S. Currently, AT&T (NYSE:T) is the only American company that carries Nokia's flagship phone Lumia 900 and it was reported that the company's sales representatives aren't doing a great job of marketing this phone.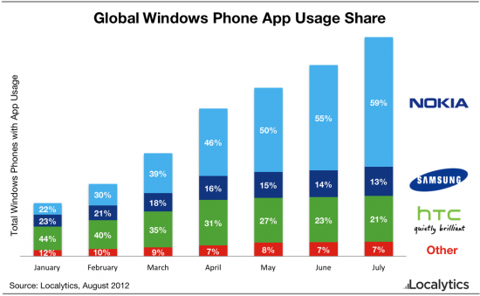 Click to enlarge
(Click to enlarge)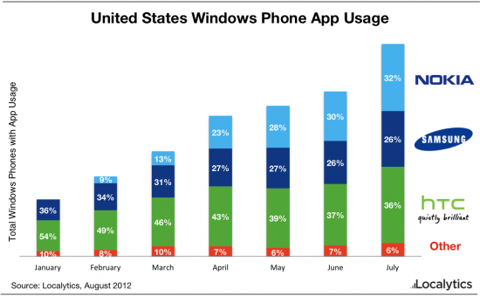 Click to enlarge
(Click to enlarge)
When I called AT&T to ask if and when I can unlock my Lumia 900, they told me that AT&T had an exclusivity contract with Nokia and that it would be possible to unlock the phone after October when the exclusivity period is over. If the individual on the phone was correct, it would be fair to assume that other mobile carriers such as Verizon (NYSE:VZ) and Sprint (NYSE:S) will be able to carry the phone after October. Earlier on, this was announced by the company's management without giving a specific date. Then again, the exclusivity period might be different for the next Lumia, which is expected to have Windows 8.
If we look at things from the perspective of Microsoft, we can say that Microsoft has picked the right partner to promote its Windows phones. Excluding Nokia, Windows Phone has a global market share just above 1%. Hopefully Microsoft will see the contribution of Nokia in the smartphone market and help out Nokia in more ways than it already is. After all, Microsoft's entire presence in the smartphone market might depend on Nokia.
There is a lot of hype around Windows Phone 8 and if Nokia is able to release this phone before the hype cools off (and before iPhone 5 comes out), the market share of Windows Phone can easily double if not triple. There are many people holding off buying Lumia 900 so that they can get Nokia's Windows 8 phone instead. The marketing will play a huge role in sales of this company. Because Nokia's very existence will be tied to this phone, the company will have to pull everything together to make this one really count.
If Microsoft wants to be successful in its war with Apple, it has to rely on Nokia in the smartphone market. This is getting clearer each day. As Nokia cuts its costs and stabilizes its balance sheet, the investors will continue to see the light in this company. At current valuation, anything short of bankruptcy is bullish for Nokia.
Disclosure: I am long NOK, MSFT, AAPL, T, VZ, GOOG. I wrote this article myself, and it expresses my own opinions. I am not receiving compensation for it (other than from Seeking Alpha). I have no business relationship with any company whose stock is mentioned in this article.