The anticipated political/public opposition of the Puget Energy (PSD) - Macquarie Infrastructure Partners merger has surfaced in the form of a rejection recommendation for the Washington State AG's office.
This is, of course, a fairly common occurrence in recent utility mergers and should in no way be considered a surprising development in this case. This deal is, to say the least, a very high-profile event in Washington state and the AG's office would be remiss if it did not take advantage of the growing negativity to the deal, regardless of motives. The AG's Public Counsel testimony is available by following this link.
Perhaps of greater importance, the Washington UTC staff is also recommending rejection of the merger to the voting Commissioners. This is a severe blow to the companies' hopes of obtaining the critical UTC consent as an extremely high percentage of deals failing to obtain staff approval also fail to obtain the respective state Commission approval.
The companies now have until July 2, 2008 to generate responses to staff, Public Counsel, and third-party testimony. Although it is too early to suggest that the companies' efforts are now acts of futility, the tenor of the review certainly suggests that the futility point is not far off. This will take an enormous amount of public relations and legal maneuvering efforts in order to sway the staff into altering its current position, and that can be said for the AG's office and intervenors as well.
Given the direction this transaction has now taken, it is difficult to anticipate the current procedural schedule continuing on a September 2 decision course. If the companies are able to successfully navigate through the enormous opposition, the negotiations process could easily push the deal well into the fall or winter of this year. It is just as likely that the companies will decide to terminate the transaction within the next two to three months if the July (again, these may be pushed back) settlement conferences and evidentiary hearings fail to yield positive results.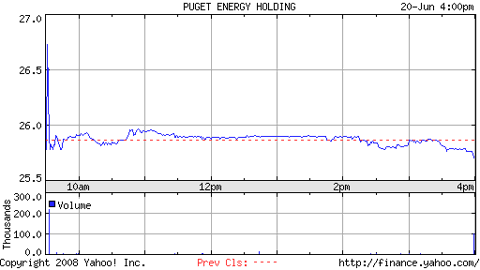 Customize charts here.
Disclosure: We have no positions of any kind, in any security. We are a completely neutral source of research and analysis.