Safeway Inc. (NYSE:SWY) is a terrific example of a company with mediocre prospects that may be a decent investment. Safeway is facing numerous secular forces, many of which are common to the industry, and they paint a somewhat bleak picture for the company's future. Yet, the company has been able to generate a sizeable cash flow with which it has been trying to reward shareholders. After performing a DCF in the context of the qualitative aspects of the company, it appears that the company is more than likely fairly valued.
I believe that the positive and negative aspects of the company's situation moving forward can be generally summarized by the following table:
| | |
| --- | --- |
| Pros | Cons |
| Very strong cash flow | Squeezed by warehouses and premium stores |
| Buyback of shares | Declining gross margin |
| Dividends | Zero to declining SSSG |
| Defensive and stable | Unionized employees |
| Addition of gasoline | Larger stores: more difficult to sell |
| Ownership at cost of properties | Not even cost leader within segment |
| Large capex in the past | Large debt levels |
The company has consistently generated a sizeable cash flow; namely over $1B over each of the past three years. This led the company to post a free cash flow yield of almost 25% over the past year; even when one finds that almost 40% of this was due to changes in working capital, that is still an impressive 15% FCF yield. The company has been using this cash flow to aggressively buy back shares; in 2007, the company had over 450MM shares outstanding, while the current share count stands at 239MM. The company has increased the rate of its share repurchase recently (60MM over the past two quarters), even taking out more debt to repurchase shares - often a good sign. The company has also used the free cash flow to reward investors with a dividend, which currently is at 4.4%.
This free cash flow should be relatively stable, given that food is a necessity. The company has also added a prepaid service, Blackhawk, and a gas business to help sustain its revenue. Additionally, the company's free cash flow moving into the future should be aided by smaller CAPEX expenditures in the future. Over 87% of the company's stores have already undergone remodeling, and the big push in remodeling took place between 2007 to 2009. Additionally, the company's decision to buyback shares, which have a higher dividend yield than the interest rate on the debt Safeway just took out, makes this move actually accretive to cash flow. This really indicates the strength of the company's financial management.
On a slightly different note, the company's ownership of property is a strong point. It is one of the principal reasons why the company has such a strong cash flow, because the company is able to add back significant depreciation. More significantly, the company records it's property "at cost" on the company's balance sheet. This implies that these assets are valued at their purchase price, unless otherwise changed. If Safeway has held these properties for a long time, this could be understating the value.
Currently, the balance sheet states that Safeway's land holdings account for approximately $1.78B. Since Safeway owns approximately 700 stores, this implies that the land for each of these lots is worth $2.53MM. Safeway's average store is approximately 47,200 square feet - implying a cost of $98.97 per square foot, after one includes the value of the buildings and improvements attributable to this 42%, while taking out the depreciation of these improvements. Although I am not a real estate expert, this appears to compare favorably to rental rates in the areas (namely CA) at only a 6x multiple for a property Safeway can use indefinitely. However, another way to see if there is value is to find a detailed listing of the company's properties, prices and acquisition dates.
Click to enlarge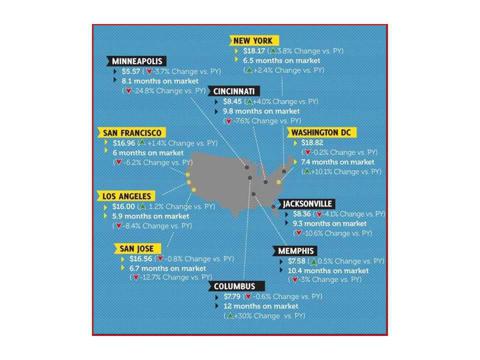 Yet, there are serious weaknesses that Safeway is exposed to due to the industry it is in and the way it has positioned itself. The industry as a whole simply is a slow grower. Even a "quick" grower like Whole Foods Market, Inc. (NASDAQ:WFM) has only grown revenue 25% from 2008 to 2011. Even worse, Safeway is positioned to lose market share in my opinion. The company is being squeezed by wholesale retailers such as Costco Wholesale Corporation (NASDAQ:COST) and Wal-Mart Stores, Inc. (NYSE:WMT) based upon price, and by organic markets like Whole Foods and The Fresh Market (NASDAQ:TFM). Safeway is caught in between, leaving it with a difficult niche in which to operate.
Within this middle market, Safeway has positioned itself as a more traditional grocery store with a large variety of products. However this comes at a substantial cost: this forces it to operate larger stores, which are more costly to run and take more time to shop in, carry more inventory, and charge higher prices. Safeway's stores have undergone significant remodeling, making for a more enjoyable experience. At the end of the day, many of these consumers really value price and convenience, making Safeway's business model seem worse than say, Trader Joe's, which has emphasized smaller stores and cheaper core products.
There is significant evidence for this decline. The company's same store sales growth can be summarized by the following table:

These numbers paint a really bleak picture. Fuel has been driving any revenue growth; these numbers get even worse when one realizes that sales have been boosted by the strengthening of the Canadian dollar and when one removes this, same store sales growth without fuel becomes negative for each of the past three years. More significant has been the decline in Safeway's margins. Safeway's gross margin has been declining for a variety of reasons, including: increased fuel sales, "investments in price" (a euphemism for price cuts to stay competitive), increased advertising and other features. From this, it is clear that the company is operating in an almost toxic oligopolistic market in which price slashing has begun causing everyone's profits to decline.
Additionally, even though fuel has helped increase sales, it is also hurting Safeway's margin, indicating it is not providing much profit. Even though O&A costs have declined, they have not declined to the same degree, causing net profit margin to decline around 40%. Unfortunately, the forces that caused these declines are still running their course, in my opinion. Costco and Wal-Mart can charge lower prices, while not threatening their margins because they carry a lower number of products. This, in combination with volume purchases, gives Wal-Mart and Costco power over suppliers that Safeway does not have and decreases Costco's and Walmart's inventory costs because these companies have fewer items.
While Safeway has tried to enter the premium market like that of Whole Foods, Safeway will continue to have trouble, given that Whole Foods has an established reputation - which is arguably the most important factor in a commoditized market. Additionally, Safeway is likely not able to reduce costs in other ways. The company already experienced economies of scales and COGS has grown proportionally (or even more so) than revenue of the past few years; the company has significant unionized labor, indicating Safeway will not be able to reduce labor costs; and finally, Safeway's properties are quite large, implying large upkeep costs. Grocery stores are not like warehouses in achieving economies of scale because there is increasing complexity with the size of grocery stores, while decreasing complexity with the size for warehouses.
Finally, the company has large debt levels that will hinder cash flow in the future. While the company has increased debt to buyback shares, often a good sign, this increases interest and principal payments. I do not believe this debt puts it in danger of insolvency because Safeway's EBITDA coverage ratio is 8.91. However, it remains an issue.
Safeway's comparables can be summarized by the following table:
| | | | |
| --- | --- | --- | --- |
| | P/E | EV/EBITDA | FCF Yield |
| SWY | 8.56 | 4.58 | 24.51% |
| SVU | 17.14 | 17.51 | 79.00% |
| KR | 21.22 | 6.72 | 6.33% |
| HTSI | 19.71 | 6.24 | 5.95% |
| WFM | 40.95 | 19.92 | 2.27% |
Supervalu Inc. (NYSE:SVU) appears quite undervalued based upon a FCF yield; but this does not take into account the significant struggles in recent quarters, causing it's free cash flow to go to zero. Additionally, there are reasons these other companies such as Harris Teeter Supermarkets, Inc. (NYSE:HTSI) and Kroger Co. (NYSE:KR) have higher valuation; namely, they have been able to achieve growth and have more successful business models.
Safeway, however, lends itself to valuation through a DCF because it is a very mature business. Assumptions for the model can be summarized by the following table:
| | |
| --- | --- |
| Revenue Growth | 0.00% |
| D&A growth rate | 0.00% |
| Capex Change Rate | -2.00% |
| Change In EBITDA Margin | -0.10% |
| Working Capital Growth Rate | 0.00% |
| Exit EV/EBITDA Multiple | 4.0x |
Reasons for zero revenue growth have been described above. The company has been at a consistent level of D&A over the past five years because it used the straight line method and all signs point to a similar trend for the future. I expect CAPEX to gradually fall over the period of the simulation because the company will not be opening new stores and performing fewer remodels. Yet Safeway will still need CAPEX for repairs and other needs. The main change in margins will occur at the gross margin level.
However, the main margin input for the model is EBITDA margin. After looking through the company's margins over the years, it appears that a change in gross margin causes a 1:1 or greater fall in net profit margin. Thus I am comfortable with inputting the change in gross margin directly into change in EBITDA. While Safeway's margins have fallen significantly, I do not believe there is necessarily a floor on this fall; thus a 0.10% decrease in margins, I believe, is optimistic. Finally, I think predicting how changes in working capital will affect cash flows is difficult because changes in working capital vary with every company across the industry, and Safeway's, over the long term, have summed to approximately zero. I believe the company's multiple will only further compress in time, especially as the company matures, making an exit multiple of 4.0x reasonable.
Using these inputs, I achieved a share value of $17.09 compared to its current share price of $15.83. One realizes that much of this value is attributable to the lower share count due to the company's buy back. Given that the main qualitative factors of the company are margin compression and growth (or the lack thereof) a sensitivity table incorporating these two factors is useful and can be seen below:
Equity Value Per Share ($)

Margin Change Rate

Revenue Growth Rate

$17.09

-2.00%

-1.00%

0.00%

1.00%

2.00%

-0.30%

5.26

6.83

8.46

10.14

11.88

-0.20%

9.20

10.95

12.77

14.65

16.60

-0.10%

13.14

15.08

17.09

19.17

21.32

0.00%

17.08

19.20

21.40

23.68

26.04

0.10%

21.02

23.33

25.72

28.19

30.76
This chart clearly illustrates the company's sensitivity to changes in margin; more so than changes to revenue growth rates. If the company can simply keep revenue and gross margin stable, Safeway should be trading at one-third more than it is. However, I do believe further margin contraction is likely and the $17.09 is reasonable. In some respects, this estimate may be conservative; in others, optimistic. This model assumes constant nominal interest payments, which is reasonable assuming no refinancing. However, this would then imply principal repayments, which are not accounted for in the model - making it optimistic. If the company were to refinance, it may experience a one-time charge, which decreases Safeway's cash flow.
At the same time, the model may be conservative in that it does not account for asset sales that could generate significant cash. Consequently, this should not be treated as an exact price at which Safeway should trade at; rather, it is a figure that indicates Safeway is approximately fairly valued. This illustrates that proper financial management can turn a shaky company into a reasonable investment.
The details of the DCF can be seen below.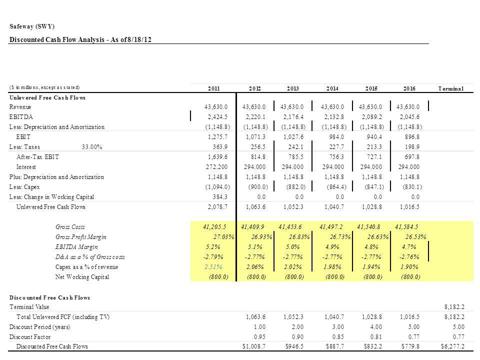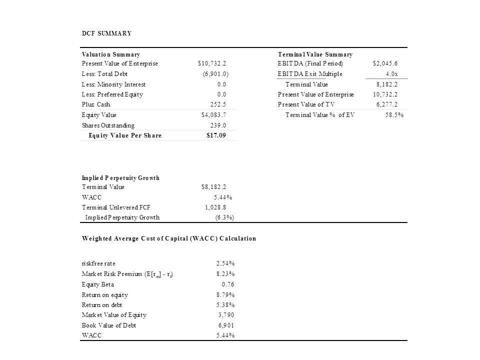 Disclosure: I have no positions in any stocks mentioned, and no plans to initiate any positions within the next 72 hours. I wrote this article myself, and it expresses my own opinions. I am not receiving compensation for it (other than from Seeking Alpha). I have no business relationship with any company whose stock is mentioned in this article.